WIXOM – Another collaborative effort between the Iron Workers and the Operating Engineers brought about the safe removal, transport, and future re-use of a four-story stair tower from the shuttered Ford-Wixom Plant.
A 40-feet-tall by 30-feet-wide iron stair tower leading to the roof of the former assembly plant was marked and disassembled by a crew of six Local 25 apprentice iron workers together with Local 324 crane operators. Six truckloads then transported the steel to the Operating Engineers Local 324 Training Center in Howell, where it will be reassembled for the use of Michigan Urban Search And Rescue Training Foundation, which is a partner with and uses land on the Operating Engineers Local 324 Training Center in Howell.
MUSAR – the Michigan Urban Search and Rescue group – plans to incorporate the stair tower into training drills used by emergency responders, particularly for rope rescue and rappel training. The reassembled tower can also be used as a platform for high-angle video perspective for all the related instruction MUSAR provides at the Local 324 training site.
Local 25 Training Coordinator Mike Relyin said the tower disassembly and transport process took four days in December. Much of the work involved the careful torching out and removal of the old bolts. "We finished a little ahead of schedule," he said. "The guys did a nice job."
Local 324 Training Director Lee Graham said the tower would be re-erected at the Howell site in the coming months. He said the tower had significant value as scrap, but was "priceless" to MUSAR and all the parties involved since it was donated by Ford, and didn't need to be designed, fabricated, transported and erected. The Iron Workers, Operating Engineers and helpful contractors are donating their time, talent and equipment to make the project work. George W. Auch managed the project, while MBM Fabricators and Erectors provided tools, use of a crane was donated by Laramie.
MUSAR is a nonprofit organization, primarily consisting of EMS, firefighters and other first responders from agencies around the state. The group offers awareness, operations and technical level training in four rescue disciplines: rope rescue, confined space, trench, and structural collapse rescue. For several years, the iron workers and operating engineers have trained with MUSAR personnel, because of the strong potential they could meet at a an accident at a job site or at a disaster site.
"Having this tower in place at our training facility is going to be very helpful to MUSAR, and the real story is the advantage everyone gets from working together," Graham said.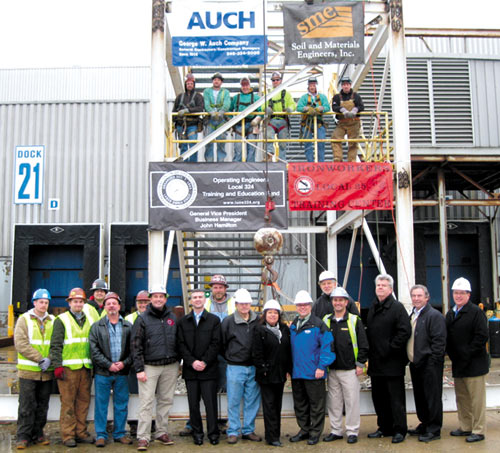 PERSONNEL FROM Iron Workers Local 25 and Operating Engineers Local 324 and helpful contractor representatives stand in front of – and on – the soon-to-be-disassembled stair tower at the Ford-Wixom plant.