FLINT – In recent years, medical studies have questioned the effectiveness of CPR, placing its success rate at as low as 2 percent and only as high as 20 percent.
To Simon "Sam" Yanta, a 25-year member of IBEW Local 948, the theoretical percentages on the success rate for the potentially lifesaving act don't matter. "I'm proof, right here, that CPR works," he said. Sam learned CPR by taking no less than four first aid classes – three times through Local 948 and one time through his employer – and last year used that knowledge to save the life of his stricken neighbor.
At Local 948's union meeting on Feb. 10, Sam, 55, was awarded the IBEW's highest honor, the Lifesaving Award. With it came a plaque and a letter from the IBEW International Union, recognizing his efforts.
Sam and his wife Linda answered a cry for help last spring from their next-door-neighbor Jackie Fizell, who found her 69-year-old husband Jim on the ground, unresponsive and not breathing in their Swartz Creek backyard. Linda immediately called 911, and then she and Sam began performing CPR on Jim. Linda had received CPR training through the Red Cross. One performed chest compressions, the other did mouth-to-mouth resuscitation. They continued for about 10 minutes until paramedics arrived, who took over treatment.
Sam, Linda and Jackie watched as Jim was given three separate jolts from the paramedics' Automatic External Defibrillator in an attempt to restart his heart. None of the jolts worked immediately, and Sam estimated that Jim was unresponsive for 25-30 minutes. But one of the medics finally called out "he has a heartbeat!" as they were closing the door on the ambulance to transport Jim to the hospital.
"Doctors told me at the hospital that if Sam and Linda didn't do what they alone did, that Jim would not have lived," Jackie wrote in a letter describing the ordeal. "We will never be able to thank them enough. They never gave up, when one tired, they switched positions. We are very fortunate to have such wonderful neighbors and friends."
Sam reports that Jim was revived and has no negative effects from his near-death experience, although Jim now has a defibrillator in his chest. The two friends went golfing twice last year, "and Jim out-drove me," Sam said with a laugh.
Jim and Jackie were in Florida when Sam received the Lifesaving Award earlier this month. Local 948 President John Bond presented him with the award.
"You have now joined a small and honored group of our members, those who have saved a human life," wrote IBEW General President Hill and International Secretary-Treasurer Salvatore J. Chilia, in their letter to Sam. "We express our sincere appreciation to you and want you to know that we share with your local union a feeling of great pride in your unselfish accomplishment."
Local 948 Business Manager Wayne Carlson noted at the union meeting that the Lifesaving Award was given to members only – but everyone recognized that Linda had an equal role in saving Jim's life. "Just a tremendous act on the part of Sam and his wife Linda," Carlson said. "We did offer to put together a similar award for Linda, which she declined."
Michigan Sen. Jim Ananich (D-Flint) and State Rep. Joe Graves (R-Linden) were on hand at the meeting to present Sam with a tribute signed by the two lawmakers and Gov. Rick Snyder. Ananich told the meeting attendees that it is "an opportunity to meet an actual, everyday hero." He joked that "if something ever happens to me, I want to make sure that Sam is around. I'd like to think that I would do the same thing – but we know that Sam will, as will his wife Linda. This is one of the most rewarding parts of this job to actually thank someone who saved someone's life."
Sam Yanta brushed aside any talk of being a hero. "We were just at the right place at the right time," he said. "You know, you take those CPR classes because you believe in your fellow man. I just wanted to be prepared to help somebody, and you never know when fate is going to put you in that position. So I would tell people, take the class. Be prepared."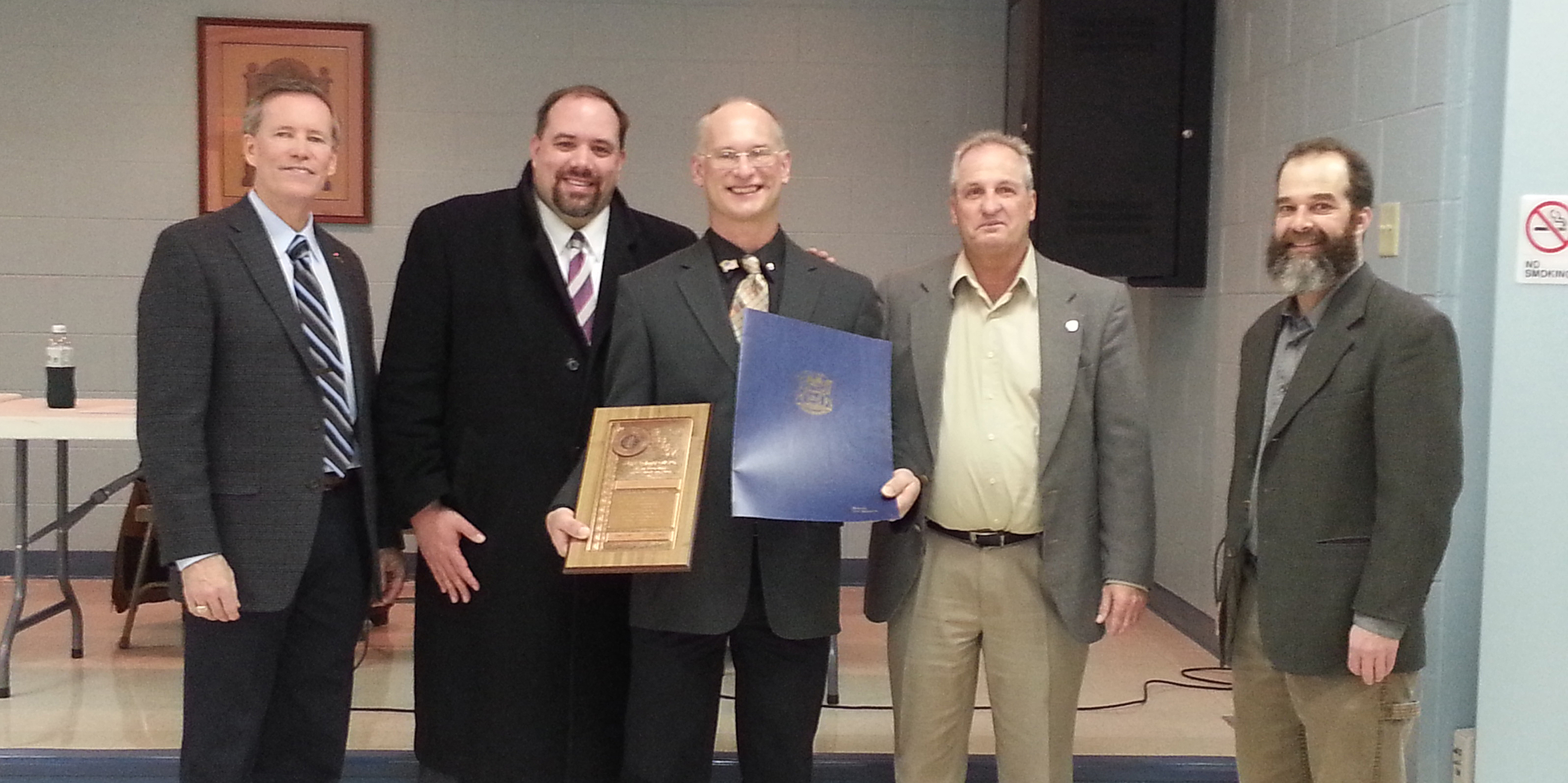 ELECTRICAL WORKERS Local 948 member Sam Yanta, center, was recognized by the IBEW and the State of Michigan for helping to save his neighbor's life last year by performing CPR. With Sam (l-r) are Local 948 Business Manager Wayne Carlson, State Sen. Jim Ananich, State Rep. Joe Graves and Local 948 President John Bond.