DETROIT – Data is so important in corporate America that it's now getting its own building.
Case in point: the Quicken Loans Technology Center, a new 66,000-square-foot building that's nearing completion at Rosa Parks and Porter Street in the city's Corktown neighborhood.
According to Quicken Loans, the new facility will feature two 10,000-square-foot server rooms in addition to training, office and support space. Half of the data center (DC-1) will be occupied by Quicken Loans' technology team, and an equal-sized 33,000 square-foot portion of the building, including the second 10,000 square-foot server room (DC-2), will be available for lease when the center opens.
"It's definitely a very unique building," said Quicken Loans Director of Infrastructure Operations Adam McLaughlin. "There are certainly other data centers around the Metro Detroit area, and this isn't our first data center. But it is the first of its kind that is a ground-up building for us, and it's going to be a very impressive facility."
The Technology Center will house the company's IT staff, as well as the servers for corporate data. Quicken Loans spokesman Jordan Fylonenko said the company considers itself "a technology company that does mortgages. This building represents what we focus on; what we do."
Protecting those servers will be some major league infrastructure and security. The building can withstand hurricane-force winds, and other assaults by Mother Nature or others. The grounds are surrounded by a tall wrought-iron fence, and the building itself has thick pre-cast concrete walls, high-efficiency cooling for the technology, a security system and an elaborate electrical system that's set up for reliable day-to-day operations and redundant back-up power, if necessary.
Given the nature of the building, it's no surprise that electricians from IBEW Local 58 – whose union hall is a block-and-a-half east along Porter Street – had an outsized role in the construction process. About 70 electricians have been employed on the project since ground broke last spring. The vast majority have been employed by Motor City Electric. The entire project is being managed by Turner Construction.
"This is one of the more complex electrical systems you're ever going to see," said Motor City Electric Site Supt. James Connell. "We've been dealing with PDUs (power distribution units), critical switchboards, and UPS's (uninterruptable power supplies) – all kinds of systems you don't normally see on regular construction. If I had to compare the system, I'd say it's like a hospital, but it's even more complex."
The building systems have more than 17 miles of conduit and will have no less than four separate power supplies in case of an electrical failure, including two main underground feeds from DTE Energy, four uninterruptable power supplies, four flywheels and a pair of 2.5 megawatt diesel generators for DC-1 alone.
New conduit for underground fiber optic data lines has been installed in right-of-ways to connect the technology center with Gilbert's operations in Detroit's Central Business District. Built on the grounds of a demolished trucking company office, the data center site is advantageous because of its proximity to existing power and fiber optic lines.
"The project has moved along very smoothly," McLaughlin said. "We really have had no large challenges, it's been full steam ahead with a great crew of workers and contractors."
Detroit-based Quicken Loans is the nation's second largest retail home mortgage lender. The company closed a record $80 billion of volume across all 50 states in 2013. Quicken Loans Chairman Dan Gilbert and his real estate arm, Bedrock Real Estate Services, have spent about $1.3 billion purchasing and rehabilitating some 60 buildings and parking structures in downtown Detroit, according to Crain's Detroit Business. And they've been a strong employer of union construction labor.
"Making sure our electricians and installer technicians have the training needed to provide the advanced skills that are demanded on a project like this has been one of our top priorities," said IBEW Local 58 Business Manager Michael Richard. "Quicken Loans has been a great customer, and this project obviously has some complex and advanced technology. We want to make sure they have the absolute highest skilled workers that the electrical industry has to offer."
The technology center is set to open in mid-to-late January.
"Developing real estate that meets the needs of our family of companies and our tenants in the city of Detroit is our top priority at Bedrock," said Jim Ketai, Bedrock Real Estate Services CEO and managing partner. "We are extremely proud to be bringing the Quicken Loans Technology Center to life and creating a secure, cutting-edge facility for one of the premiere IT companies in America. This is also a great opportunity for another top technology company to secure prime server and training space in Detroit."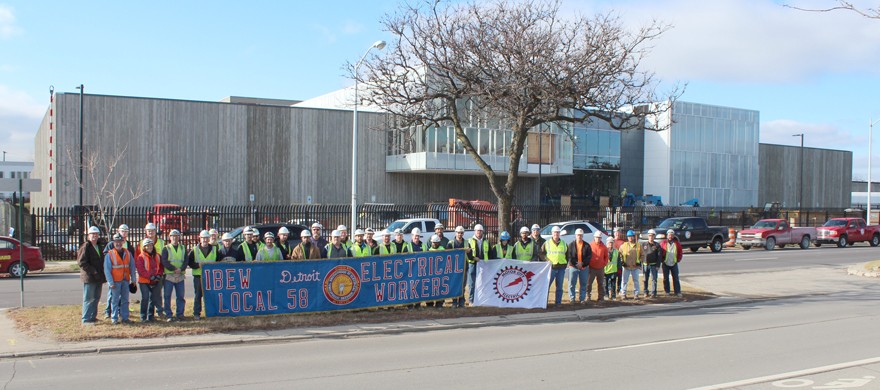 ALL THE TRADES contributed to the construction of the nearly completed Quicken Loans Technology Center along Rosa Parks street in Detroit. But the job has been a showcase for the skills of IBEW Local 58 electricians and their primary employer, Motor City Electric. Other IBEW contractors on the job included GSI and LaBelle.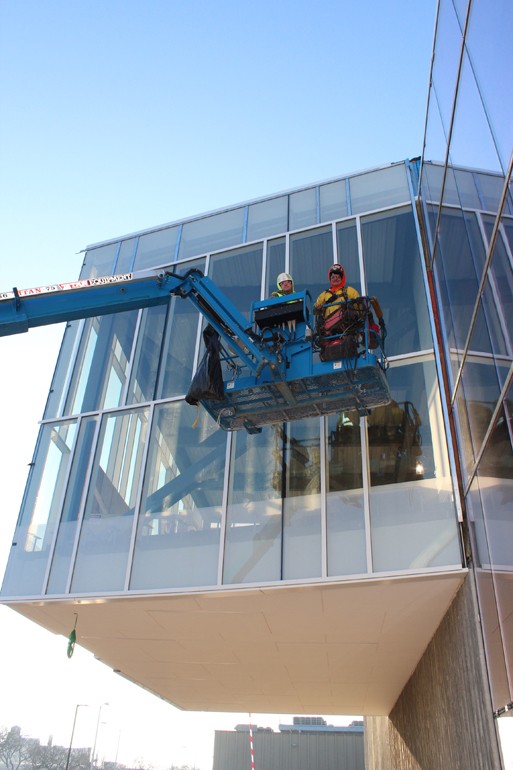 THERE'S NOT A LOT of glass among the concrete walls of the Quicken Loans Technology Center - but the building's entrance has some, and it's being installed here by Marty Victor and Andrew Collins of Glaziers & Glassworkers 357 and Madison Hts. Glass.