ESSEXVILLE – Over the last two decades, emissions control upgrades installed at Consumers Energy's Karn-Weadock Generating Complex have made the plant vastly more complex than it was when it first started making power in 1955.
And the process of upgrading the facility continues, with ongoing work to install spray dry absorbers onto Karn Units 1 and 2, which are coal-burning boilers. The $250 million project to retrofit the plant with spray dry absorbers is expected to bring a targeted reduction of 95 percent of sulfur dioxides emitted by the plant.
"The tradespeople are doing a great job for us, we're working with the best of the best," said Bill Norris, Consumers Energy's project manager, major projects and construction. "We're thrilled with the personnel we have, it's really a neat culture out here. They've given us a tremendous effort, and there's a real focus on quality and safety."
Work began on the spray dry absorber project last year, and 300,000 man-hours have been worked so far. Basically, a spray dry absorber system will inject a stream of lime into the flue gas of Units 1 and 2, and the stream will pick up the sulfur dioxide, which is captured in a baghouse. The inert byproducts of the system will be removed and landfilled.
Like every other major retrofit at the Karn-Weadock plant, there has been nothing simple about the process of installing the spray dry absorber system. The trades have worked around the nearby operating boilers, installing 85-foot-deep auger-cast pilings and 10,000 yards of concrete for the foundations of the new system. Then came the ongoing process of installing (wedging or shoehorning might be better terms) the spray dry absorber hardware into areas where the plant's original designers could not have foreseen. And this work comes on top of the modern installation of a selective catalytic reduction (SCR) system and pulse jet fabric filters on Karn Units 1 and 2.
Last month, much of the to-do list for the trades included setting tanks and silos, setting a utility trestle, installing cable tray and wiring, putting up structural steel for Karn Unit 2's recycling building, and installing piping, siding and roofing. Barton Malow and Conti Electric are two major contractors on the project, although there are several others doing significant portions of work.
"There's quite a bit going on, and everything is complicated with the tight space we have available on site," Norris said. He said when it came to designing the current and past retrofits on the Karn 1 and 2 boilers, "we have no such luxury" of straight duct work or conveniently locating new structures or processes. Sometimes demolition of old work is necessary, such as when they took out an old precipitator.
With federal emission control regulations dictating past and present work at the plant, "one of the biggest challenges we face," Norris said, "is that while we are working with today's regulations, we have to anticipate what we will need to do tomorrow so that we don't handicap the plant. If regulations change, we need to have flexibility."
About 270 Hardhats were on site for the project in late summer, and another 50-100 are expected to be added at peak employment this fall, Norris said.
In addition to being a consistent employer of local, union tradespeople on this and its other projects, Consumers Energy has been making efforts to work with Michigan-based contractors and suppliers to help them be more competitive and provide increased procurement opportunities through its five year, $1 billion commitment to Pure Michigan Business Connect. "In addition to hiring local tradespeople, we're also using Michigan-based goods and services to the greatest extent possible," said Consumers Energy spokeswoman Mary Kulis. "Not only does this provide jobs to local tradespeople, but we're helping our local supplier base promote jobs here in Michigan."
Consumers Energy employs 350 people at the plant, which spends about $12.6 million on operations and maintenance alone. The utility will invest some $500 million to reduce emissions at the Karn/Weadock plant, which is located at the mouth of the Saginaw River.
The plant's Karn Units 1 and 2 are coal burners, rated at a total of 515 megawatts. Karn Units 3 and 4 are oil and gas fired peaking boilers, built in the mid-1970s and rated at 638 megawatts each. The coal-fired Weadock Units 7 and 8, each rated at 155 megawatts, are scheduled to suspend operations in 2016. All told, the plant is currently rated at 2,100 megawatts.
The building trades have installed all manner of emissions control equipment at the plant over the years, including the SCRs, low-nox burners, pulse jet fabric filters, electrostatic precipitators and now the spray dry absorbers. Norris said Karn Units 1 and 2 will be the first in Consumers Energy's fleet of generating plants to have the best air quality control technology available over the bandwidth of emissions, including nitrous oxide, mercury and sulfur dioxide.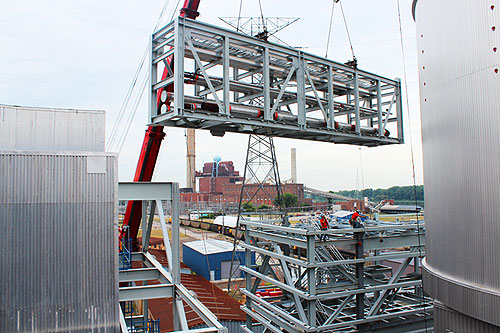 IRON WORKERS and Operating Engineers working for Ideal Steel set a utility trestle section to support the Karn Unit 2 Spray Dry Absorber at Consumers Energy's Karn Weadock Generating Complex near Bay City.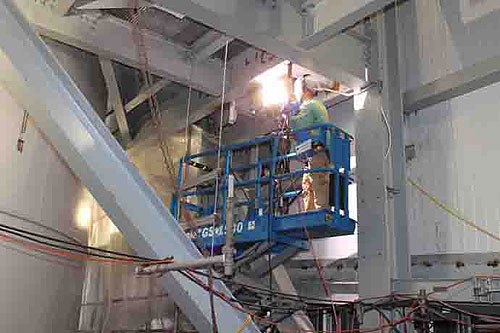 WELDING A BRACKET in the recycling system building is Steve Bryce of Plumbers & Steamfitters Local 85. He's employed by Ryan & Associates.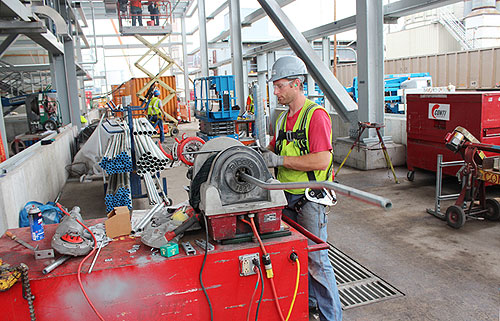 WORKING ON A SECTION of conduit at the Spray Dry Absorber project at the Karn Weadock plant is Derek Sims of IBEW Local 692. He's employed by Conti Electric.