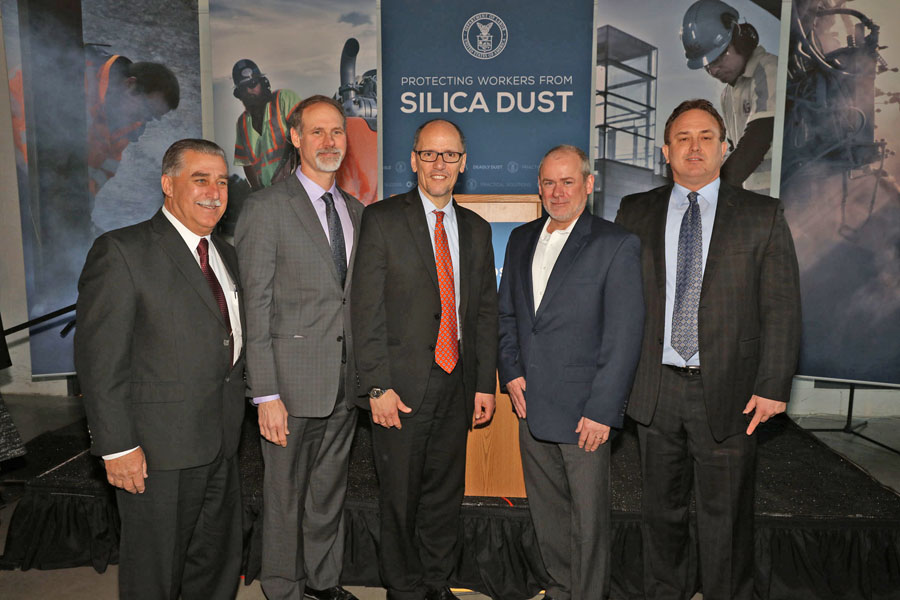 WASHINGTON D.C. - A long-awaited workplace rule establishing new, more stringent safety standards for silica exposure was announced March 24 by U.S. Secretary of Labor Tom Perez.
The new rule is expected to prevent about 600 annual deaths and thousands of illnesses related to workplace exposure to crystalline silica - a material that is found in rocks and sand, and in its most common form, quartz. When it is ground to dust and inhaled - say, when bricks are cut with a power saw, and the user doesn't utilize engineering controls or personal protective equipment - silica can cause serious lung disease, or lung cancer.
The Obama Administration's promulgation of the updated silica exposure rule was announced by Perez in Bowie, Maryland at the International Union of Bricklayers and Allied Craftworkers (BAC) Training Center. It took 45 years for the updated standard to become a workplace rule, but the realization that silica is harmful to lungs extends many decades before that.
"More than 80 years ago, Labor Secretary Frances Perkins identified silica dust as a deadly hazard and called on employers to fully protect workers," said Perez. "This rule will save lives. It will enable workers to earn a living without sacrificing their health. It builds upon decades of research and a lengthy stakeholder engagement process – including the consideration of thousands of public comments – to finally give workers the kind of protection they deserve and that Frances Perkins had hoped for them."
OSHA estimates that when the final rule on Occupational Exposure to Respirable Crystalline Silica becomes fully effective, it will save more than 600 lives annually and prevent more than 900 new cases of silicosis – an incurable and progressive disease – each year. The agency also estimates the final rule will provide net benefits of about $7.7 billion per year.
"The previous exposure limits were outdated and did not adequately protect workers," said Assistant Secretary of Labor for Occupational Safety and Health Dr. David Michaels. "Limiting exposure to silica dust is essential. Every year, many exposed workers not only lose their ability to work, but also to breathe. Today, we are taking action to bring worker protections into the 21st century in ways that are feasible and economical for employers to implement."
The BAC has taken a leading role in working with community and industry partners, scientists and lawmakers to ensure adoption of the final rule. "This is a huge step forward for millions of workers in the U.S., including Local BAC members who have suffered from silica dust exposure for generations," BAC President Jim Boland said. "Together, our union and the broader labor movement have and will continue to improve safety and health protections for our workers. Together, we can make workers' lives better."
The Centers for Disease Control calculates that silicosis has killed more than 2,000 Americans since the start of the 21st century. That's higher, on an annualized basis, than the number of accidental deaths from coal mining—still one of the most dangerous occupations in the U.S.
According to OSHA, the new standard:
*Reduces the permissible exposure limit (PEL) for respirable crystalline silica to 50 micrograms per cubic meter of air (currently the standard is 100), averaged over an 8-hour shift.
*Requires employers to: use engineering controls (such as water or ventilation) to limit worker exposure to the PEL; provide respirators when engineering controls cannot adequately limit exposure; limit worker access to high exposure areas; develop a written exposure control plan, offer medical exams to highly exposed workers, and train workers on silica risks and how to limit exposures.
*Provides medical exams to monitor highly exposed workers and gives them information about their lung health.
*Provides flexibility to help employers — especially small businesses — to protect workers from silica exposure.
Employers covered by the construction standard have until June 23, 2017 to comply with most requirements
The new standard did not come without fierce resistance from the business community, including charges that OSHA should concentrate on enforcing the current exposure limits.
A statement from the Associated General Contractors says, "Instead of crafting new and innovative ways to get more firms to comply with the current silica standard, which we know would save even more workers each year, administration officials appear to have instead opted to set a new standard that is well beyond the capabilities of current air filtration and dust removal technologies. Wishing firms could meet this new but unattainable standard will undoubtedly deliver many positive headlines for the administration, but it will be all but impossible for most construction firms to comply with this new rule."
In reality, there has never been a new workplace rule that hasn't received pushback from the business community, and renewed focus on a hazard is often enough to make positive changes. Dale McNabb, a BAC Local 2-Michigan member was forced to leave the tile trade because of silica exposure, was on hand for the announcement of the new standard. "Water and power were available on all jobsites I've worked on," he said. "Using those existing resources with the easy methods of suppressing dust that are now available would not be a problem on those sites where I worked!"
Local 2 President Chuck Kukawka said: "Working people should not get sick and die in return for a hard day's work. Construction workers are exposed to dangerous levels of silica when their employers do not provide them with appropriate safety equipment. This rule will help level the playing field, and help ensure a healthy and productive workforce."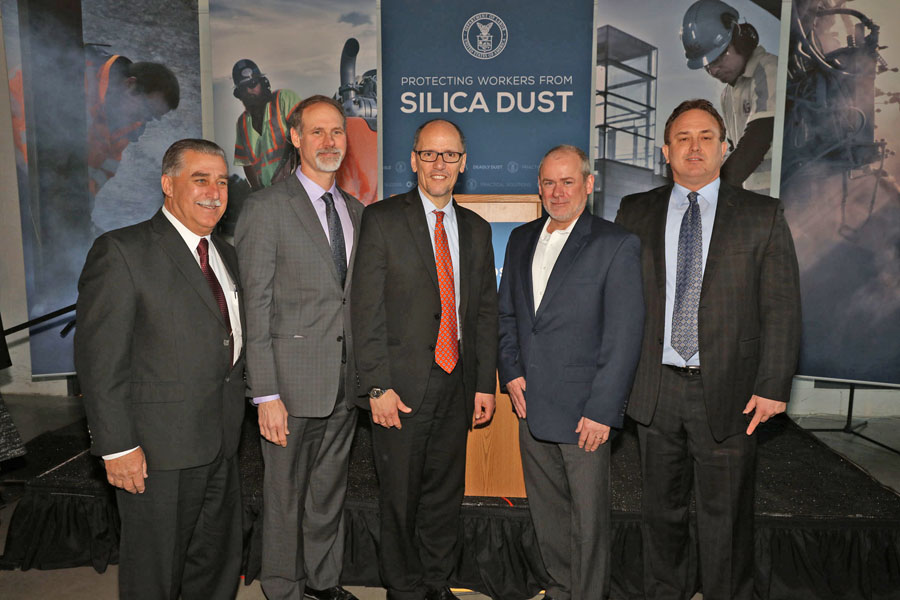 AT THE ANNOUNCEMENT for the new silica rule at the International Union of Bricklayers and Allied Craftworkers (BAC) Training Center in Bowie, Maryland are (l-r) International Bricklayers Union Vice President - Gerard Scarano, Bricklayers and Allied Craftworkers Local 2-Michigan President Chuck Kukawka, U.S. Labor Secretary Tom Perez, BAC Local 2 Training Director, Tom Ward, and Dale McNabb, a Local 2 member who was forced out of the tile trade because of silica exposure.