GHB has been touted as a sleep aid. It is purported to be a safe alternative to steroids for bodybuilders. It is said to improve sexual function.
On Jan. 17, 1999, in an effort to liven up a party, 17-year-old Joshua Cole poured some GHB into a Mountain Dew and then served the drink to 15-year-old Samantha Reid of Rockwood and her best friend, Melanie Sindone, 14, of Gibraltar. Melanie survived the poisoning, but Samantha died - proving that on top of everything else GHB is supposed to do, it's also a killer.
Samantha's mom, Judi Clark, has been a Pipe Fitters Local 636 member for the last 10 years. Since her daughter's death, she has been on a mission to tell anyone who will listen about the dangers of GHB. She has started the Samantha Reid Foundation which publishes pamphlets and sponsors billboards to educate the public about GHB, and she has started an informational web site, www.gbhkills.com. Michigan's Department of Community Health has named March "GHB Awareness Month."
"Taking care of Sam was my life, and now I take care of her in a different way," said Clark, 39. "This keeps me going. I'll do anything I can to raise awareness."
Called "the date rape drug," gamma hydroxybutyrate has been illegal in Michigan since 1998, and last March, at the urging of Clark, "The Hillary Farias-Samantha Reid Date Rape Drug Prohibition Act of 2000" was adopted on a federal level, which added GHB to the list of restricted controlled substances, imposing stiff penalties for the sale and use of GHB.
"Samantha's death brought a lot of awareness to GHB here in Michigan and even across the country," Clark said. "Even police officers hadn't heard about the effects of GHB."
Cole was sentenced to up to 15 years for involuntary manslaughter, as were two other teens present at the party. Cole admitted putting GHB in a Mountain Dew which Samantha drank before vomiting and passing out on a bathroom floor. A fourth defendant, 26, who hosted the party in his Grosse Ile apartment where Samantha was slipped the fatal dose of GHB, received three to five years for being an accessory to manslaughter after the fact. Hours after the girls passed out, the young men finally took them to a hospital, where Samantha died.
It was the first prosecution for GHB-related homicide in the nation, said the Wayne County prosecutor.
A colorless, odorless drug, GHB mimics the affects of alcohol intoxication. There have been eight instances of GHB-related assaults in Michigan in recent years. In addition to Samantha's death, five teenagers in Lake City, MI became comatose after ingesting the drug and last July, another young woman was assaulted in Royal Oak. Since 1990 there have been more than 30 deaths and 3,500 overdoses from these drugs nationwide.
"There is no drug out there as scary, except maybe heroin," said Phyllis Good, a Michigan State Police specialist. "It will continue to increase, and it's only going to get worse." GHB is a central nervous system depressant that occurs naturally in the body. The drug was first introduced in the U.S. as a surgical anesthetic in the 1960s, but was later rejected by the Food and Drug Administration because of dangerous side effects, including coma and severe respiratory depression.
Bodybuilders began using health food store GHB as a "natural" alternative to steroids, although there are no clinical studies to back this claim. Bodybuilders began taking more than the recommended amount and became euphoric. Word began to spread that these "natural" health food products can give you feelings of euphoria. Recreational drug users began to mix GHB with alcohol and other drugs, with devastating effects.
More than anyone, young people are at greatest risk of GHB poisoning, especially at parties. They are urged by the Samantha Reid Foundation not to accept a drink from people you don't know or trust, never to leave a drink unattended, and to discard a drink that tastes salty or soapy or has particles in it.
Samantha had never heard of GHB. Court testimony indicated that she noticed her Mountain Dew didn't taste right, but she drank it anyway.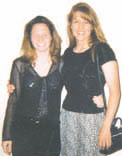 Samantha Reid and her mom, Judi Clark