FLINT - Nearly three years after the City of Flint began drawing corrosive water from the Flint River into its municipal water system in an effort to save money, the City Council on March 23 let seven contracts totaling more than $35 million to replace water service lines and the restoration of streets, sidewalks and lawns afterwards.

It's the largest chunk of money to be spent to date that's aimed at replacing lead and galvanized pipes that are still in place serving some 20,000 homes. The decision to draw the corrosive water from the Flint River without proper treatment wore away a decades-old protective coating inside the metal pipes, exposing thousands of Flint residents to lead poisoning.

The pipes that have been and will be replaced extend from the water main to the water meters of Flint homeowners. To date, said Flint Plumbers and Pipe Fitters Local 370 Business Manager Harold Harrington, his members have performed pipe replacements in 300 to 400 of Flint homes, out of the 800 total that have been done so far.

Harrington bemoaned the lengthy process involved in getting the faulty pipes replaced. "There's no way this should have taken as long as it has," he said. "I understand that the federal government wasn't able to step in quicker because this wasn't a natural disaster, it was man-made. But still, one of the basic jobs of government is to assure safe drinking water for citizens, and that should have been done long ago."

The City of Flint has estimated that it could take until 2019 to replace all of the city's faulty service lines, at a rate of about 6,000 homes per year.

Flint reverted to getting water service from the City of Detroit. In the meantime, thousands of residents are still drinking bottled water or from filtered tap water.

The administration of Gov. Rick Snyder sent Flint city officials a letter in February informing them that state water bill credits for businesses and homeowners would end Feb. 28 because testing revealed lead and copper in the water "had results below the federal action level."

A subsequent statement from the City of Flint said $40.4 million in water relief credits will have been applied to the accounts of Flint water system customers by the end of the program, but Mayor Karen Weaver says that's still not enough. "We certainly appreciate the help that has already been provided, but we are not out of the woods yet," she said. "We haven't been told the water is okay to drink without a filter."

More than any other group, pipe trades union members from Local 370 and elsewhere, as well as signatory contractors, have been at the forefront of delivering bottled water, installing filters, and performing free faucet upgrades to low-income homeowners in Flint -before any government money started flowing in. Ongoing volunteer efforts culminated on Jan. 30, 2016, when about 470 union plumbers and pipe fitters from across lower Michigan spent a good chunk of that Saturday to install filters, and bring lead testing kits and bottled water to more than 1,500 homes.

Union contractors will be getting a significant share of the upcoming work. W.T. Stevens Construction,, which recently became signatory with Local 370, was awarded a $10.9 million contract for up to 2,700 residential water line replacements. "Hopefully they will also sign with the Laborers and Operators," Harrington said.

Goyette Mechanical, a long-time union contractor, was awarded a $9.1 million contract for up to 2,100 residential water line replacements.

Harrington said up to 20 Local 370 plumbers could be working throughout this summer on water main replacement.


Zito Construction, which is union for the Laborers but not the Operators or pipe trades, was awarded $5.3 million in pavement/right-of-way repair restoration services after water service line repair. A $4.4 million contract was awarded to local AFSCME workers.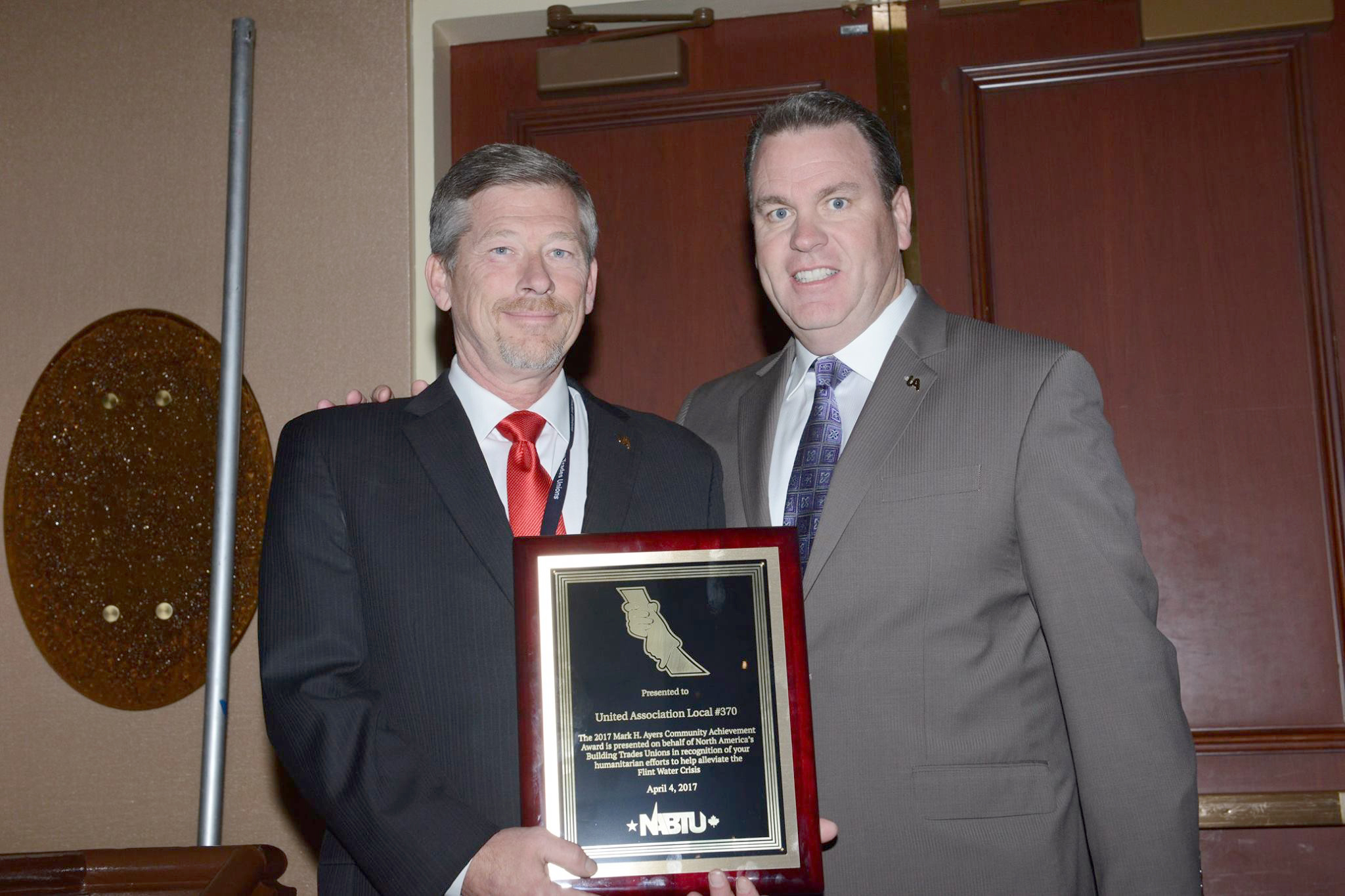 FLINT UA LOCAL 370 Business Manager Harold Harrington, left, on behalf of his local union, was honored April 4 at the North America's Building Trades Union's Legislative Conference with the Mark H. Ayers Community Achievement Award for their efforts on behalf of the people of Flint. With him is United Association of Plumbers and Pipe Fitters General President Mark McManus. The award was given "in recognition of your humanitarian efforts to help alleviate the Flint Water Crisis." The award is shared with Genesee, Lapeer, Shiawassee Building & Construction Trades Council and LIUNA Local 1075. "It was my privilege to accept this award today for UA Local 370," Harrington said. "Very proud of our members and all the UA locals throughout the state that helped." Local 1075 and GLS union volunteers distributed thousands of cases of water to people in need in Flint, and Local 370 volunteers visited 4,500 homes performing faucet repairs, installing filters, delivering water and devoting about 10,000 hours of volunteer work.