Just when you thought retail and entertainment developers had run out of ways to invite you to spend your money, along comes Fountain Walk in Novi.
The 740,000 square-foot development at I-96 and Novi Rd. will offer a unique array of specialty shops, restaurants and entertainment that are new to Michigan, brought together under the banner of a "lifestyle center." The concept is to arrange a destination set up for customers to make quick trips to pick up an item or two without having to park a great distance away, or to stay three or four hours shopping, seeing a movie or rolling around in the skateboard park.
This development isn't quite like the huge, enclosed indoor malls that were in vogue in the 1970s and 1980s. Fountain Walk will be indoor-outdoor, with retailers and restaurants lining interior roads. The development will include a central, signature fountain, as well as benches, landscaping and brick pavers. It is among the first such developments in the nation being built in a cold-weather climate.
"The concept of a lifestyle center with curbside parking has been a trend in the country for the last five years or so," said J. Miles McFee, asset manager for PLC Commercial, the project's owner. "The idea is to bring everything closer to the customer, and re-create the feeling of an old downtown."
Offering up to 58 tenants, the $140 million Fountain Walk combines the attributes of indoor and outdoor malls in one setting. Stores and eateries will line brick-paved roads and sidewalks amid a central fountain and several smaller fountains, landscaping treatments and benches.
The project began last February, and two stores, Galyans (for outdoor enthusiasts) and a Sears-owned Great Indoors store are already open. Most of the rest of the Fountain Walk development is expected to be open in May. Other tenants include Chuck E. Cheese, Casual Corner, Lane Bryant, Jillians, (a bar and restaurant loaded with video games and other interactive activities), a Cinema Hollywood movie theatre, and a 46,000 square-foot skate park.
"The average stay at a lifestyle center is four hours, which is double that of a traditional mall," said Michael Lutton, president of PLC Commercial. "To get to four hours, you need plenty of activities that aren't around a given area, and we feel confident with the active merchants, restaurants and entertainment uses we've brought in."
Clark Construction is acting as general contractor on the project, which has employed up to 500 building trades workers this year.
"The shells of the buildings are up, and we're doing work on some of the interiors," said Allen Blower, project manager for Clark. "We're very happy with the work we're seeing; the craftsmanship and quality have been extremely good."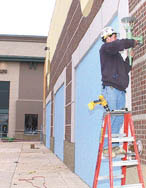 A LIGHT FIXTURE on one of the streets in the Fountain Walk development is installed by Jason Williams of IBEW Local 58 and Hall Engineering.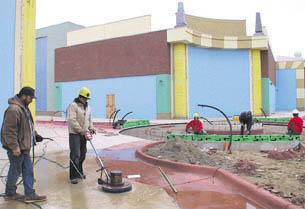 LABORER Richard Sanchez (Local 1076) operates a concrete buffer while Steve Beard (Local 334) irrigates with a hose. They were working around one of the fountains.