DETROIT - For Boilermaker Bill Tyler and his wife Nancy, not much good has come out of a potentially horrific on-the-job incident - other than a deeper appreciation for each other, their family, and for the better nature of other people.
Tyler, 55, had the worst injuries among 15 boilermakers who were stricken following the collapse of a dust collector at U.S. Steel's Great Lakes Works plant on Zug Island in the Detroit River. Bill is much improved, but he was still in Detroit's Receiving Hospital on Sept. 24 recovering from his injuries when we visited him and his wife, Nancy. She said her husband's survival from the incident was still "touch and go" a few days after the Aug. 10 incident, and the fact that he was given a chance at continued life would not have been possible without the intervention of eighth-period Boilermakers Local 169 apprentice Patrick Morand, who pulled his coworker to safety despite serious burns on his own body and a mouthful of hot ash.


The incident in question is still open and under investigation by the Michigan Occupational Safety and Health Administration. "Typically, incident investigations take several weeks or months to complete," said a statement from a spokeswoman for the Michigan Department of Regulatory Affairs. A terse statement from U.S. Steel said "an incident occurred at our Great Lakes Works facility on Friday, Aug. 10. The issue occurred at the D4 Blast Furnace involving the dust catcher. Fifteen contracted Songer Services employees were taken to local hospitals. Twelve were released, and three are receiving additional treatment."


Morand, 22, said the crew was working a 12-hour shift on the rebuild of the blast furnace. They were tasked with cleaning out the dust catcher, which often contains hardened material that would need to be broken up with dynamite, water blasting or by some other means. Without the final MIOSHA report, we're leaving out specifics of what precipitated the incident. But what is known is that as much as 100,000 lbs. of hot ash was in the space above them, and it fell and immersed the boilermakers below.


"Everything came down on us," Morand said, who roughly estimated that they were working in a cylindrical area 15-20 feet in diameter. "The rigging, the platform, the funnel, everything. We were immersed in the ash. We were buried for a decent amount of time. Enough to scare you."


Morand estimated that it took him about 40 seconds to finally stand up and get his head over the ash. "I could feel it burning inside my head and neck, and the ash was still falling down." Morand said. He saw fellow boilermaker Bill Tyler about five feet away and heard him yelling. He moved over to Bill, unhooked his tangled harness, and pulled him to safety.


"While waiting for the medical response I drank a lot of water and made myself puke," Morand said. "A bunch of ash came out." Morand suffered burns, some of them third degree, on his head, neck and the back of his leg, and he was hospitalized for four days. He fortunately did not have lingering respiratory or digestive issues from inhaling the hot ash. "While we were waiting for the ambulance, I got a look at Bill," Morand said. "He was in rough shape."


A 20-year Boilermaker out of Local 456, Rock Hill, South Carolina, Bill Tyler had been on the U.S. Steel project for five days in Michigan on that fateful Friday night. He was far from home with work opportunities being slow closer to his hometown of Opp, Alabama. Through a low, raspy voice as a patient at a Detroit hospital, Tyler said he only wanted to concentrate on the positive side of the incident.


"We were doing what the foreman asked us to do, and it was just before the first break," Tyler said. "I heard something break loose, and something fell and hit me on the shoulder. Then fly ash started pouring all over my head. I was engulfed, and I was tied off in a manner in which I couldn't release myself. I couldn't see anything. I remember asking God for forgiveness and to save my life. I don't know what else I was doing. I know I was hollering."


Tyler said he doesn't think he went unconscious at that point, but he also doesn't remember being pulled to safety by Patrick Morand. "For me, Patrick's a hero, definitely," said Nancy Tyler, who has been at her husband's side in a room in the Intensive Care Unit at Detroit's Receiving Hospital since she drove to Michigan from Alabama immediately following the incident. "There's no way we can express our thanks to him for what he did."


Morand later visited with the Tylers at the hospital. "He said anyone would have done what he did," Bill Tyler said. "I told him, no, you're my hero." For his part, Morand only said that "no one would ever walk away from someone in Bill's situation. I did what anyone would do to help someone who needed it."


Morand has been off work since the incident. Last week he said he was experiencing very little pain, "but I've got some burn marks on me that might never go away." His doctors have said their main concern is preventing infection with the new skin that has covered his burns. He has a doctor's appointment on Oct. 10, when he hopes he will be cleared to go back to work.


Bill said he doesn't remember much of anything that took place six or seven days after the incident. Nancy said she arrived at the hospital thinking she would take it "one day at a time," but soon realized it would be "one minute at a time." She said of her husband "we actually lost him" in the hospital not long after the incident, when a nurse administered CPR to Bill to revive him. "Through God's grace, he's still here," she said. With his throat constricted, the medical team gave him a tracheotomy to inhalate his lungs and stabilize him.


Bill's wounds and burns had mostly healed six weeks after the incident, and he was making regular walking circuits around the ICU's hallways. He hoped his release from the hospital and a trip back home was imminent, but he was still being fed a liquid diet via a port in his abdomen, because of a restricted airway in his throat that is aggravated by solid food. There is some damage to his vocal cords - hence the raspy voice - but he said his doctors say he should get his voice back.


Nancy said their time together and with visiting family during the ordeal has brought her and Bill closer together. And the couple together couldn't say enough nice things about the help from their family, the medical staff, the Detroit community, and the financial assistance, prayers, and offers of support from the local boilermakers officers and members.


"The boilermakers, the hall, the officers, the job stewards, and the building trades, they have been so nice, we haven't had one bad experience since we've been here," Nancy said. "Such nice people, and we just want to thank everyone for their generosity. They have come through magnificently." Contributions from the boilermakers and the other trades have allowed Nancy to stay in a discounted room at the nearby Motor City Casino Hotel, which offered her a daily shuttle ride to the hospital.


Bill said: "I always gave when they passed the hat on the job for someone who was sick or needed the money. I never dreamed I would need it. It renewed my appreciation of the Boilermaker brotherhood and all the trades."


Boilermakers Local 169 Business Manager Robert Hutsell said monetary contributions from boilermakers and building trades workers were collected on job sites in Michigan and Wisconsin and delivered to the Tylers to try and help them through a difficult time.


"Bill and Pat asked me to thank every tradesman that contributed to collections on their behalf," Hutsell said. "The outpouring of support and well wishes came from far and wide, including our International President, Newton Jones. It is in times of tragedy that we see the true spirit of our fellow man. I am extremely proud of my fellow union brothers for their unwavering support of our brothers in need.


"In addition, I was very proud of the solidarity shown by all crafts to ensure that the proper steps were taken to make the job safe for all workers moving forward. Oftentimes, an incident of this nature can have a ripple effect on a job, creating more and more problems for owners, contractors, and tradesmen. I want to thank all my union brothers that returned to work to finish the task before them.


"Both Bill and Pat encouraged their brother boilermakers to do so. Blast furnace outages can be very demanding on employees due to scheduling, overtime, and work scope. By completing the job, through adverse conditions, Michigan's building tradesmen show why they are the best choice for our owners and contractors. Last, I would like to thank Pat Morand for his selfless act that night. Pat is a great example of what a union member, apprentice, and boilermaker should be. While Pat doesn't want to be called a hero, I think he better get used to it."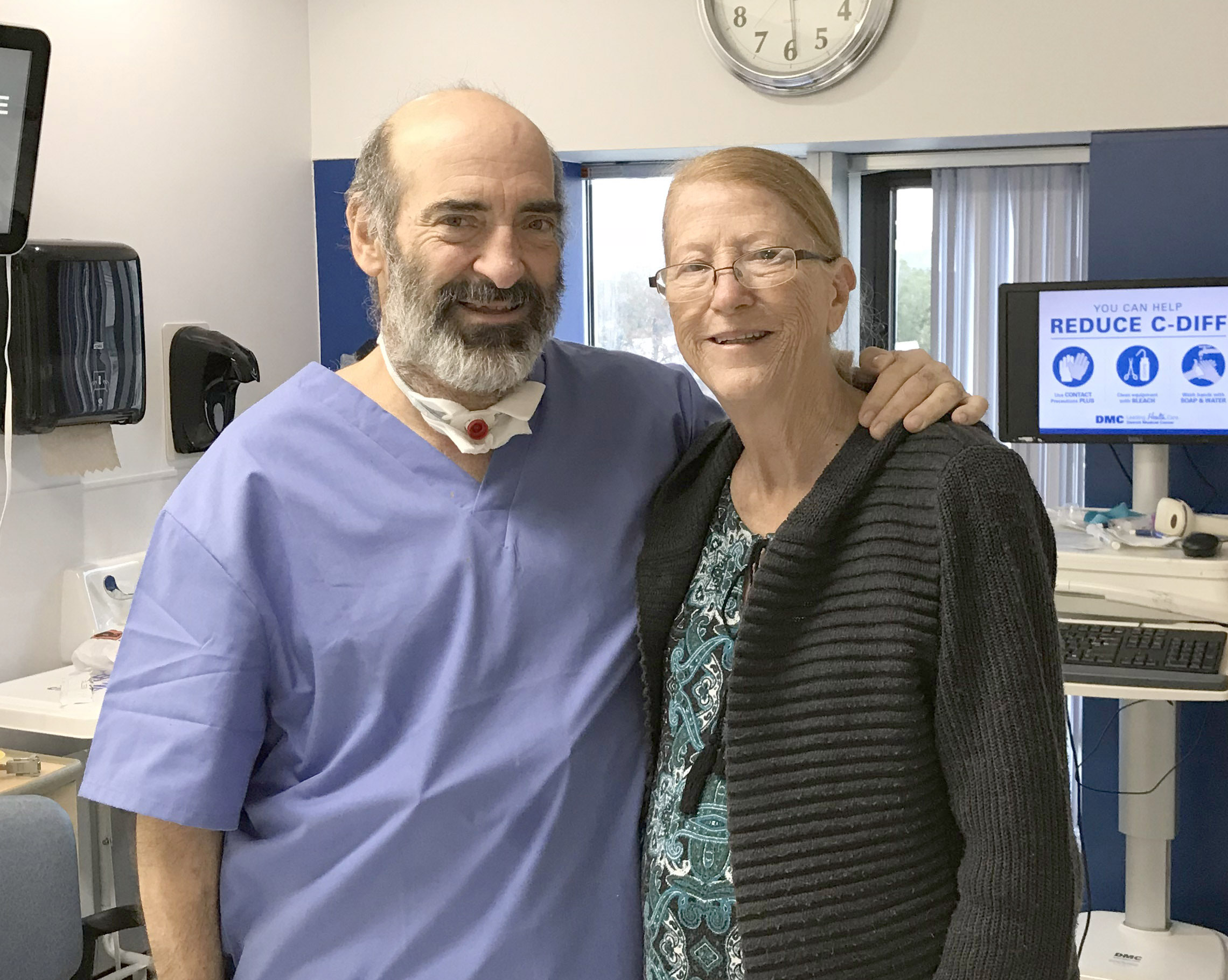 BOILERMAKER Bill Tyler and his wife, Nancy on Sept. 24 in his Detroit hospital room. Bill was severely injured on Aug. 10 following the collapse of a dust catcher at U.S. Steel's Great Lakes Works on Zug Island.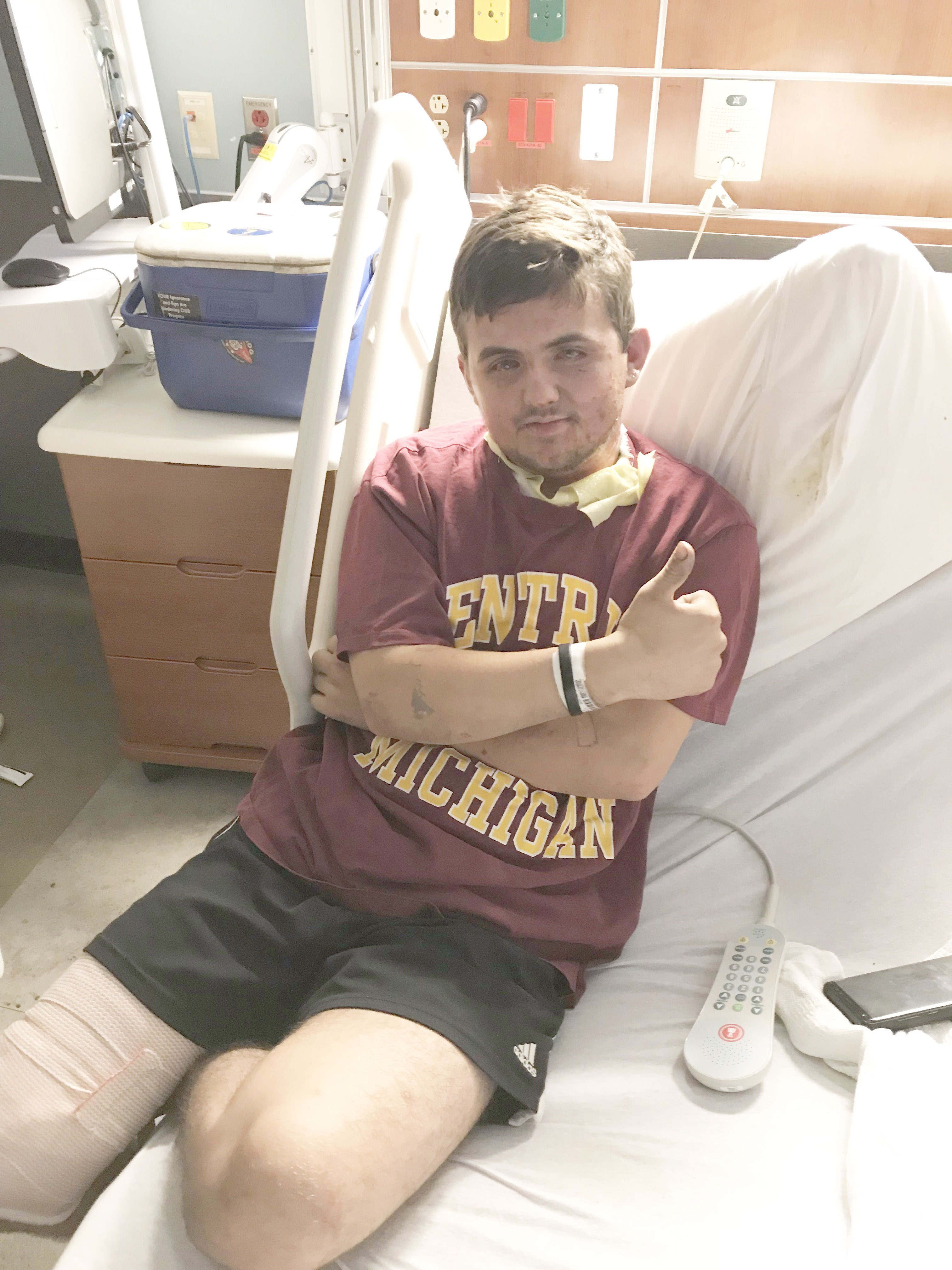 BOILERMAKERS Local 169 apprentice Patrick Morand gives a thumbs up after being hospitalized following a horrific incident at the U.S. Steel plant on Zug Island in Detroit.