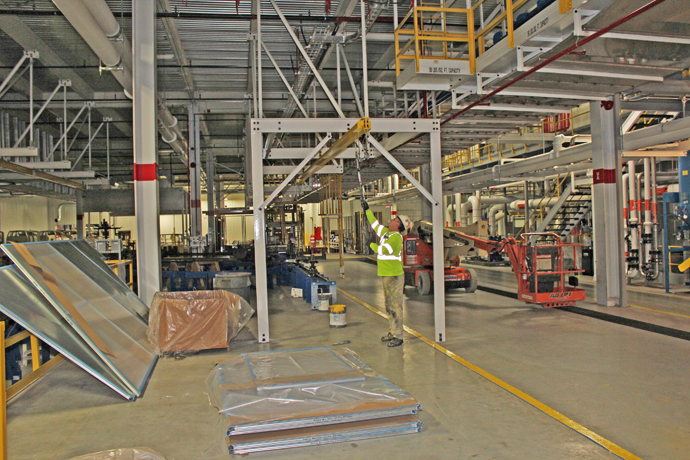 FLINT - The colors were scheduled to start spraying this week at General Motors' massive new paint shop on the grounds of the Flint Assembly plant on Van Slyke Rd.
Since construction began in early 2014, a building trades workforce that maxed out at nearly 1,000 Hardhats has been on the site, erecting a building for GM's latest generation of paint shop technology. Gallagher-Kaiser has managed the paint process portion of the project, while Walbridge has been contracted by G-K to design-build the structure.
A relative handful of about 150 tradespeople were working on the paint shop in early January, testing systems, painting, and performing all manner of last-minute items before the building was handed over to GM.
"We're really just wrapping everything up, maybe half of the manpower that is here is focusing on punch-list items," said Michelle Sloop, GM project coordinator for the paint shop project, on Jan. 13. "Overall, through the course of the project, our workforce has been really good; the trades and contractors have done really well for us."
The new paint shop is located on land south of the existing assembly plant, which was built in 1947. The entire site is located on 159 acres, and with the new paint shop, the footprint of the combined GM facilities will be 5.2 million square feet.
The assembly and paint buildings will be connected by a two-story trestle, which will allow for conveyors to move the vehicle bodies to get their new colors. The new paint shop is being built atop the plant's old V-8 engine plant, which was demolished more than a decade ago.
The new technology for paint application allows for faster movement of assembled vehicles through the plant, and uses an environmentally friendly wet-coat paint process. The new paint shop will bring about a 90 percent reduction in landfill sludge, usage of 20 percent less natural gas and 40 percent less electricity, as well as improved air management. GM says the new paint will offer improved sealers and increased corrosion resistance for vehicles.
GM builds heavy-duty Chevrolet and GMC Sierra Crew and regular cab trucks at the plant, and is capable of producing light-duty Chevrolet Silverado Crew and regular cab trucks. The trades have installed some 12 miles of conveyor to move the vehicles around the plant.
Andrew Donogan, site manager for Gallagher-Kaiser, said despite the size of the plant, the employment of no less than 1.5 million man-hours among tradespeople, and the movement of people and materials throughout the project, "I really can't point to a specific challenge that gave us any real problem. In terms of schedule, worker safety, and the job itself, we're right on target, we had no major setbacks or issues, things went really well."
The Flint plant will be one of four in the nation that will employ GM's new paint technology. "We're really proud of what we have done here," Donogan said, "this plant is going to be a real showcase for GM."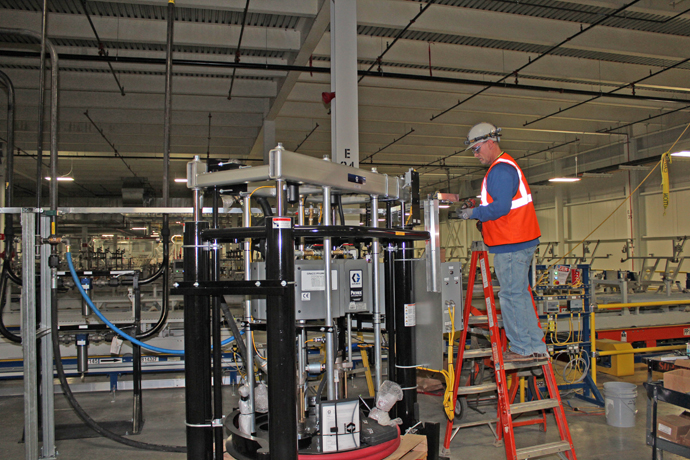 INSTALLING CABLE TRAY for a pump at the nearly complete GM-Flint Paint Shop project is Keith Lane of IBEW Local 948. He's employed by Superior Electric.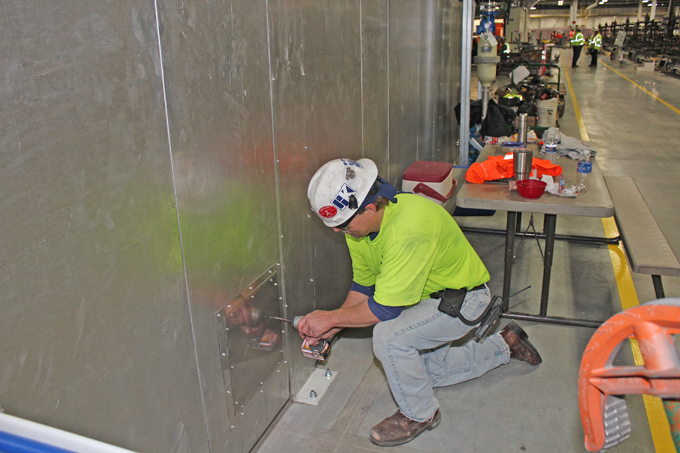 REPLACING AN ACCESS panel on a vehicle body carrier cleaner inside the GM Paint Shop is Dennis Hill of Sheet Metal Workers Local 7. He's employed by Gallagher-Kaiser.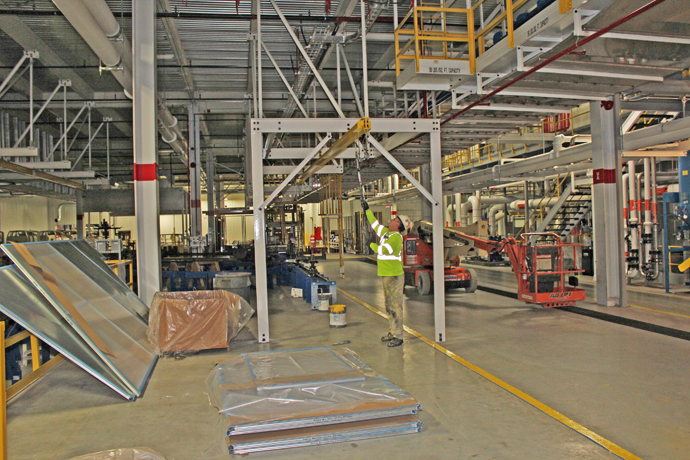 A BRIGHT SHADE OF YELLOW paint is rolled onto an overhead rail at the GM-Flint Paint Shop by Patrick Ogg of Painters District Council 1-M. He's employed by Midwest Pro Painting.