IRON MOUNTAIN – More room(s) are in the works for medical patients at the Oscar G. Johnson VA Medical Center.
Gundlach Champion, its subcontractors and the building trades are adding about 14,000 square feet of second-level of space above the existing ground-floor outpatient wing. The existing outpatient wing was built about a decade ago, and can also accommodate a third level, if it's ever needed.
"Of course, building atop the existing wing is what makes all this a challenge," said Project Supt. Scott McMyler. "We're operating next to an operating hospital." He's working for Gundlach Champion, which is acting as general contractor/construction manager on the project along with Alfredson Bros.
The new space will contain treatment space for neuro/mental health examination rooms, chemotherapy, and eye exams, among others.
Primarily a facility devoted to health care administration for veterans, the $6 million project, when it's complete in November , will shift its mission more towards patient care.
Much of the existing space below the second-floor addition was emptied out and relocated in the facility beginning last February to allow the building trades to do their work. At peak employment, about 35 Hardhats were on the job.
"They have been an excellent crew," McMyler said. "No complaints at all. They've been very professional." The site, he said, is very tight, with patients, visitors and hospital staff using the hospital on a daily basis. He said weekly safety and security meetings with hospital staff and construction foremen are aimed at ironing out any potential problems.
According to the U.S. Department of Veteran Affairs, the hospital campus also included a separate building for a garage and heating plant, a four-apartment complex which provided housing for staff, a home for the hospital administrator, and nurses and attendants quarters.
The VA says while the staff apartments and the administrator's home continue to be used for their original purpose, the attendants and nursing quarters are being used for administrative offices.
Ground was broken on the original hospital building in 1948 – in a ceremonial event watched by a crowd of nearly 5,000. The building's price tag was $6.5 million, and at the time it was the largest building project ever undertaken in the Upper Peninsula, with 300 construction workers employed at its peak period.
The buildings initial mission was primarily the delivery of health care, providing more than 250 patient beds. There were 360 employees. The hospital's service area was designed to include the entire Upper Peninsula of Michigan and 11 counties in northeastern Wisconsin. The first veteran patient was admitted on March 20, 1950.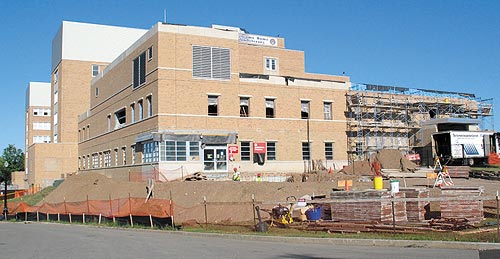 OPENED IN 1950, the Veterans Administration Medical Center in Iron Mountain is undergoing a major expansion of its outpatient area.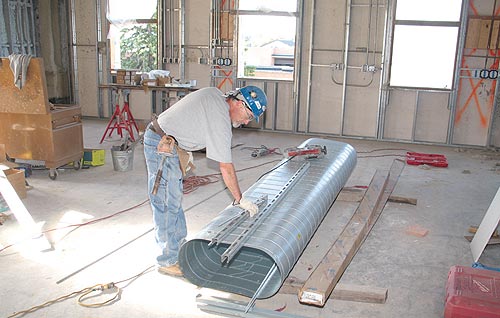 GRABBING SOME HARDWARE at the VA Hospital project is Mike Gallagher of Sheet Metal Workers Local 7, working for Tresedder Mechanical.