DETROIT - The Mike Ilitch School of Business is open for business - for the construction team of Christman-Brinker, their subcontractors and about 100 building trades union workers.
The project has proceeded over the past 12 months at the corner of Temple and Woodward. When it is completed next spring, the 120,000 square-foot, four-story building will literally be a gleaming showcase for Wayne State University's new business school.


Located within the proper of the District Detroit, the building is just north of Little Caesars Arena and about a half-mile south of Wayne State University's campus. The $50 million business school's eastern side facing Woodward will be glass-walled, brightly lit, and include a highly visible finance and data analytics lab that will feature an LED stock ticker, an interactive display wall and multiple terminals for student and faculty research.


"The glass façade and design elements, such as the café and the indoor-outdoor spaces, make the Mike Ilitch School of Business both visually striking and inviting to the greater Detroit community," said Wayne State University President M. Roy Wilson. "This new home for our business school will create a beautiful and accessible gateway connecting Midtown and downtown Detroit for students, faculty and the community alike. It's a fitting and elegant design for a world-class business school made possible by
two entrepreneurs who throughout their career have been dedicated to opening up a world of opportunities for the people of Detroit."


The two entrepreneurs are Marian and the late Mike Ilitch, who founded the Little Caesars pizza chain and owned the Detroit Red Wings and Detroit Tigers. They donated $40 million to establish the new business school. Their gift was the largest in the history of Wayne State University, and ranks as one of the top ten gifts ever made to a public business school in the United States.


At the building's groundbreaking, Mike and Marian's son Christopher Ilitch said the building represents "the next important step in bringing to life one of the most substantial demonstrations yet of my parents' love for Detroit and its people, and their hope and belief in its future. The new Wayne State University Mike Ilitch School of Business will shape tomorrow's leaders for Detroit and beyond in an incredible new facility offering innovative programs, a signature location on Woodward Avenue and
unmatched access to iconic Detroit companies."


The building is being erected on a cleared site, and the trades had to work around a few generations of old foundations, said Christman-Brinker Senior Project Manager Jennifer Emerick, none of which proved problematic when construction started last year.


"Really the biggest challenges we've had are the tight schedule," Emerick said, "and with last winter being so mild, we had to pour the new foundations in some wet, unstable soil. So it took some extra time for us to get out of the ground. But we're doing great now."


She said drywall installation has started on the fourth floor, and mechanical, electrical and plumbing work is proceeding throughout the building. Masons are at work on the exterior limestone panels, and glassworkers are cladding the structure, getting a start on closing in the building for the coming winter.


"When it gets dark, all the shades are going to go up, and there is going to be a glow at Temple and Woodward," Emerick said with a laugh. "It's exciting for us to be part of a really great project, and I know the tradespeople on the project feel the same way." The construction workforce likely will peak out at about 130.


The District Detroit is a 50-block area that will ultimately account for a total economic impact of more than $2 billion. It is made up of a mix of sports and entertainment venues, including six world-class theatres and four professional sports teams. The District will also feature retail and residential developments, offices and hotels - and the business school - that connect these venues into one contiguous, walkable area.


The Mike Ilitch School of Business will serve more than 3,000 undergraduate and graduate students and provide flexible teaching, research, office and community spaces for students and faculty. The presence of the school on Woodward Avenue will bring even more people and activity to the area, which is already bustling on days and nights when the Pistons, Tigers, Red Wings or Lions have home games.


There will be a parking structure adjacent to the building, expanded shuttle service from Wayne State, and a QLINE streetcar station in front of the building.


Other features in the building will include a two-story atrium and space for a café and pop-up retail, a 260-seat auditorium, expanded tutoring, academic advising and career services spaces, a full-service accounting lab and meeting rooms for prospective employers to interview students. The building will also have a rooftop terrace along Woodward Avenue that will allow the school to host students, alumni and friends for all kinds of events, including America's Thanksgiving Parade.
"Just a great group of tradespeople out here," Emerick said. "They've been awesome. They know we have a tight schedule, they coordinate well together and they're really helping us work toward our vision for this building."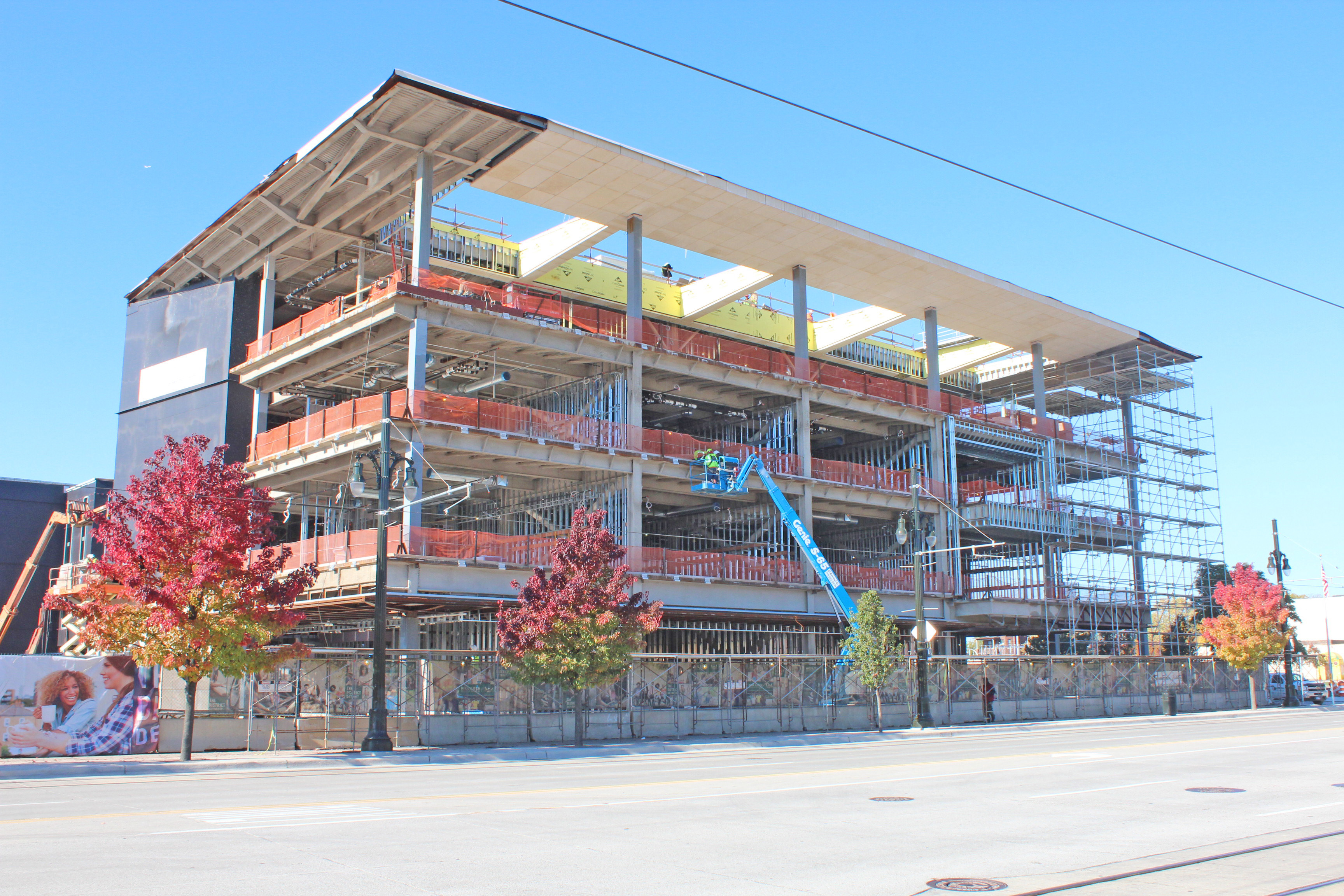 GOING UP ALONG Woodward Avenue just north of Little Caesars Arena in Detroit is the 120,000- square-foot Mike Ilitch School of Business, serving Wayne State University.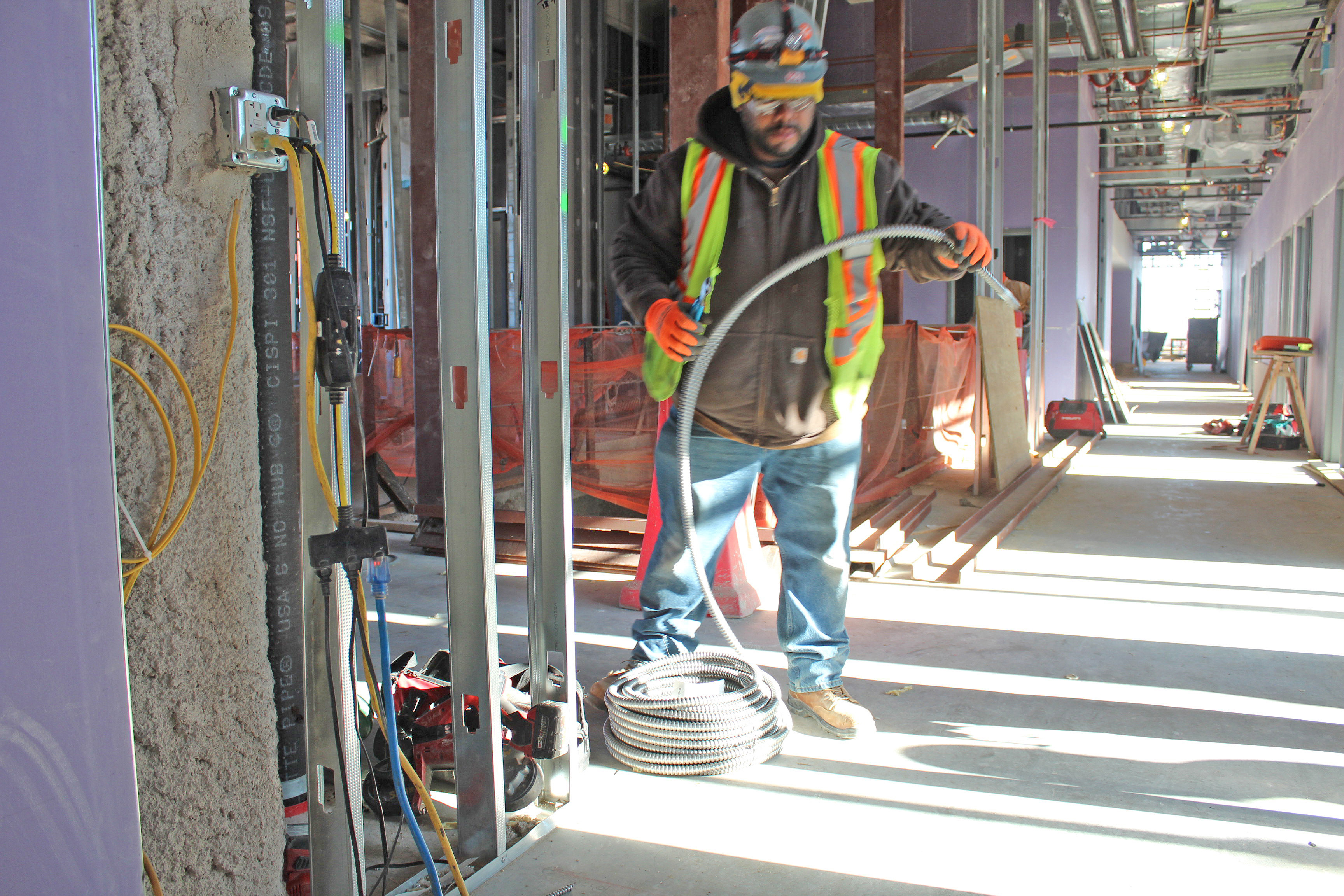 UNCOILING a section of half-inch flex cable in a hallway at the Mike Ilitch School of Business project is Jonathan Bell of IBEW Local 58. He's employed by Shaw Electric.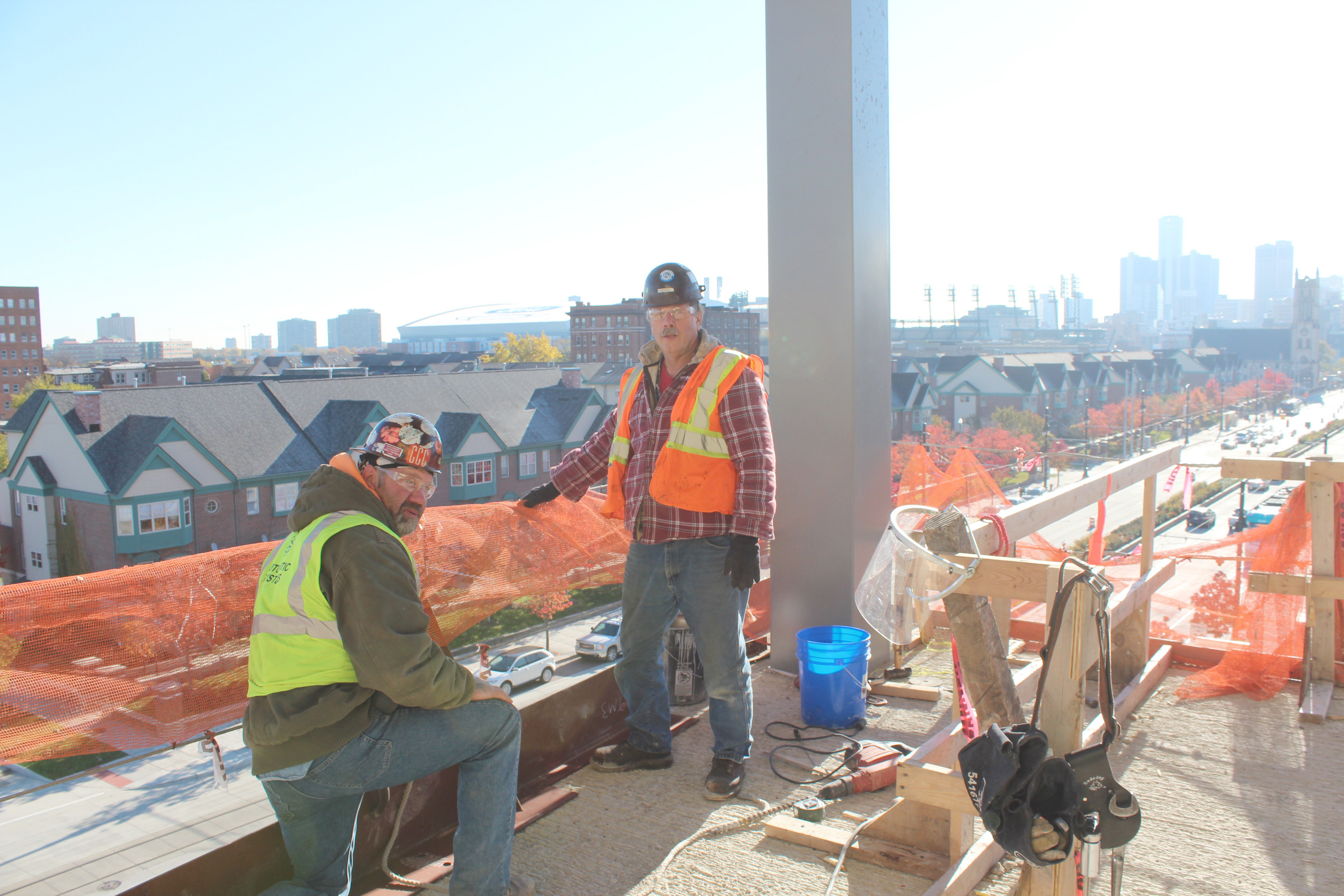 GETTING READY TO set a section of iron on the Woodward side of the Mike Ilitch School of Business are (l-r) Iron Workers Local 25 members John Brookman and Joe Kane. They're employed by Davis Iron.