BATTLE CREEK - A $29 million investment at the Prairie Farms Dairy will allow the company to add 16 new positions, manufacture new specialty products and expand distribution of its products.
An ongoing renovation and 14,000-square-foot expansion of the plant at the Fort Custer Industrial Park began last November. The trades will also renovate 8,000 square-feet of existing, unused space at the facility, whose home office is in Edwardsville, Ill.


Hometown economic development agency Battle Creek Unlimited said the plant's addition will include a processing line for an "ultra-high temperature bottle line," which will in turn "ultra-pasteurized milk," providing additional shelf life to existing milk and cream products, as well as for potential new items. It will be the only Prairie Farms facility - there are 44 productions plants in their network - capable of placing ultra-high temperature products into plastic bottles. The expansion will also include corrugation and palletizing capabilities to existing plant products.


"This expansion allows us to look ahead long term. This facility has been here since 2003, and I feel this is the right move for Prairie Farms' growth in Michigan," says Tom Davis, general manager of Prairie Farms' Battle Creek facility, to BC Unlimited.


Pro Services (piping and processes) and Shouldice (electric) are the primary contractors on site during the project. "This project will allow the plant to just about double its production capacity," said Pro Services Supervisor Robert Commissaris. "It's been a great place to work, but the job has had its challenges bringing everything together."


The plant is expanding on its south side. According to the company's filing with the state, the plant expansion will house five production tanks, one vacuum thermal instant sterilizer, one clean-in-place system and a series of storage racks for materials and ingredients.


Dairy production at the plant has continued with the trades workers present, and has affected the way they do their jobs, Commissaris said. The plant has extremely high clean standards, and construction work has to be sealed off from that production. He said "when it comes time to tie-in new steam condensate and feed water lines into the existing system, there are only three (holiday shutdown) days a year to do that. Any outage is going have to be scheduled very carefully."


The plant's products are distributed via Prairie Farms into 16 states and through warehouses into all the 48 contiguous states. In its filing with the state Treasury Department, Prairie Farms said the raw milk for the plant will be supplied by Michigan milk producers. "When fully developed," the company said, "Michigan raw milk will be sold across the country, helping our local farmers market their milk nationally."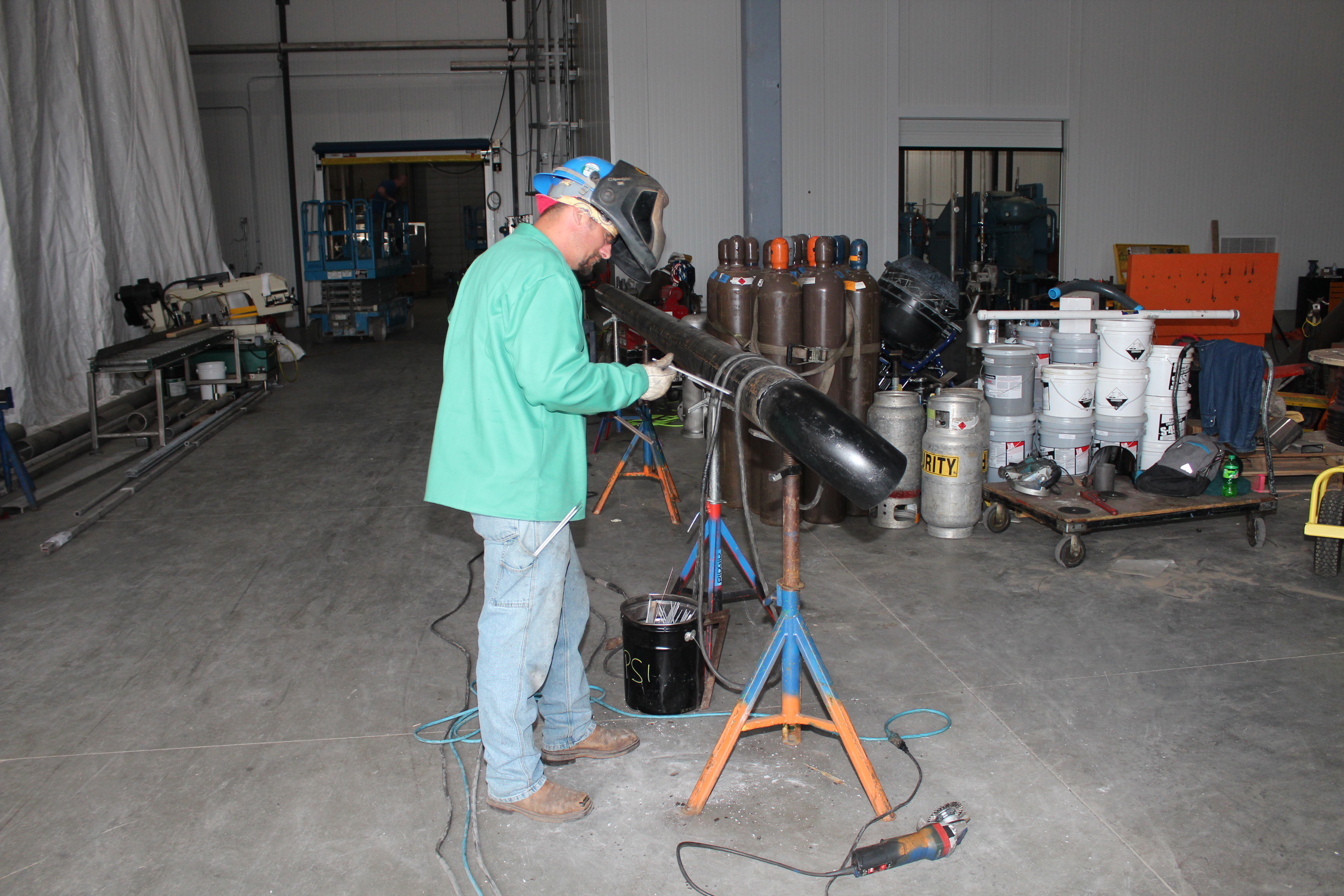 WORKING ON A SIX-INCH carbon steel vent line at the Prairie Farms project in Battle Creek is Michael Schneider of Plumbers and Pipe Fitters Local 333. He's employed by Pro Services.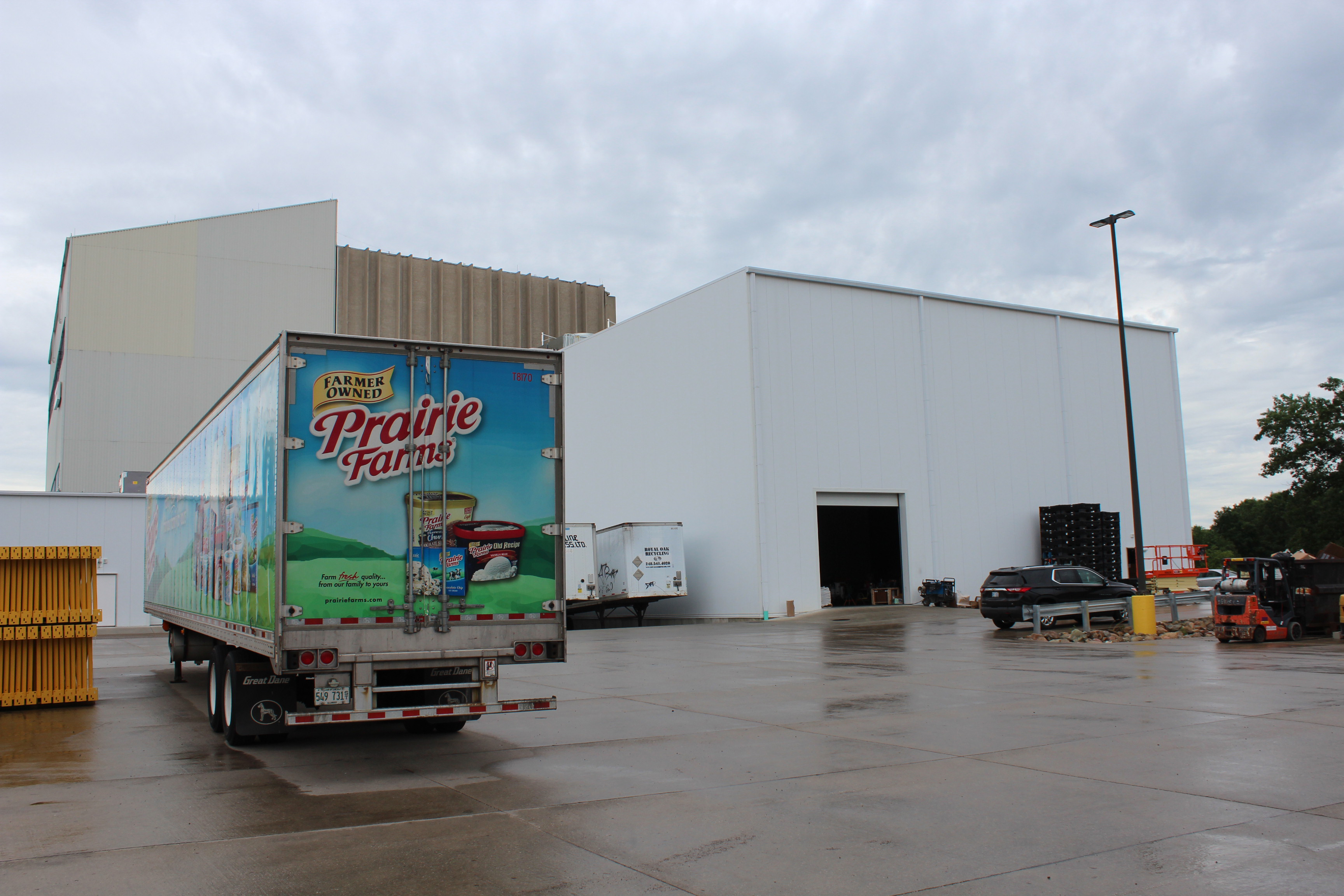 A 14,000-SQUARE-FOOT addition to the Prairie Farms Dairy in Battle Creek, the white building at right, plus renovations to the existing plant will allow the facility to "ultra-pasteurize" milk and cream products, allowing the company to offer products with longer shelf lives.