Union work in the residential field is down. But it's not out.
Providing evidence of this is retired iron worker Doug Kalnbach, a Local 25 member who ordered the installation of a whole-house Generac standby electric generator. Before the unit was even up and running, he called The Building Tradesman office and said he was "delighted and elated" that a union contractor showed up to do the work after he ordered one through an 800 number in a televised ad.
"I worked quite a bit in Lansing, so I know a lot of the other union contractors, and I couldn't believe it when that Hayes truck showed up at my house," he said. "I told them, 'hey, you guys are union!' and they said, 'yes, we are!'"
That truck is owned by the installing contractor F.D. Hayes Electric Co., a Lansing-based NECA-affiliated company employing IBEW electricians from Local 665. Kalnbach said the F.D. Hayes crew promptly and efficiently set the generator at the back of his home in the town of Nashville (about 30 minutes southwest of Lansing), replaced his old breaker panel, and wired the generator. As a bonus, he said a Plumbers and Pipe Fitters Local 333 journeyman that Hayes subcontracted with, Myers Plumbing and Heating, hooked up the natural gas line to the generator.
"They're installing it right now, and I don't have a bit of concern that the job is going to be done right," Kalnbach said on Oct. 28. "This is a group of union professionals." Doug later sent us some photos of the install and confirmed that the job was done right.
IBEW Local 665 Assistant Business Manager Aaron Pistor said when it comes to installing backup residential power, "F.D. Hayes is really big into generators. They know what they're doing, they've been doing it for a long time."
F.D. Hayes Generator Dept. Manager Patrick Sprunger said his company has been in business since 1923, and the residential backup generator installation service has grown from being "basically inactive about 10 years ago, to being a significant part of our business."
Sprunger said the company's generator installers usually put in about 170 units a year, with typical one-day installations and a crew of two electricians and one pipe trades journeyman subcontracted from Myers.
"We have some really good, dedicated people doing our installation work," Sprunger said. "Some people might say that union workers want to take the easy way out, but our people are great; we have a skilled, dedicated workforce who go out and get it done whatever the conditions, whatever the weather."
F.D. Hayes employs about 30, and they do a variety of commercial and residential electrical contracting, data/telecommunications, service, and commercial kitchen equipment installs.
Sprunger said they are the only union contractor in mid-Michigan that perform Generac electric standby generator installations. "They did a great job," Kalnbach said.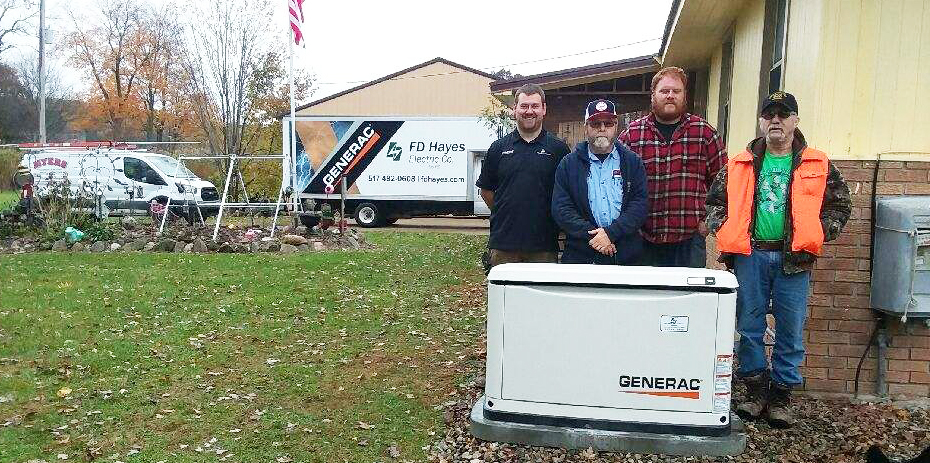 UNION CONTRACTOR F.D. Hayes installs residential Generac standby generators – and generates jobs for IBEW and UA workers in mid-Michigan. They installed this generator at the home of Iron Workers Local 25 retiree Doug Kalnbach, at right, who expressed delight that a union contractor was doing the work. With him behind the unit they installed are (l-r) IBEW Local 665 journeyman electrician James Samann, Plumbers & Pipe Fitters Local 333 master plumber Dale McGoron (employed by Myers Plumbing & Heating), and journeyman electrician Russell Beals.