ST. CLAIR - Silos have traditionally been landmarks on American farms. Tall, practical, necessary structures that stored animal feed, wheat, corn or other agricultural products, they were also
wayfinders
and landmarks for locals and travelers.
The 30-foot-tall silo at Special Dreams Farm is also a beacon along Fred Moore Highway, marking the entrance to the 31-acre Special Dreams Farm, a destination for developmentally disabled adults founded by a retired pipe fitter.
Now, thanks to the staff and apprentices at the Sheet Metal Workers Local 80 Training Center, the Special Dreams Farm's silo has a roof - creating a new weatherproof space adjacent to the farm's barn for two miniature goats to move around in. Over the course of their fall semester, apprentices from Local 80, under the eye of instructor Sam Velez and Apprenticeship Coordinator Matt O'Rourke, built a 10-foot-diameter, conical-shaped roof for the concrete silo. The completed 300-lb. roof cap with a "
galvalum
" surface was lifted into place atop the silo with the help of a donated DTE Energy crane on Dec. 13.
"It's awesome, it's beautiful, it's so much more than I expected," said Larry Collette, the president and founder of Special Dreams Farm.


A retired 45-year Local 636 pipe fitter, Collette founded Special Dreams Farm in 2004 as a place for his autistic son Greg, and other developmentally disabled adults. Typically served are adults with autism, Down Syndrome, cerebral palsy, closed head injuries and other cognitive impairments. Formal state educational programs for Greg and people like him end at age 26, and their parents and guardians are often left at a loss in finding a fulfilling, daily purposeful destination for them.


Special Dreams Farm, open 51 weeks per year, welcomes up to 20 "farmers" at a time, five days a week from 9:30 a.m. to 1 p.m., tailoring the teaching of practical life skills to their individual capabilities. The former dairy farm has buildings more than a century old. Farmers learn skills like sewing, cooking, laundering, picnic table making, woodworking and collecting and selling firewood. They also get to socialize, tend a greenhouse and garden, ride horses, and take care of rabbits, chickens, and soon, miniature goats.


"Everyone here has a jobs coach, but so much of this is about social interaction, giving the farmers a place to go every day, giving them a purpose," Collette said.


The nonprofit farm runs entirely on grants, donations, and fundraisers, and building trades union members and their contractors have stepped up to help tremendously over the years, Collette said. Operating engineers, laborers and their contractors graded and built an asphalt driveway from the barn onto nearby Fred Moore Highway, as well as the facility's parking lot. Pipe trades, carpenters, electricians, and sheet metal workers and their contractors donated time, material and talent to make repairs of the aging buildings and improve mechanical systems.


Collette said the Dana Engineered Plastics components plant in nearby St. Clair responded to a grant request with an offer of $5,000. The majority was spent converting a section of the barn to prepare for the acquisition of the goats, and the roof for the silo. He placed a call to Local 80 Business Manager Tim Mulligan to see what kind of skills could be donated by the sheet metal workers to make the roof. Materials were donated by Allied Ventilation and Cass Sheet Metal.


Velez said the school's apprentices worked on the roof part-time since the first week of school last August, designing the structure, cutting the pieces and finally assembling it. It was trucked to Special Dreams Farm, and the apprentices were on hand to make sure their handiwork was safely and successfully lifted and secured into place.


The silo, built in the mid-1950s, is made of concrete sections, held together by steel bands. "It's very sound structurally," Collette said. "But having a roof on it will be great."


"Obviously this is a project that the apprentices aren't going to see all the time," Velez said just before the lid was lifted into place on the silo, "but it's a project that offered all kinds of skill lessons. Problem solving, layout, welding. Making everything fit together." Doing some of the leg-work to coordinate the project were Local 80 Business Agents Jason Grunenwald and Bryan McConnell and Organizer Alex Brzuszek

Surprisingly for a structure that typically stores agricultural products, many silos have traditionally been constructed without roofs, allowing the feed or other product inside to be exposed to the elements. That moisture incursion at the top of the silo is not much of a problem, according to a Michigan Farm Bureau spokesman, who said the wet compaction of the silage at the top keeps the lower contents sufficiently dry.


At Special Dreams Farm, the two miniature goats will no doubt be grateful for the roof over the empty silo. "Our class worked on it from start to finish," said Local 80 probationary apprentice Edward Dobek. "There is a big learning curve with all the different angles that are involved. It's been a different project, for sure, but we've enjoyed doing it."


(Special Dreams Farm is a 501(c) 3 organization founded in 2004.
Tax deductible
contributions can be sent to P.O. Box 741, New Baltimore, MI 48047. (810) 326-0127. Visit
www.specialdreamsfarm.org
).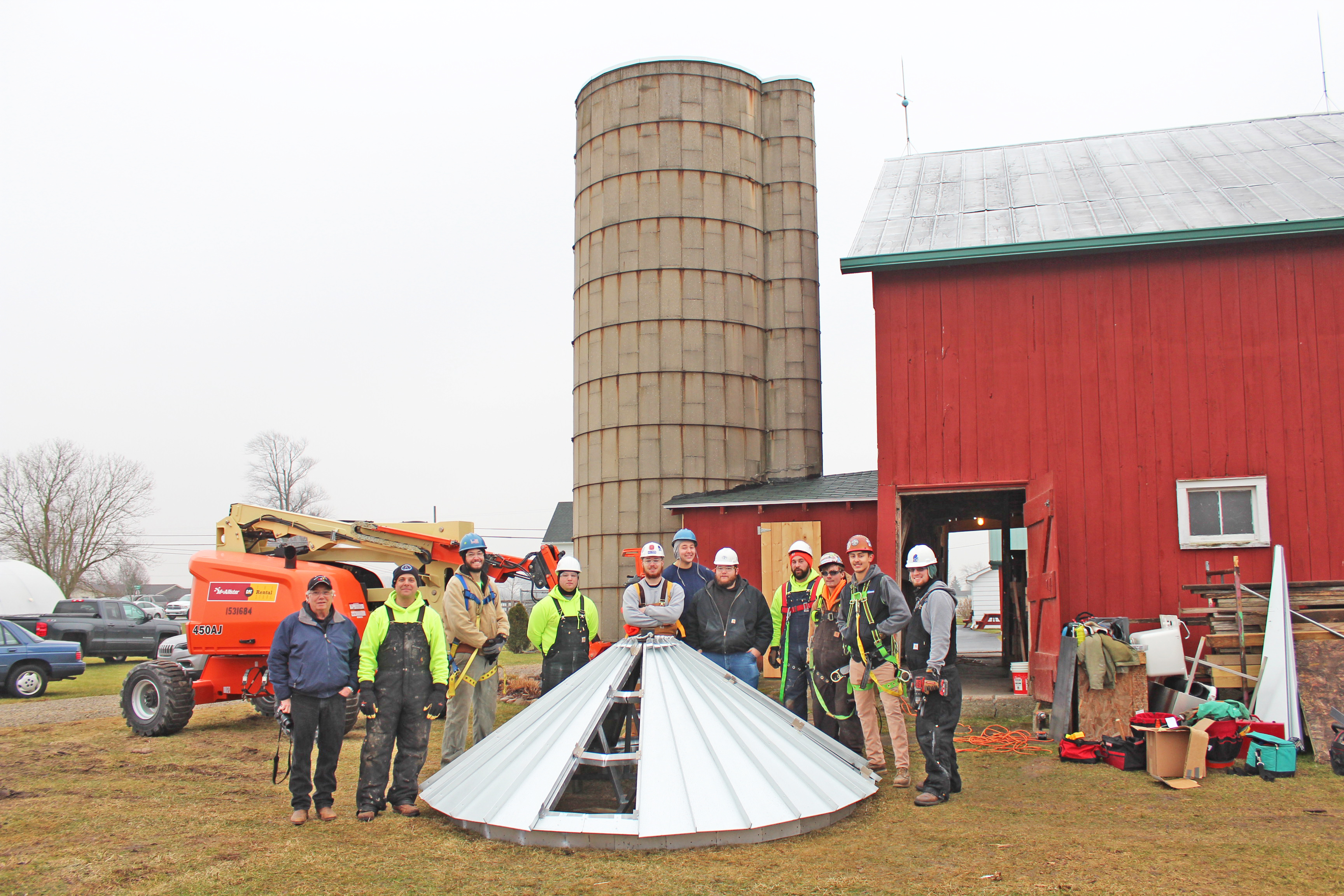 GATHERING 'ROUND the metal roof they built for the silo at Special Dreams Farm in St. Clair are a group of Sheet Metal Workers Local 80 apprentices. Among those pictured are (l-r) Special Dreams Farm founder and Pipe Fitters 636 retiree Larry Collette, Local 80 apprentice instructor Sam Velez, and Local 80 apprentices Edward Dobek, Tyler Lindsay, James Woodruff, Benjamin Engelhardt, Vince Mandarino, Garrett Mitchell, Steve Mead, Owen Vannatter and Justin Qualkenbush. Not in the photo are Brad Darnell and Dante Valente.