ROCHESTER – A new building that will be friendlier to its inhabitants and the environment is coming out of the ground on the Oakland University campus.
The $62 million, 165,000-square-foot Human Health Building, scheduled for completion in 2012, will house the university's School of Nursing and School of Health Sciences. Christman is managing construction of the project, whose ceremonial groundbreaking was held on April 12.
The five-story building, located at University and Squirrel, will house classrooms, seminar rooms, an interactive media center, as well as clinical, computer, simulation and distance learning labs. It is being financed with $40 million in Michigan Capital Outlay Budget funds, as well as funding to be generated through university general revenue bonds.
The project will bring together Oakland University's School of Health Sciences and School of Nursing from four locations on campus to a facility under a single roof. "This facility will help cement OU's reputation as one of the leading public universities in the state and foster efforts to position the region as a premier destination for health education," said university President Gary Russi.
One of the building's primary innovations will get little notice when it's complete. A 400-ton geothermal heat pump system will work with a roof-mounted solar array to provide the facility with cooling, heating and domestic hot water as well as summer dehumidification of ventilation air.
Jim Leidel, energy manager for OU facilities management, said the geothermal system will reduce energy-related carbon emissions and likely cut the building's energy costs in half.
"This is the first green building we'll have as a new construction project, and we were originally planning on going for a gold rating," he said, referring to the Leadership in Energy and Environmental Design (LEED) Green Building Rating System developed by the U.S. Green Building Council. "This grant will take us from the partial, hybrid geothermal system we originally planned to a full geothermal system," assisted by a solar thermal dehumidification component. We think that will most likely push us up to platinum level, which would make us the first educational facility with this designation in the State of Michigan."
The geothermal heat pump system was made possible by the infusion of $2.7 million of U.S. Department of Energy grant money. The grant is one of 37 from around the country that will demonstrate the use of ground source heat pump applications. Last summer, wells were sunk under a parking lot near the future Human Health Building in order to install the underground portion of the geothermal system. Then the parking lot was re-paved before school started.
Oakland University Assistant Vice President Terry Stollsteimer said one of the strings attached to the Department of Energy's grant is for the university to monitor and document the efficiency and effectiveness of heating and cooling system for five years in order to provide real-life information for private businesses that may want to install a similar system.
"We've done buildings this size on campus before, but utilizing the green aspect to this degree, in building from the ground up, is for us, is pretty significant," Stollsteimer said.
John Harmala, OU's senior project manager for Capital Planning and Design, said the soil at the site was less than ideal for compaction, so instead of sinking pilings, a four-foot-thick slab was poured to act as the building's foundation.
The building is being constructed to complement the surrounding area, and in a style that's akin to a walk-out basement. The facility will have a "very rich and unique exterior," said Christman Senior Project Manager Jeff Tomczak, who said it will be clad in terra cotta and metal siding. Tomczak said he expects one of the major aspects of the project will be to tie together all the heating, cooling and mechanical works – since it's a system that's rarely seen on a typical office or campus building.
He said there are about 50-60 Hardhats are currently on the project, and they have worked 40,000 hours without time lost to injury. "We're on target and we're moving well," Tomczak said. "The trades here have done really well for us." The building is expected be ready by August 2012, in time for the start of the fall semester.

CUTTING BLOCK at the Oakland University Human Health Building is Dominic Daniele of BAC Local 1, working for Schiffer Masonry.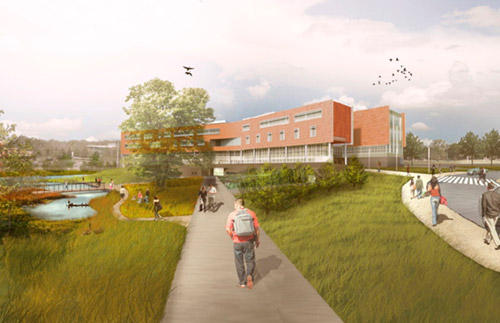 A RENDERING of the south face the Oakland University Human Heath Building. Rendering via Oakland University web site