DETROIT – The city has a huge problem with fires. The sprinkler fitters and the National Fire Safety Association have a solution.
That solution was on display Dec. 1 at a sprinkler demonstration in the fire station area behind the Southwest Detroit Safety Center. Sprinkler Fitters Local 704 members set up a pair of structures simulating a living room, one with a sprinkler and one without, to demonstrate what happens when sprinklers fights a fire. The water almost always wins.
"As a community with tremendous fire loss, you have so much re-build potential, and it provides real opportunities for greater safety" said Ron Brown, Great Lakes Regional Manager of the National Fire Safety Association. "This sprinkler movement is the single most important development in home safety since the smoke alarm."
Sprinkler Fitters apprentices erected both structures – each eight-foot by eight-foot construction with stud walls and drywall. "I contacted the Sprinkler Fitters and they were gracious enough to come help us with the demonstration," said DFD Fire Marshal Osric Wilson. "We'd like to get the mayor and council to change the code to require sprinklers in one- and two-family residential homes."
Local 704 Apprentice Coordinator Bill Lee said old furniture was placed in both structures to simulate a home setting. A single heat-activated sprinkler head was placed at the top of each, fed by a 1.5-inch water connection at the back.
"Our apprentices built them for today, and they're going to burn, but they are reusable," said Local 704 Business Manager Bob Rutan. "The idea is to use a controlled fire to demonstrate how quickly sprinklers go off, and how well they work. Our message is that fire sprinklers save lives."
Detroit firefighters used hoses to douse both structures after they burned to make sure the fires were out. The event was sponsored by Detroit Firefighters Local 334, Local 704, the Home Fire Sprinkler Coalition, and the National Fire Sprinkler Industry.
Why hold the demonstration in Detroit? The city, like the rest of the country, is not exactly a residential construction hotbed, but it has plenty of potential for building. The NFSA is urging local governments to adopt fire safety standards for residential construction that includes the installation of fire sprinklers.
Through Oct. 31, Detroit had experienced 31 fatalities as the result of residential fires in the city. The city reported 28,312 fire dispatches last year. Nationwide, 3,010 people died in about 1.3 million home fires in 2009. In reported home fires, the risk of dying decreases by 80 percent when sprinklers are present, according to the NFSA.
Brown held up as an example the city of Scottsdale, Arizona, which adopted a sprinkler ordinance in 1986. From 1986 to 2001, he said the city had 598 home fires – resulting in 13 fatalities. None of the fatalities, he said, occured in the 49 homes that had sprinklers installed.
"A residential sprinkler code allows people to get out of fires, rather than requiring the fire department to go in an get them," Brown said. " A sprinkler code doesn't protect property – it protects people."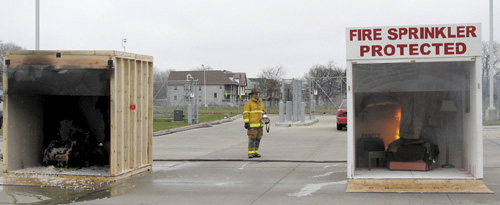 LOCAL 704 apprentices built these two demonstration structures, only to watch them burn. At left is the charred, non-sprinklered structure, at right, a firefighter watches as a sprinkler does its job.