DETROIT – Heat and Frost Insulators Local 25 celebrated its first 100 years of existence on Sept. 10, with union leaders vowing to make the gains won in wages, pensions and health care the basis for a second century of service.More than 600 members, guests, international union and contractor representatives attended the milestone anniversary during a celebration at the MGM Grand Hotel. During the dinner celebration, the local honored members with 20-year through 65-year anniversaries of service
"You look at all the past members and we say, that's our history," said current Local 25 Business Manager Tim O'Connell, who acted as master of ceremonies. "One thing I tell our apprentices, this is not my local union, this is your local union. We cannot let gains we've won, like the pension program and hospitalization, fall by the wayside."
On hand to help mark the occasion were International Union President James Grogan and General Secretary-Treasurer James McCourt.
"One hundred years is a major milestone," Grogan said. He urged members to "respect the hard times the founders of the union experienced in building what we have today."
Local 25 was founded in the spring of 1911 by George Martens, Thomas Beasley and Nathan Metcalf. Martens became the union's first business agent. Ed Brinker was a leader in several strikes at the Cleveland local, then moved to Detroit and became its second business agent.
Building on the focus on the founders, McCourt said "only a handful of people started the union, and over the years they worked through wars and the Great Depression. But they did their best to organize, they stayed in business and they grew."
Using an example of advice he learned in childhood from his father, McCourt said in today's world of politics, "let no man take away from you what is rightfully yours, because if they do, shame on you. So we have to do what is asked of us in political campaigns, so that we can enjoy what we have inherited for the next 100 years."
Speaking on behalf of Local 25's contractors, Jeff Pethke, president of the Master Insulators Association, noted that he has strong family ties to the union, with his father working as an insulator for 35 years. He hailed the "pride and the heritage" of Local 25.
"You've come a long way," he said. "At the end of the day be proud that you have contributed to this country's gross national product, be proud that you built something. Congratulations."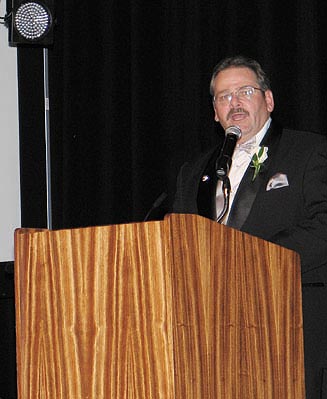 LOCAL 25 Business Manager Tim O'Connell was the party's M.C.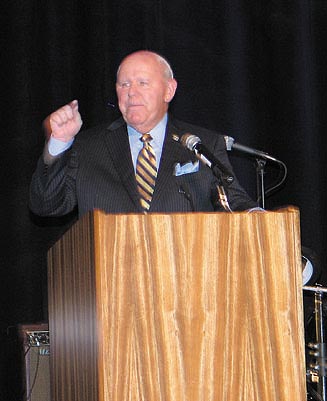 INTERNATIONAL President James Grogan makes a point.