ROYAL OAK – A milestone in expanding health care delivery to the city's downtown took place on May 17, with the topping out of the structural steel of a six-story medical center for the Henry Ford Health System.
Local 25 iron workers employed by Bristol Steel placed the structure's last steel beam with the traditional fir tree and American flag attached, marking a safe project and a new phase for construction of the 145,000-square-foot structure near 11 Mile Road and Main Street. Bristol Steel's iron workers placed 1,100 tons of steel at the site, a former parking lot.
"No problems, it was a smooth job from start to finish," said Brent Irrer, project director for Bristol Steel, which fabricated and erected the iron. "It's been a nice, safe structural job."
The topping off event included remarks from the developer, the city of Royal Oak as well as a representative from Henry Ford Health System. Also on hand were personnel from Clark Construction Co., which is managing the project.
"It's always a thrill to have the opportunity to partner with an esteemed Michigan organization like Henry Ford Health System and to help bring them into the thriving Royal Oak community," said the project's developer, Ron Boji, Boji Group president. "Identifying a committed partner to occupy the entire building immediately is a tremendous win for the city and its local economy. Henry Ford's employees and patients will start adding to the foot traffic in Royal Oak right away, and local restaurants and businesses will immediately feel the economic impact and benefit of those new, daytime visitors."
Expected to open in mid-2020, the new $70 million medical center will be staffed by more than 200 employees, including physicians, nurses and support staff. Services will include women's health, pediatrics, sports medicine, rehabilitation, radiology, primary care and outpatient surgery. A walk-in clinic, retail eye care services, a retail pharmacy and a cafe are planned for the first floor. The medical center will be open evening and weekend hours.
"We're delighted to partner with the City of Royal Oak and Boji Group on this major development," said Bob Riney, president of Healthcare Operations and chief operating officer for Henry Ford. "Royal Oak is a thriving community and we look forward to being a community partner beyond providing health care. We are committed to providing an exceptional experience for our current and new patients and meeting their health care needs close to home. The services and clinic hours we have planned will be optimal for patients of all ages."
This project is just one part of Royal Oak's overall $110-million civic center development that will also create a new city hall, police station, 581-space parking structure, and a new city park downtown.
"This announcement furthers our vision of growth for Royal Oak as we continue to show that our community is the best place to live, work, and spend time," said Mayor Michael Fournier. "The project will not only generate a number of quality local jobs, but as a flagship Michigan healthcare provider, Henry Ford will help bring new people to our city every year."
Bristol Steel started erecting steel at the site on Feb. 6, and used about 23 iron workers throughout. Included were Field Manager Dan Foco, General Foreman John Tonkovich and Detail Foreman Jarrett Noble.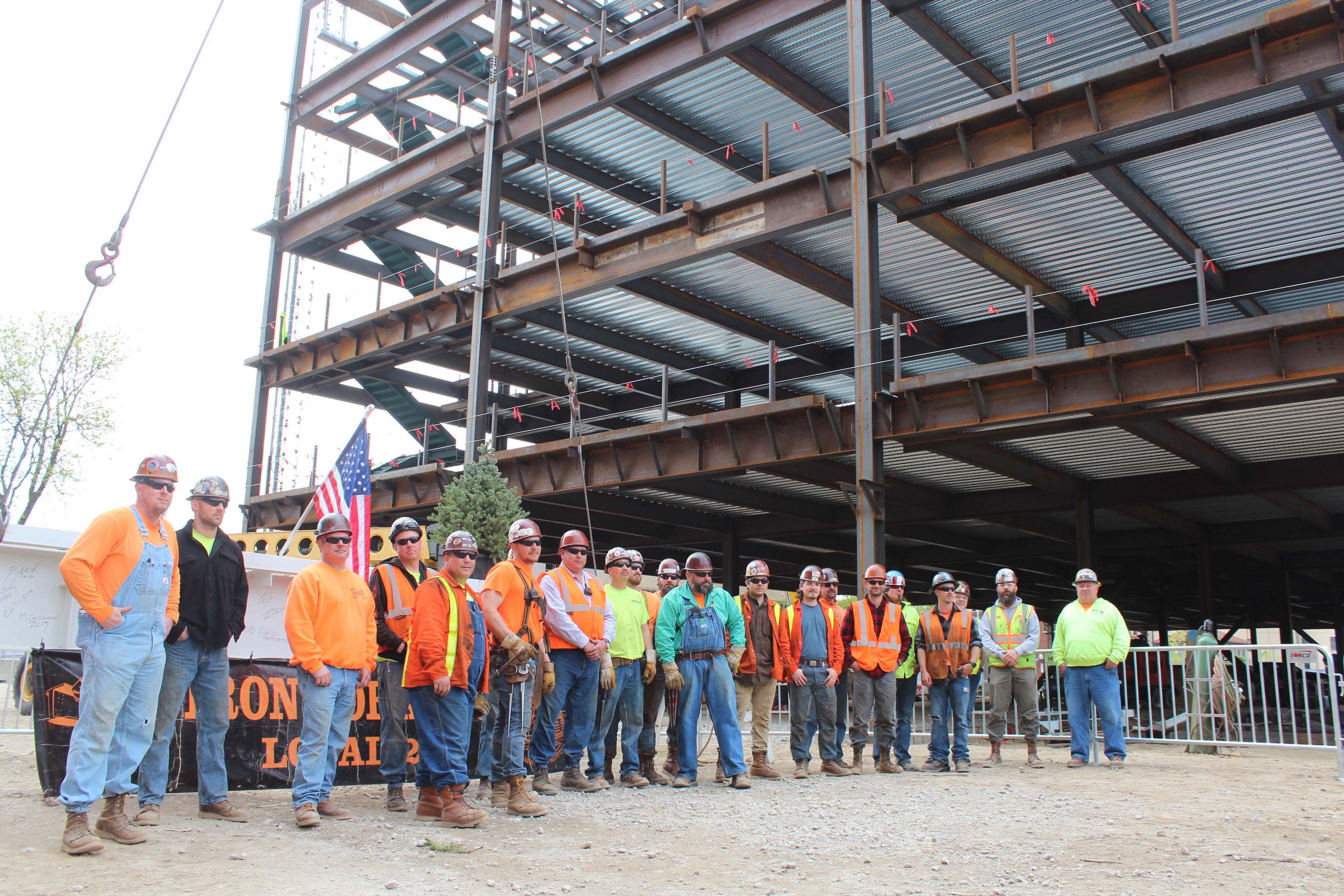 IRON WORKERS Local 25 members employed by Bristol Steel have their photo taken during the topping out ceremony at the Henry Ford – Royal Oak Medical Center.