(Editor's note: Ken Bradshaw is an Army veteran and a 34-year retired member of Iron Workers Local 8 in the Upper Peninsula. More than a year after the dedication of the monument, Ken said he "still reflects on the support of all the people who helped build the memorial, and the people who enjoy it today. I'm very happy about that.")
By Yvonne Whitman
NAHMA - Every Veterans Day, citizens and communities around the United States honor the sacrifice and service of veterans. Veterans enrich our communities, and in some instances, they continue to set an example of dedication and service.
Such is the case of Nahma Army veteran Ken Bradshaw. Bradshaw, along with his wife, Cindy,
were
the driving force in creating the recently dedicated Nahma Veteran's Memorial located in the Nahma community park.
Ken, a retired
iron worker
, and Cindy, who is retired as the Nahma Twp. Supervisor, have been involved in the park since its inception 25 years ago. When Cindy first took office, the park did not exist but she wrote a grant to obtain funding for the pavilion. That, along with community support, has created a village focal point that now includes the memorial, a playground, pavilion, and even a locomotive.
The park now provides an ideal place for community celebrations such as the annual Labor Day Festival. Their love of community and interest in sustaining it are the primary reason for them to do what they do. Nahma is a shining example of the adage "It takes a village" and a great representation of a community working together to create a better life for all. According to Ken, "We start the projects, and then we get a lot of help from friends."
When asked about the impetus for creating the memorial, Ken thoughtfully responds, "My military service." He first came up with the idea three years ago when he noticed that so many other communities had memorials but Nahma did not. "I just sat down and started making some initial sketches," he recalls, and an artist friend helped finalize the original drawing." From there, "I started telling people we were going to build it and people just started getting all excited and began donating money for it."
Donations poured in not only from local community groups but from individuals. A single $7,000 donation from a Nahma resident pushed them over the top of what was needed to begin construction. "The response from the community was overwhelming," Ken reflected
With funding in place, they broke ground and began building in the fall of 2016. Ken ordered the flag poles and medallions representing each branch of the military from the American Legion, an organization that he and Cindy are both active in. A focal point of the memorial is the onyx stone which honors Richard Morrison who is pictured standing to salute the American flag despite being in a
wheelchair. Cindy captured the poignant photo during a Memorial Day service at a local cemetery in 2015.
Sadly, Morrison passed away at age 90, one week after the photo was taken. Morrison, a longtime
Nahma
resident
, was a Marine Corps veteran who was part of the Iwo Jima invasion. He spent more than 25 years working as a Regional Service Officer for the American Legion and a lifetime working for Upper Peninsula veterans and their families.
The memorial was dedicated on Aug. 19, 2017, with the American Legion Post 301 of Rapid River in conjunction with the Marine Corps League U.P. Detachment 444 conducting the ceremony, which also included a 21-gun salute. And how does the community feel about the memorial? "They love it," Ken said with a wide grin.
(Reprinted with permission. From the November-December 2017 edition of Michigan Country Lines Magazine).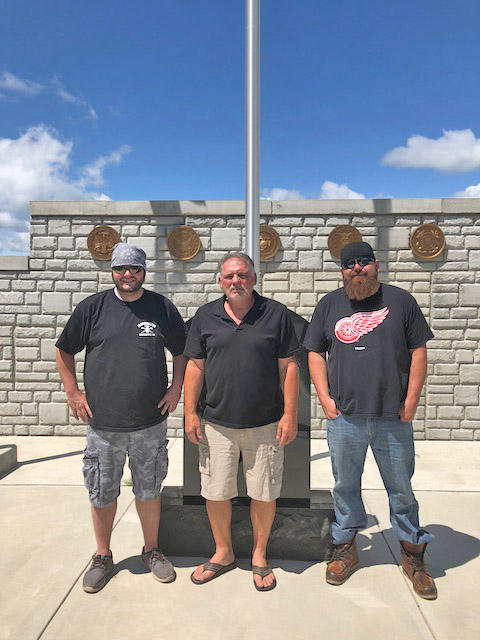 IRON WORKERS Local 8 retiree Ken Bradshaw, center, along with his wife Cindy spurred the construction of a veterans memorial wall in Nahma. With Ken are sons Lucas and Adam, also Local 8 iron workers.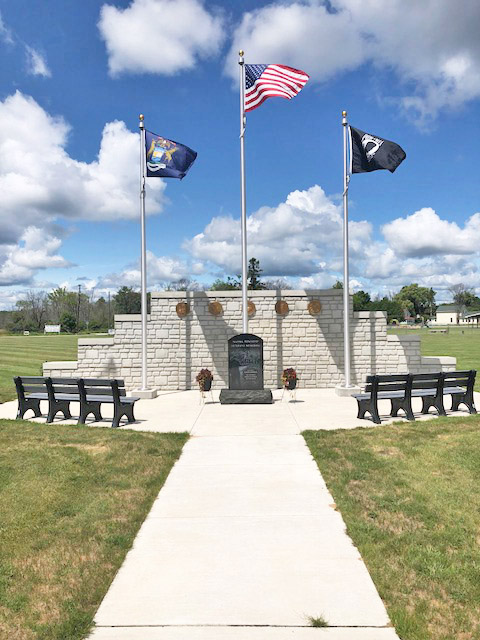 THE NAHMA VETERAN'S MEMORIAL. More than a year after the dedication of the monument, advocate Ken Bradshaw said he "still reflects on the support of all the people who helped build the memorial and the people who enjoy it today. I'm very happy about that."