ANN ARBOR - Washtenaw Community College (WCC) and the International Association of Bridge, Structural, Ornamental and Reinforcing Iron Workers Union signed a five-year contract extension March 18 to continue to hold the renowned Iron Workers Instructor Training Program on the WCC campus.
This year marks the 31st year the annual program has been held – moving to WCC in 2010. Each July, the partnership brings iron worker instructors together from across the United States and Canada to train their peers with the most contemporary skill sets to meet the demands of today's construction industry.
"We selected Washtenaw Community College because of their excellent facilities," said Walter Wise, Iron Workers General President. "During the past five years, the community and the college have exceeded our expectations and we look forward to the extension of our mutually beneficial relationship for another five years," he said. "As home to our annual Instructor's Training Program, Washtenaw Community College impacts the training of tens of thousands of iron workers in our 154 training centers throughout North America to be safe, skilled and productive."
The announcement was made by Dr. Rose B. Bellanca, WCC President and Lee Worley, Executive Director of Apprenticeship and Training, Ironworkers International.
The Iron Workers program trains for proficiency in jobs involving welding, structural steel erection, architectural and ornamental ironwork, concrete reinforcement, rigging and machinery moving and installation – as well as blueprint reading and computer skills for the ever-changing job market.
"This program is more vital than ever as the skilled trades gap continues to grow across the country," said Dr. Bellanca. "We are honored to extend our partnership with the Ironworkers as our state-of-the-art facilities provide the equipment and hands-on experience the instructors need. It's time to put renewed importance in the significance of the skilled trades and begin to close the gap which is an impediment to a thriving economy."
The 2015 Iron Worker's Instructor Training program will be held from July 13 through July 17, with approximately 600 participants expected to attend. The regional community benefits when the program comes each year, it generates nearly $3 million in economic impact within Washtenaw County.
Washtenaw County has turned into a magnet for union training. Since 1988, the United Association of Plumbers, Pipe Fitters and Sprinkler Fitters have conducted week-long summertime training programs at WCC, attracting about 1,800 instructors and staff. Then in 2001, the UA permanently established operations at WCC, opening its 44,000-square-foot Great Lakes Regional Training Center.
In August of 2009, The International Brotherhood of Electrical Workers also permanently relocated their train-the-trainer program to Washtenaw County, to the University of Michigan campus. Every summer nearly 2,000 IBEW instructors attend the week-long education events.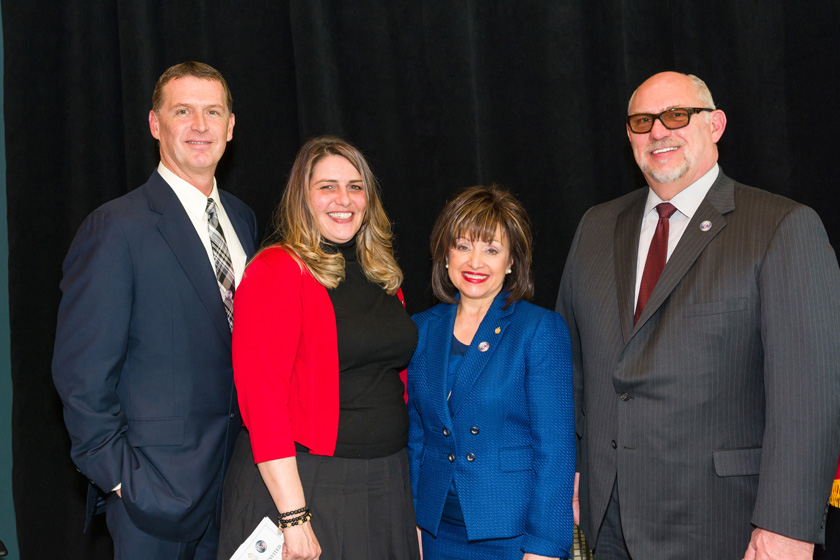 PRESENT TO recognize the Iron Workers partnership with Washtenaw Community College were (l-r) Lee Worley, Executive Director of Apprenticeship and Training, Ironworkers International; Cristy Lindemann, Washtenaw Community College Faculty, Construction Technology; Dr. Rose B. Bellanca, President, Washtenaw Community College, and Ed Abbott, General Organizer, Ironworkers International.