HOLLAND – Iron Workers helped power up the first phase of construction at the LG Chem Battery Plant, and they finished off the lion's share of their work on Nov. 29 with a topping-out ceremony.
Steel fabricator and erector Bristol Steel and Conveyor and Iron Workers Local 340 members installed 4,300 tons of structural steel, in a project that began the last week of August.
Roncelli is managing construction of the entire 600,000-square-foot project. At peak, 35 iron workers were employed. In addition, Harris Steel handled decking installation at the LG plant, and Bee Steel installed 750 tons of re-bar and 350,000 square-feet of iron mesh.
Bristol Steel held a drawing for a four-wheel ATV as a reward for the iron workers completing the job on time with zero recordable incidents.
"It has been a demanding, fast-track project with many changes, but everyone worked together to pull it off while still maintaining our top priorities: zero incident employee safety and customer satisfaction," said Bristol Steel and Conveyor Chairman Ray Oliver. "The balance of the project, a mixer tower, will be completed with the same conscientious and dedicated staff in the very near future, as the design is nearing completion."
The LG Chem plant was funded in part by a federal Department of Energy stimulus grant of $151 million with $151 million in matching funds provided by LG Chem.
Once it's fully operational in 2012, the plant will be capable of producing enough battery cells for 200,000 hybrids and electric cars, and will be making the cells both for the Chevrolet Volt and the upcoming Ford Focus Electric, expected to go on sale in 2011.
President Barack Obama visited Holland on July 15 to participate in the ceremonial groundbreaking of the plant.
"So for years you've been hearing about manufacturing jobs disappearing overseas," Obama said. ""You are leading the way to showing how manufacturing jobs are coming right back to the United States of America. So when you go buy one of these vehicles, the batteries could be stamped made in America, just like the car."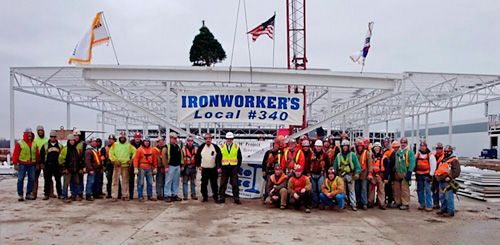 IRON WORKERS LOCAL 340 members, in front of their handiwork, top off the 600,000-square-foot LG Chem Battery Plant in Holland.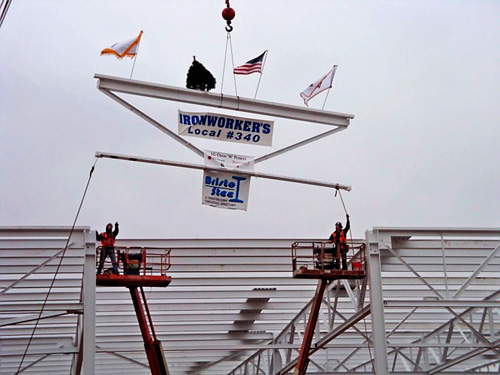 THE FINAL BEAM is maneuvered into place.