WARREN – Thomas Edison was notoriously self-confident, but even he didn't know back in 1880 when he started his Edison Illuminating Co. how wildly successful it and its successor power companies would become.
Along those lines, no one is certain what the future holds for another industry in its infancy: power delivery to – and installation of – electric vehicle charging stations. But one thing is sure: union electricians in Michigan are currently at the forefront of writing the specifications and creating the curriculum to teach the installation of plug-in stations for those electric vehicles. And going forward, electricians who are certified in the installation of vehicle charging stations are likely to be first in line to get the work.
"The training to install vehicle charging stations can easily be adapted into our curriculum," said IBEW Local 58/NECA Training Director Gary Polulak. "And what we're doing is absolutely going to bring real work opportunities for the electricians and for other trades who dig trenches and cement work."
Powering Polulak's confidence is the newly formed Electric Vehicle Infrastructure Training Program (EVITP). It's a non-profit, volunteer, collaborative effort designed to deliver a "structured platform to facilitate training and certification for the installation of electric vehicle supply equipment across the residential, commercial and public markets," said Bernie Kotlier, the program's national co-chair.
Putting together a standard for teaching and installing electric vehicle charging stations is similar to some of the basics Edison had to consider when he first installed street lights. Where should they be placed? How tall? How do you waterproof them? How do you make them safe? How do you get power to them without extensively tearing up existing streets and sidewalks?
Electrical industry partners in Michigan and California have been leading the way in writing the standards for electric vehicle power supply installation, since both states are such major stakeholders in the production of battery-powered vehicles. "Along with what they're doing in California," Polulak said, "we're leading the way here at Local 58 in Michigan in putting together the EVITP training program."
The IBEW's coursework for the installation of vehicle charging stations that Local 58 instructors helped develop involves 16-21 hours of training. It includes the technical aspects of commercial, residential and public installations. But it also involves things like customer relations in a residential setting and knowledge of utility policies.
Electricians will be given certification for completing the course work, and some contractors already have a leg up on others when it comes to certifying their workforce and bidding for the work.
"GM is going to want to see certifications before the stations are built on their property," said Jennifer Mefford, director of business development for the Southeast Michigan National Electrical Contractors Association and IBEW Local 58. The relatively small amount of additional education for electricians to get the certification means from region to region, the training "can appropriately support the market," Mefford said, without burdening the capacity of apprenticeship schools.
The certifications for IBEW electricians will soon spread around Michigan and the nation. The EVITP has developed a curriculum for installing the charging stations utilizing a "train-the-trainer" model that has served the IBEW and its partners at the National Electrical Contractors Association well over the years. Last month, more than 50 master electricians from 25 markets met in Illinois and took part in 21 hours of training, which included hands-on, classroom and skills testing over three days.
Upon successful completion of the course, those instructors return to their home markets and train additional instructors, who will in turn share their knowledge with journeymen and apprentice electricians. Local 58's Training Center was scheduled to host a train-the-trainer program for Michigan IBEW instructors May 19-20.
This scenario will really hit the fan July 31 through Aug. 5, when the charging stations installation curriculum will be offered for the first time to about 2,000 IBEW instructors who will take part in the annual National Training Institute/National Joint Apprenticeship and Training Committee for the Electrical Industry in Washtenaw County.
A sampling of the nationwide groups collaboratively setting up the standards for vehicle charger installations include General Motors, DTE Energy, Southern California Edison, General Electric, Leviton, the National Fire Protection Association, the International Association of Electrical Inspectors – and the IBEW-NECA National Joint Apprenticeship Training Committee.
"Our organization is collaborating locally and nationally with automakers, utilities, charging station manufacturers and the electrical inspector community to ensure a smooth launch of this industry," said IBEW Local 58 Business Manager Joe Abdoo.
The electrical industry's NJATC has adopted the EVITP standards and is working with the U.S. Department of Energy to ultimately create unified, nationwide building codes for the delivery of power and installation of the charging stations.
While no one can predict the future of charging stations, an expanding market is being created every day. Local 58 members have installed 20 commercial charging stations in Southeast Michigan. An estimated 15,000 battery-powered Chevrolet Volts are going to be made this model year. Next year, production is expected to ramp up to 20,000. And the Volt is hardly the only plug-in vehicle – there are currently about 15 plug-in vehicles on the road today, including the Nissan Leaf.
IBEW Local 58 Business Representative Shawn Crump, who drives a union-provided Chevy Volt, said the industry is already working on the next generation of vehicle chargers. Instead of plug-ins, batteries would be charged by a mat placed under a vehicle, similar to the way cell phone batteries can be wirelessly charged.
"There is a tremendous potential for growth in this area, and we want people in the industry to look to the IBEW and our contractors as the source for doing work on charging stations," said Crump, who is also an NJATC trustee.
The federal government has an ambitious goal of putting one million plug-in vehicles on the road by 2015.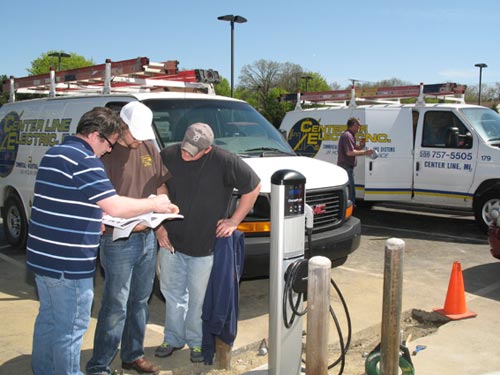 LOCAL 58 APPRENTICESHIP instructor Marty McLean, left, along with apprentices John Schenavar and Nathan Plunkett, do what's logical when installing a new fixture: read the directions. Working with Centerline Electric, they're installing a new "ChargePoint" charging station in the parking lot of the Local 58 Training Center.