"If you believe that America is going in the right direction, you should vote for George Bush," said Democratic vice presidential candidate John Edwards. "John Kerry and I have a plan. I think what would actually be good for this economy is to outsource this administration. We can do better."
Speaking to a rain-soaked crowd of about 6,000 on Labor Day in Kalamazoo, Edwards was campaigning for the Kerry for president ticket fully aware that Michigan has suffered significant job losses in recent years – especially those in the high-paying manufacturing sector.
Under the theme of "Marching for a change in 2004," Michigan's workers, retirees, family and friends took to the streets in Labor Day celebrations across Michigan, held in Detroit, Grand Rapids, Marquette, Muskegon and at the Mackinac Bridge.
Edwards – whose brother is an IBEW journeyman inside wireman – panned the policies of President George W. Bush, who will likely become the first president since Herbert Hoover to see a net loss of jobs under his watch.
Reflecting Michigan's status as a closely watched swing state in the presidential election, the Kerry-Edwards team targeted Kalamazoo for Edwards' Labor Day visit. In 2000, Al Gore beat Bush in Kalamazoo County, but by less than 600 votes. Kerry spent the day campaigning in other swing states: Ohio, Pennsylvania and West Virginia.
Edwards told the Kalamazoo crowd that John Kerry would call for a plan to increase educational opportunities by providing four years of college in return for two years of community service. Edwards also said the nation's health care system is "completely in crisis," and called for bringing in a system that will institute an even system of health care delivery for rich and poor.
"This is a president," Edwards said, "who will allow Canadian trash into this country and Michigan, but won't allow the importation of prescription drugs from Canada."
In addition, Edwards focused on issues like health care and education, emphasizing that Bush's tax cut polices have disproportionately helped the wealthy. He said Kerry will push for tax breaks for companies that promote new jobs and employment on the home front.
Edwards pointed out that since Bush took office, five million Americans have lost health care coverage and another four million went into poverty. He promised the audience that he and Kerry are "going to fight for you, we're going to give the White House back to you."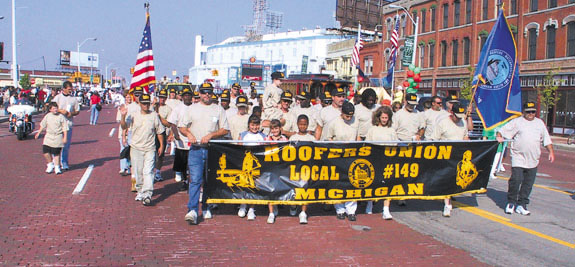 IRON WORKERS above, mark the topping out of the framework for the new luxury suites at MSU's Spartan Stadium, below. (MSU Sports Information photo)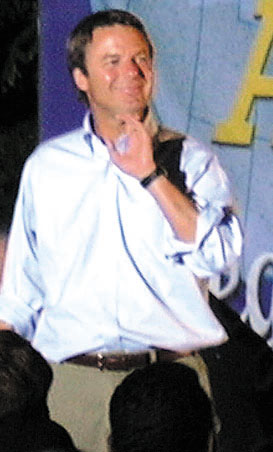 JOHN EDWARDS speaks to supporters in a park in Kalamazoo on Labor Day.