U.S. Labor Secretary Hilda Solis on Feb. 7 joined members and trainees from the Laborers' International Union of North America as they urged political leaders to "Build America" and increase investment for critical infrastructure and clean energy projects that will create family-supporting jobs in communities across the country.
Kicking off a two-day swing through Michigan and Ohio to talk about economic recovery through innovation and investment, Secretary Solis stopped at the Michigan Laborers' Training & Apprenticeship Institute in Wayne, meeting with trainees preparing for new jobs in fields such as residential weatherization.
As trainees demonstrated skills they learned, Solis praised LIUNA's top-notch training facilities and courses, as well as its partnership with Detroit Job Corps on green construction. Solis also noted that high-quality technical training programs such as LIUNA's – coupled with innovation and government investments to fix our nation's infrastructure and clean energy needs – will be a large driver of the economic recovery.
With over 40 years' experience in construction worker education and similar facilities in all 50 states, LIUNA is well-positioned to train thousands of workers to build the transportation systems, energy infrastructure and green buildings of tomorrow. Solis told the Detroit News that the new technologies are "causing us to think hard about what kind of carriers we're going to have for people moving out of this recession."
"At a time when one-in-four construction workers are unemployed, Secretary Solis' tour is about giving a voice to men and women who can be put back to work if Congress commits to rebuilding our roads, bridges, railways, and developing a clean energy infrastructure," said Geno Alessandrini, Michigan Laborers' District Council Business Manager. "LIUNA is proud that Secretary Solis is carrying the banner with us in the fight to Build America, and that our effective training programs – such as our weatherization training program – are catching her eye."
The call to Build America, issued by Solis today, has been echoed by others including President Obama in his recent State of the Union address.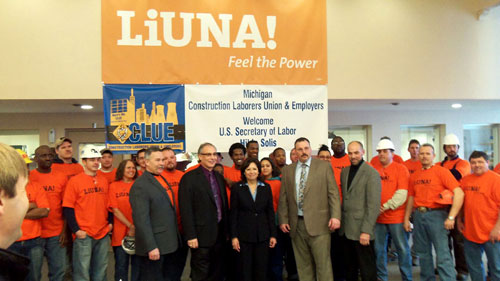 U.S. SECRETARY OF LABOR Hilda Solis, center, last month used the Michigan Laborers' Training and Apprenticeship Institute in Wayne as a backdrop to talk about economic recovery through innovation and investment. Here she is flanked (l-r) by Wayne Site Director Greg Taylor, Michigan Laborers District Council Business Manager Gino Alessandrini, Secretary-Treasurer Alex Zurek, and Training Director Lynn Coleman. Behind them are orange-shirted apprentice trainees and members of the Detroit Job Corps.