Fred Veigel, an IBEW Local 252 member and long-time Huron Valley Central Labor Council president, passed away on March 2, 2014. He was 84.
Following is a write up about Mr. Veigel by Michigan AFL-CIO President Karla Swift.
"We here at the Michigan State AFL-CIO and the entire Michigan labor movement owe a debt of gratitude to Brother Veigel for his lifetime of service to the men and women of this state, for his unparalleled conviction to the labor movement and for his distinguished career in politics.
"Fred Veigel's contributions to the Michigan labor movement began as member of the International Brotherhood of Electrical Workers (IBEW) Local 252 in 1954. During his distinguished career, he served as Business Manager and in numerous other elected and appointed positions within the IBEW, as well as field representative for the Michigan State Building and Construction Trades Council.
"Fred Veigel was first elected President of the Huron Valley Labor Central Labor Council in 1969 and thanks to the hard work and dedication of Brother Veigel, the Huron Valley Central Labor Council now represents 34 affiliated local unions with more than 13,000 members in Washtenaw and Livingston counties. Brother Veigel held the distinction of being the longest serving president of any Central Labor Council in the history of the AFL-CIO.
"As a General Board member and Speakers Bureau member of the national AFL-CIO and General Board member
of the Michigan State AFL-CIO, Brother Veigel's dedication and passion earned him reputation as a fighter, as he relentlessly pursued increased protections for working men and women, union and non-union alike.
"In addition to his many accomplishments in the labor movement, Brother Veigel was a United States Army veteran and was in his third term on the Washtenaw County Road Commission.
"Prior to his passing on March 2, officers of the Huron Valley Central Labor Council presented Brother Veigel with the distinction of President Emeritus, as well as a plaque. I was very fortunate to be able to visit with Fred on Feb. 26 while he was in the hospital. He was, as always, quick-witted and spirited.
"We, here at the Michigan State AFL-CIO, will continue to honor Brother Veigel and his many contributions by continuing to fight the good fight."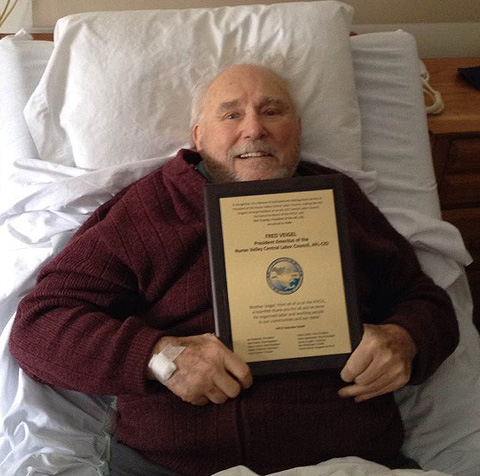 Fred Veigel, with a plaque from the Huron Valley Central Labor Council, days before he passed.