DETROIT - For trades workers setting up the North American International Auto Show at Cobo Center, this year's diminished, final show in the month of January was still a significant source of employment and pride.
But the blank floor spaces on the convention floor, the wider aisles and the complete absence of displays by numerous European automakers at this year's show are an unmistakable sign of current and future change.
"This last show in January is going out with a whimper," said IBEW Local 58 journeyman Adam Shepperd, working near the Buick display.
The show has been held every year in January since it was renamed and rebranded in 1989 from a local auto display to an "international" show. Over the years, with that international title came numerous new vehicle introductions, coverage from foreign and domestic press and visits from thousands of car company executives, design and engineering staff, and other interested parties.


But this will be the last NAIAS held in January - the sponsoring Detroit Auto Dealers Association recognized that automakers are increasing introducing vehicles elsewhere like the Consumer Electronics Show in Law Vegas - and they decided to move the next show to June 2020. The warmer temperatures will allow visitors a show that can include less reliance on indoor Cobo Center and more outdoor interactions with vehicles and other auto-related events.


"You could see the decline here over the past few years, the displays are less elaborate, the wider aisles, and a lot of the automakers are spending less," said IBEW Local 58 steward Mark Nicholson, working for Conti HTE. "It's a lot smaller show, and there are a lot of people here who are going to miss the work in January." He said the show employed 83 non-supervisory electricians this year, a drop from 135 last year - which was also down significantly from past years.

"Yeah, it's down, by quite a bit," said Billy Middleditch, the auto show steward for Iron Workers Local 25 and Convention Show Services. "Not only are there fewer exhibitors, a lot of them aren't bringing their 'A,' sets," to show off the vehicles, "we're seeing the older 'B' sets, and those aren't all that extravagant. They're making cutbacks to the size of the booths, and that means cutbacks in manpower."


Middleditch also said manpower for Local 25 at the show has dipped, from 80 last year to about 50 this year.


Cobo Center offers about 723,000 square feet in their main exhibition hall. This year there are wide swaths of space between cars and displays. Automakers like BMW, Audi and Mercedes have opted not to display vehicles in the show. In fact, VW is the only European automaker with a display.


The show attracts more than 800,000 visitors during its 10-day run from Jan. 11-20. And the NAIAS expected more than 5,000 credentialed journalists from over 60 countries to attend.


The NAIAS hasn't released details for the June 2020 show, but the hundreds of Carpenters, Electrical Workers, Iron Workers, Stagehands and Teamsters union members who put the show together every year were not expressing confidence that man-hours would improve. Plus, losing the show in the otherwise slow months of December and January is a major disappointment. "We're just going have to wait and see," Middleditch said.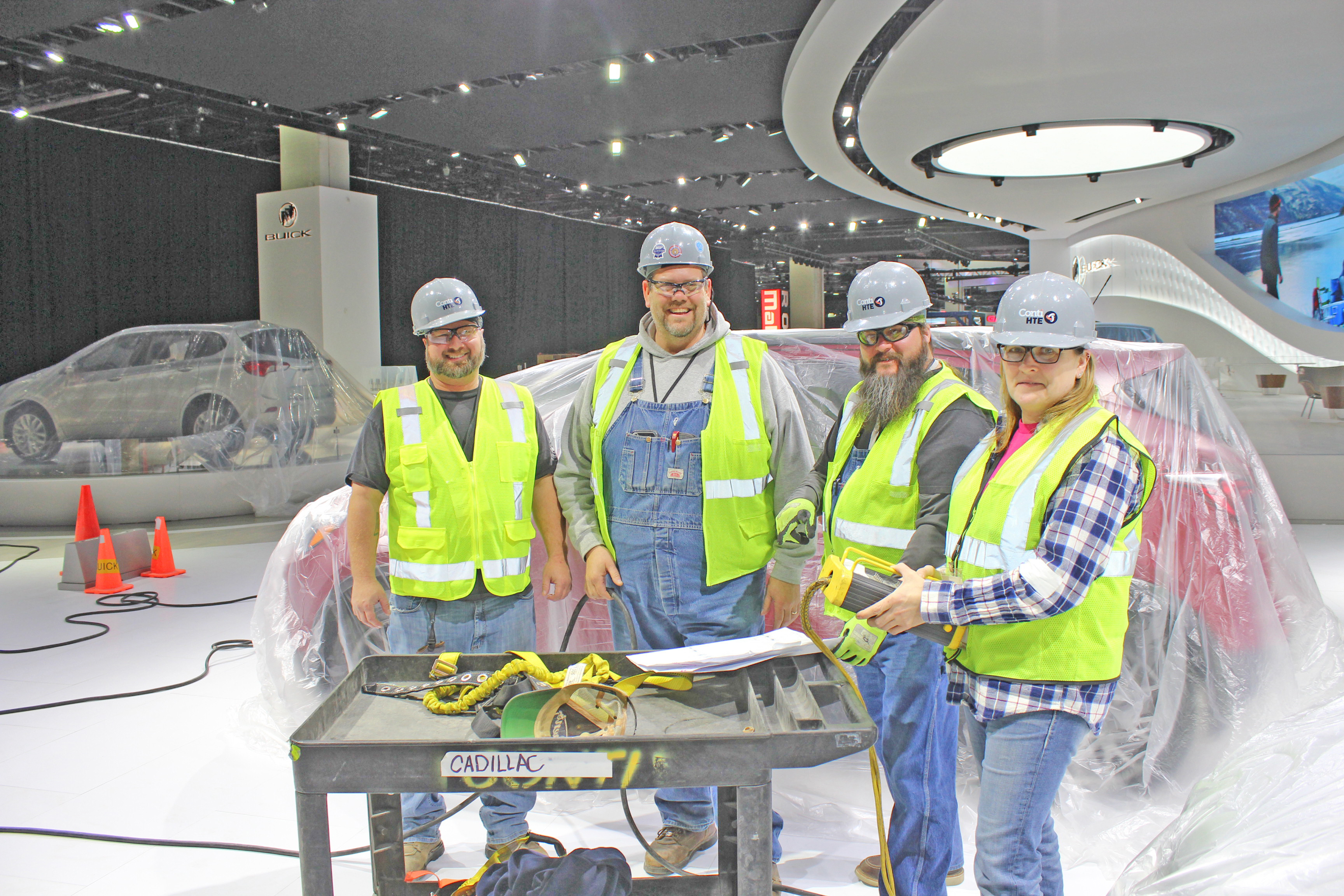 WE ASKED A GROUP OF IBEW Local 58 electricians working at the North American International Auto Show to gather for a photo near the Buick display. The journeymen include (l-r) Jason Wroblewski, John Brunning, Dan Sveller and Lynda Rusu. They're employed by Conti-HTE. The public show runs Jan. 14-27 at Cobo Center in Detroit.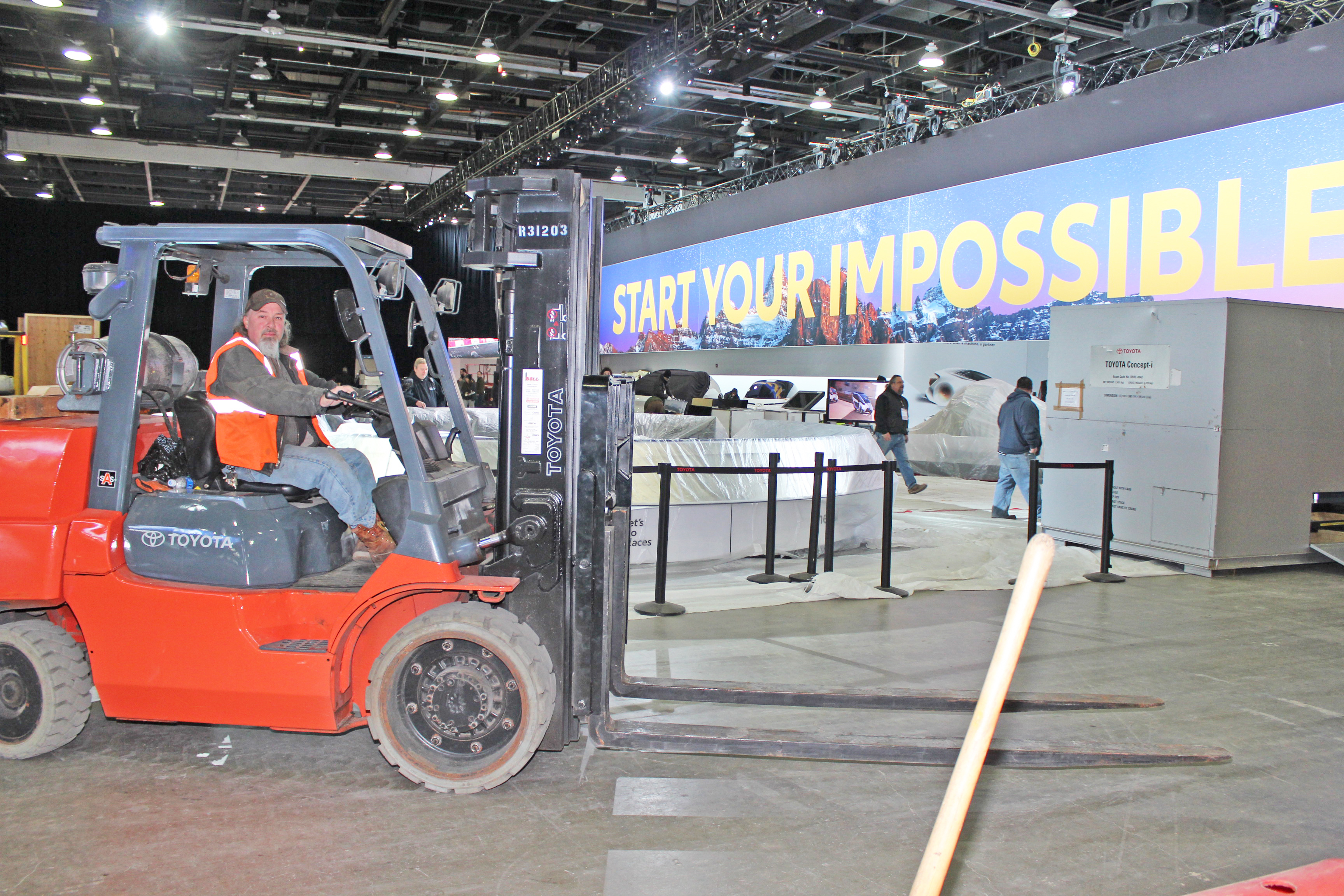 DRIVING A FORKLIFT at the NAIAS is Eddie Hallums of Iron Workers Local 25. He's employed by Convention Show Services.