Michigan Building
Trades 43rd Convention
MT. PLEASANT - Unity and political action, always familiar themes to organized labor, were once again atop the agenda during the 43rd annual convention of the Michigan Building Trades Council as labor gears up for the all-important Nov. 7 general election.
"The Nov. 7 election is projected to have one of the lowest turnouts ever," said Michigan Building Trades Council Secretary-Treasurer Tom Boensch. "And if the turnout is going to be low, that means our members' votes are going to be even more important."
The importance of the Nov. 7 general election can't be overstated for organized labor in Michigan. It starts at the top, with the presidency, and also includes the Stabenow-Abraham race for U.S. Senate, state and U.S. House seats, three judgeships on the Michigan Supreme Court, contests for Michigan Court of Appeals judges, county judgeships, county commissioners, and numerous other local offices.
For working people, the political situation in Michigan and in the nation stands to go from bad to worse if a few things don't happen on Nov. 7: If Democrats don't take back a majority in the state House of Representatives… if Democrats can't win the U.S. House… if Democrats can't win two of three seats and regain a majority on the state Supreme Court…and if Al Gore can't defeat George W. Bush for the presidency. If some of those things don't happen, friendly lawmakers will continue to spend more time putting out fires attacking working people than proposing ways to make improvements.
"We could be looking at a total Republican sweep, here in Michigan and across the country," Michigan AFL-CIO President Mark Gaffney told delegates. He said that the anticipated low voter turnout means that organized labor, including construction unions, "are one of the most critical parts of the labor movement this year."
"We have almost a million affiliated members - that's a helluva lot of power," Gaffney said. "And the building trades and workers and their families have 100,000 votes. We really need them on Election Day. We may well have one of the lowest turnouts in history for the next election, but union households are twice as likely to vote as nonunion households. That means that our vote means more."
Gaffney said hand-in-hand with political action is the need to organize. "In organized labor we just don't have the numbers or members that we used to have," he said. "Right now, they have to listen to us. But when you have a drop in membership, you lose clout."
One political leader who has always listened to the concerns of union workers is Rep. David Bonior of Mt. Clemens, the House Minority Whip in Congress. He said Democratic presidential candidate Al Gore deserves labor's vote because he compiled one of the best pro-labor voting records in Congress.
"In fact, it's been said that when Al Gore was in the Senate, only one member was more pro-worker: and that was Ted Kennedy of Massachusetts," Bonior said. "Now it's one thing to stand up for unions when you're from a state like Massachusetts. But I'll tell you, it's a hell of a lot tougher when you represent a state like Tennessee."
U.S. Senate candidate Debbie Stabenow, who is neck-and-neck with incumbent Spencer Abraham in the polls, reminded Michigan Building Trades Delegates: "In politics, you have to decide what side you're on. When it comes to matters like health insurance, pensions, overtime and prevailing wage, I'm on your side."
From her years as a state representative, to her stint as a state senator, to her successful win in 1998 in Congress, Stabenow has consistently stood up for the concerns of working people.
"I fight every day in Congress with people who think that Medicare and Social Security were a mistake," Stabenow said.
Atop her agenda, she said, are affordable prescription drugs for senior citizens, instituting a patients' bill of rights, and ensuring quality, safe schools.
"We have the greatest economy in the world, where the government helps spend millions on drug research, yet people have to go across the border to Canada to buy drugs because they can't afford them here. I get letters from people all the time who tell me that they have to choose between spending money on dinner or buying their medicine. We can fix this."
As the saying goes, "if it ain't broke, don't fix it" - and there are a number of items that may be "fixed" by candidates in a manner that helps businesses at the expense of the little guy. State and federal prevailing wage laws uphold wage standards for construction workers, and they're always under attack. So-called "paycheck protection" legislation would severely hamper the ability of unions to do political action work. Redistricting of legislative boundaries in favor of state Republicans is almost a given if Democrats can't win back the state House or a majority on the state Supreme Court.
Greater Detroit Building Trades Council Secretary Treasurer Patrick Devlin said while the potential for all those negative things exists, he prefers to dwell on what hasn't happened "under Republican occupation of Lansing."
"Here in Michigan, building trades unions are doing pretty well. Prevailing wage repeal could have taken place long ago, but it's still around. Yes, there's no money to enforce prevailing wage, but it's still around.
"Similarly, Paycheck Protection has not become reality. Right-to-work pops up every now and then, but it has never caught fire. And yes, MIOSHA isn't MIOSHA anymore, and it continues to be under-funded, but it still has a Construction Safety Division, which most states don't have, and it continues to help save lives.
"If we can get our membership out to vote on Nov. 7, and vote the right way, the labor movement in Michigan will truly be in terrific shape for years to come."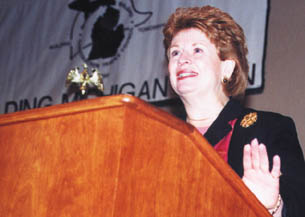 "WE ONLY GET to vote for two senators in the U.S. Senate, so you better make sure you make the right vote," said Congresswoman Debbie Stabenow, who is challenging Sen. Spencer Abraham for his seat.