DETROIT – Since the city's street pattern was laid out in the 1830s, Woodward Avenue has, over the years, gone from being a dirt trail to being platted, planked, bricked, widened and paved.
Foot traffic, horses, buggies, bicycles cars and streetcars all had their place in one era or another.
While it's unlikely that horses and buggies will return any time soon, who knows? A decade ago few would have predicted the return of streetcars to Woodward. But here we are, near the end of 2014, and construction is well underway on the new M-1 Rail system, a streetcar that will travel on both sides of Woodward for 3.3 miles (6.6 miles round-trip) between Larned Street and West Grand Boulevard in the New Center Area. The streetcar will serve 20 stations (16 curbside and four in the median) at 12 locations.
The $140 million Detroit rail project, most of it funded philanthropically, began this summer. In 2014, construction has been taking place at various points along Woodward, with the street being kept mostly open, allowing traffic to snake around work sites.
The first rail was placed on Sept. 29. The first concrete pour took place Oct. 18, with the placement of some 900 cubic yards along Woodward at John R and Clifford streets. Work will continue through the winter.
"A project like M-1 Rail is somewhat unique in the construction process and different from what people might see in road construction," said M-1 Rail Chief Operating Officer Paul Childs. "We do significant pre-pour preparation to ensure the rail is properly secured, elevated and aligned before we pour any concrete. That helps assure the streetcars will ride smoothly and quietly up and down the tracks."
Childs said once the rail alignment is done, it is checked and re-checked after a settling period. Then "premium concrete" is poured to secure the track. "This is a high-performance reinforced concrete and is also a faster curing type of concrete," Childs said. "It gets up to strength more quickly, allowing us to minimize disruptions to both vehicle and pedestrian traffic."
Another unusual aspect of the streetcar line construction includes the imbedding of the rail itself in an elastromeric grout pad or "rubber boot," which provides vibration dampening and noise reduction, and also protects the steel from water seepage and stray currents emanating from either the streetcar charging system itself, or from existing municipal utilities feeds.
"The boot assures safety, but also lets the rail expand longitudinally – in response to both heat and cold weather," said Childs. "Of course that's important for our Michigan weather, but more importantly, it protects the underground steel assets from water, current, and other environmental factors, and assures safety for rail passengers."
Six modern streetcars will make the circuit on M-1 seven days a week. Ridership for the first year is expected to be 6,000 per day, with fares expected to be $1.50. Station departures are planned every seven to 10 minutes during peak periods; and every 12-15 minutes off peak.
The streetcars will travel curbside for the majority of the route, merging into center-running at the southern and northern ends of the line. Power will come from a combination of overhead wires and batteries on the cars.
The project, Childs said, is more than streetcar rails. While Woodward Avenue's pavement is opened up, DTE Energy is taking the opportunity to install a large, deep duct bank for conduit installation. The city's public lighting is installing new wires. Some water and sewer work will take place. And there will be improvements made to the streetscape. "It's really a rebuilding of the Woodward corridor," Childs said.
Stacy and Witbeck is the project's general contractor, and at peak periods during warmer weather, between 200-250 tradespeople will be employed. M-1 Rail's planners are making extra efforts to hire Detroit-based workers and subcontractors. "It's been a remarkably successful project so far, for all the parties involved," Childs said.
He said work crews have dug up "some surprises," with generations of pavement being excavated. Childs said Hardhat crews are getting increasingly proficient at removing old streetcar rails that were paved over after Detroit's first streetcar system made its last stop in 1956. This line is expected to be complete and operational in late 2016.
"M-1 Rail is much more than just transit; it's about enabling economic inclusion and social mobility for those who have built their lives and businesses in Detroit," said Matthew P. Cullen, M-1 Rail's president and CEO. M-1 Rail is a non-profit organization leading the design, construction and future operation of the system. "We have many exceptional Detroit companies working with us that are an integral part of the project, and their outstanding service, craftsmanship, and partnership are critical to the success of M-1 Rail."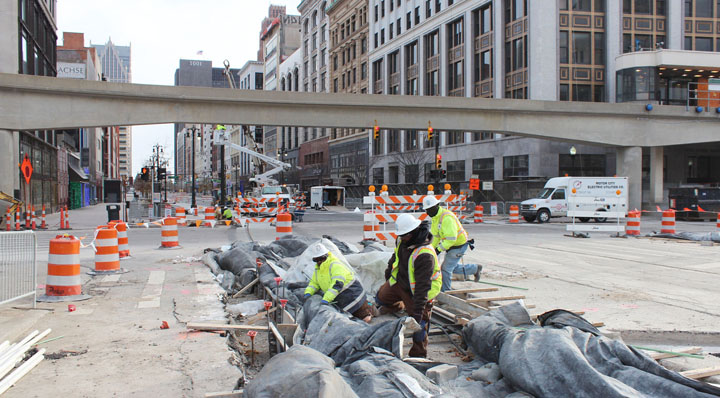 SECURING BLANKETS over a section of steel rails placed for the M-1 Rail Project in Detroit are Nathan Mahaffey, Demetrick Johnson and Renato Reynolds of Cement Masons Local 514. They're employed by Stacy and Witbeck. The crew, working at Woodward and Grand Circus Park near the elevated People Mover, was wrapping up a day's work in frigid, windy conditions in anticipation of a concrete pour the next day.
CEMENT MASONS smooth the surface around streetcar rails that were placed in October along Woodward Avenue as part of the M-1 Rail Project. (M-1 Rail photo)