DETROIT — Little Caesars Arena isn't the only ongoing construction project in the city that will have the big pizza chain's name on it.
A few blocks south of what will be the new home of the Detroit Red Wings and Pistons is the Little Caesars world headquarters expansion, located at Woodward and Columbia streets. Twenty seven years after Little Caesars moved from the suburbs to its current headquarters in the Fox Theatre building, Little Caesars is more than doubling the size of its current campus in Detroit to accommodate the company's rapid global growth and hiring.
The new nine-story, 234-000 square-foot building is being erected just south of the Fox Theatre, and the structures will link via a skywalk over Columbia Street.
"This remarkable building, with its one-of-a-kind architecture, will be a shining example of what's possible in our city," said Christopher Ilitch, president and CEO of Ilitch Holdings, Inc. at the Sept. 7 groundbreaking. "Today's groundbreaking represents the next chapter of global growth for an iconic Detroit brand, founded by my parents, Mike and Marian Ilitch, in 1959 with a single store. My hope is that our growth, commitment and continued investment in our community and its people will serve as a catalyst for others to call Detroit and Michigan their home."
Construction of the $150 million building is expected to be complete in 2018. This expansion to the Little Caesars world headquarters is Detroit's first newly constructed corporate headquarters building in more than a decade and only the seventh since 1950. Little Caesars calls it a headquarters campus that "will create a collaborative workspace that will help the company continue to attract, train and retain the top talent and franchisees needed to continue its rapid growth and better serve customers around the world. The new space will provide the most modern infrastructure and technologies, and world-class amenities to foster collaboration, innovation and connectivity."
The new headquarters building will have 14-foot-tall glass windows shaped like slices of pizza - a product with some relevance to Little Caesars. Construction of the project is managed by Detroit-based Brinker-Christman.
The building is being erected on 3,590 cubic yards of foundation concrete, and will be comprised of 1,525 tons of structural steel. The completed building will have nearly 67,000 square-feet of glass.
Its features will include:
• A glass-covered, open air terrace and "pizza garden" with vegetables and herbs
• Two-story lobby connected to a new Welcome Center
• Screening room and 425-seat training room
• Fitness center
• Retail and dining
• State of the art training facilities for franchisees, crew and employees
• Innovation kitchens (quadruples the size of current facilities)
"Building the new Little Caesars world headquarters in downtown Detroit is another example of the Ilitch family's commitment to our city's future," said Mayor Mike Duggan. "It's great to see Detroit-based companies taking the lead on this major project, which will result in employment opportunities for hundreds of our residents."
Little Caesars is the largest carryout-only pizza chain in the world with a presence in all 50 states and 20 international markets.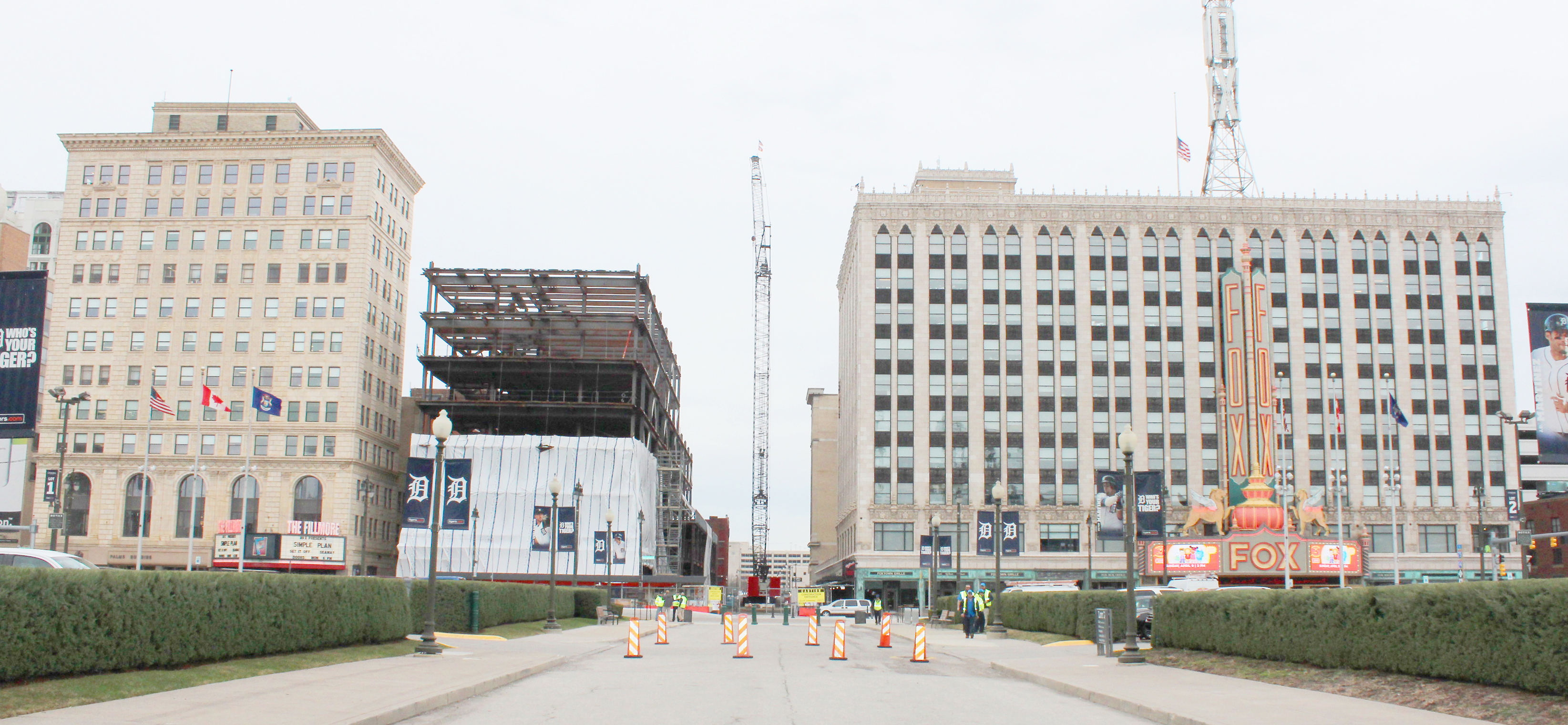 STRUCTURAL IRON for the Little Caesars world headquarters is shown going up last week along Woodward Avenue in Detroit. A skybridge will connect the new building with the existing headquarters in the Fox Theatre, at right, which opened in 1928. At left is the Fillmore Detroit, formerly the State Theatre Building, which opened in 1925.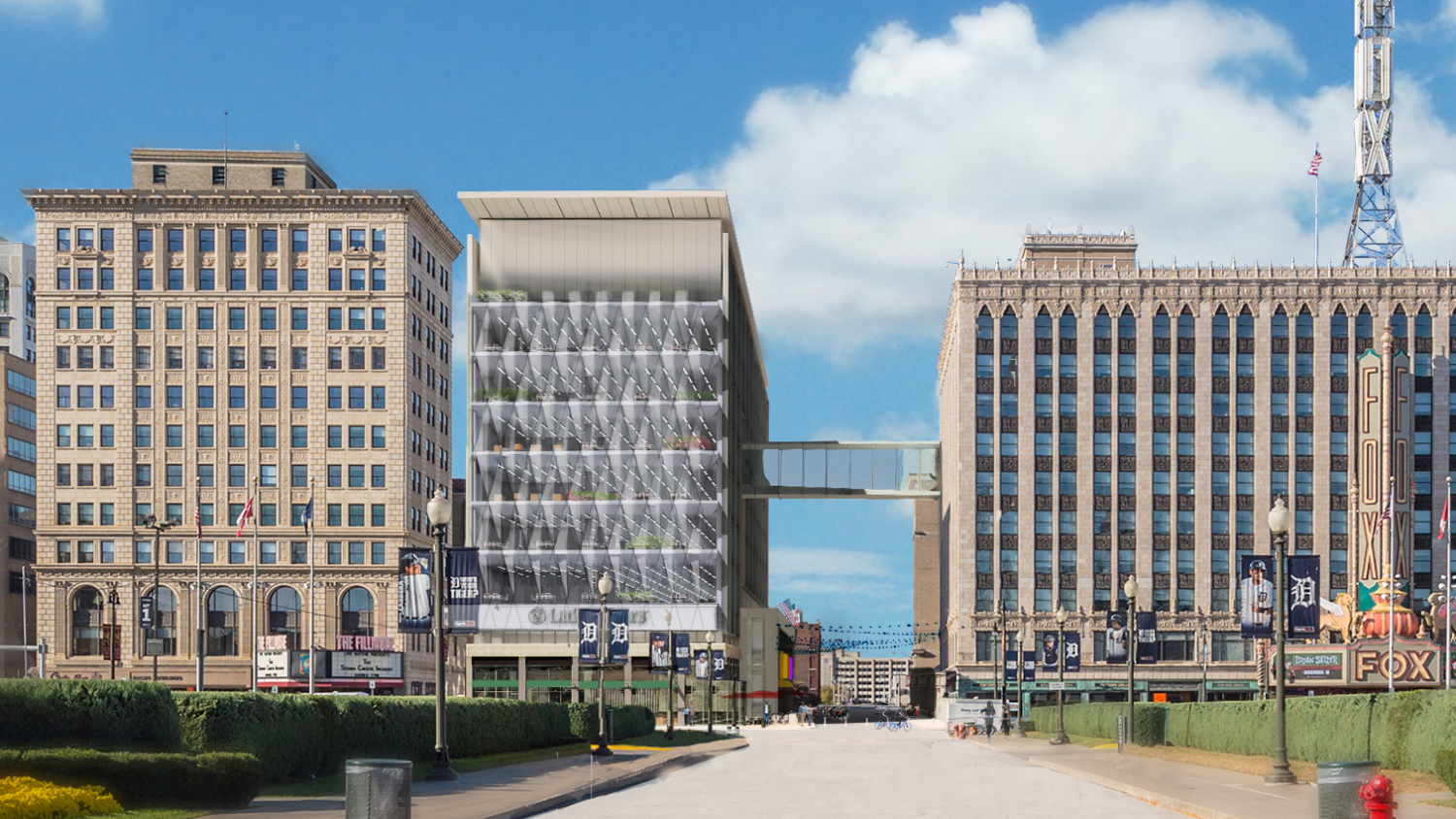 A RENDERING OF THE Little Caesars headquarters expansion project. There will 67,000 square feet of glass in the building, with exterior windows in the shape of pizza slices. Rendering via the District Detroit.