MONROE – One of their largest maintenance outages ever – at one of the largest power plants in the nation – is ongoing at DTE Energy's Monroe Power Plant Unit 2.
The outage began March 13 and is expected to run for about 11 weeks.
Between 500 and 600 building trades workers are being employed for outage work, primarily boilermakers and pipe fitters.
The total budget for the outage is approximately $60 million, including about $40 million in labor costs.
DTE Energy spokesman John Austerberry said "this is one of the largest maintenance outages ever performed at the Monroe Power Plant in terms of cost and scope of work. A significant portion of the outage work is on boiler internal systems, including replacement of major portions of boiler tubes in the re-heat pendant and the economizer. This is the first time the plant ever has undertaken tube replacement in both of those systems in the same outage. To do so requires significant planning and coordination of work. Approximately 500 crane lifts are planned to support that work through the course of the outage."
As of mid-April, Austerberry said there had been no OSHA-recordable injuries with over 150,000 man-hours worked.
There are four boiler units of the 3,000-megawatt plant. Completed in 1974, the coal-burning Monroe Power Plant is the largest power producer in DTE Energy's fleet and is the sixth largest in the nation.

BOILERMAKERS Joe Clark, Rick Fox and Ray Carnicle rig a reheat pendant for removal from the boiler.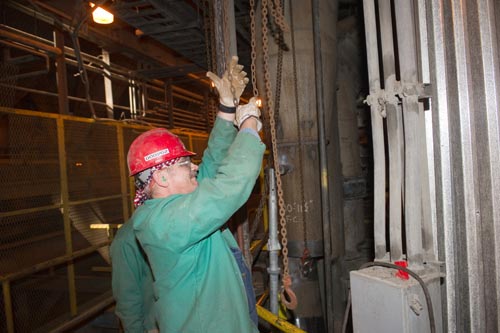 REMOVING A SECTION of coal mill piping with a chain fall is Charles Guiberson of Pipefitters Local 671. Photos courtesy DTE Energy