ANN ARBOR - Frank Lloyd Wright once said that "a physician can bury his mistakes. All an architect can do is plant vines."
It would have taken a lot of vines to cover up the garish maize and blue "halo" that surrounded three-quarters of the upper reaches of the University of Michigan Stadium for the last two football seasons. So after listening to complaints too numerous to count about the new signage, the university decided major surgery was in order.
"It did cause quite a bit of controversy," said U-M spokeswoman Joanne Nesbit.
Letters that spell out phrases from the "Hail to the Victors" fight song as well as football and university icons were removed last month, and the sheet metal background will be repainted in the spring with a more muted color scheme. The university will spend about $100,000 to tone things down. Metro Detroit Signs did the put-up and the take-down.
The halo was installed in 1998 during a $14 million renovation of the stadium that included a new scoreboard and the addition of seating for 5,500 at the top of the facility.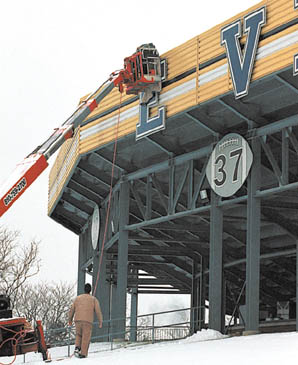 TRADESMEN FROM Metro Detroit Signs remove the "E" from "THE VICTORS" portion of the halo that surrounds U-M Stadium. The bright paint scheme and letters weren't well-received at U-M.