BAY CITY – Better water quality, a more efficient system and meeting present and future EPA standards are some of the benefits on the way for about 90,000 customers of the Bay Area Water Treatment Plant.
General contractor Spence Brothers of Saginaw, its subcontractors and the building trades are erecting a new 42,000 square-foot water treatment plant under a labor-management cooperation agreement on the grounds of the existing plant on North Euclid. The plant will employ a new advanced membrane filtering system that has successfully been used in Europe and in Marquette. The high-tech filtering system will, for example, prevent the passage of Cryptosporidium – an invisible parasite which sickened tens of thousands in Milwaukee in 1993 after drinking the city's municipal water.
Work on the new plant began in October 2013. The system is expected to start pumping water through customers' taps next summer.
"Spence Brothers and the trades are doing very well for us," said Tom Paige, director of the Bay County Department of Water and Sewer. "It's great to have local contractors and local people doing the work. People really care about what they're doing, because we're all going to get water from this plant."
The new water plant will have about one-third the capacity of the overbuilt existing water plant, which was completed in 1979. An anticipated population boom never arrived in Bay County, so the existing plant's 40 million gallons-per-day capacity was never realized. The new plant is rated at 17.4 million gallons-per day, and the community's actual water usage is about 8.4 million gallons daily.
As part of this project, Dan's Excavating is laying two miles of new, parallel 30-inch ductile iron water mains that connect to the Saginaw-Midland Municipal Water Supply Corporation raw water supply system which draws water from Lake Huron through its Whitestone Point intake facility near AuGres. The system's current raw water source in the lower Saginaw Bay is shallower and has lower water quality. The total cost of the project: $59.6 million.
"Over the long haul, the operation of this plant is going to be cheaper for the citizens," said Bay County Road Commissioner Ed Rivet. The Bay County Road Commission has jurisdiction over the water system. "The plant will operate more efficiently, it will require fewer chemicals and fewer personnel to run the plant. And with better raw water coming in, the water quality is going to be much better."
Spence Brothers Project Supt. Chad Dean said that about 50-60 Hardhats have been on the job in recent weeks, but that number will rise to about 150 at peak employment. "They're doing very well," he said. "There's a lot of work going on in a short amount of time, but what else is new?"
Dean said "we got some surprises" during excavation for the new pipes under the campus of the new and old water plants, but nothing that caused any significant delays. Dean and Paige agreed that the blueprints for the underground pipe left a bit to be desired, but there was no question that building the new plant adjacent to the existing plant was the right thing to do. "This site made sense, all the distribution pipes are already here," Paige said.
The new plant will include the membrane filtration system, energy efficient variable speed drives for seven new pumps moving raw and finished water, chemical storage and feed facilities, residual treatment works, a laboratory, administration offices and two 1.25 million-gallon finished water tanks outside of the building.
"I will say, the new plant is built like a tank," Dean said. "It's really beefed up, you can see with all the rebar in the floor, and being built on a 10-inch slab. It's solid; it's going to be here for a while."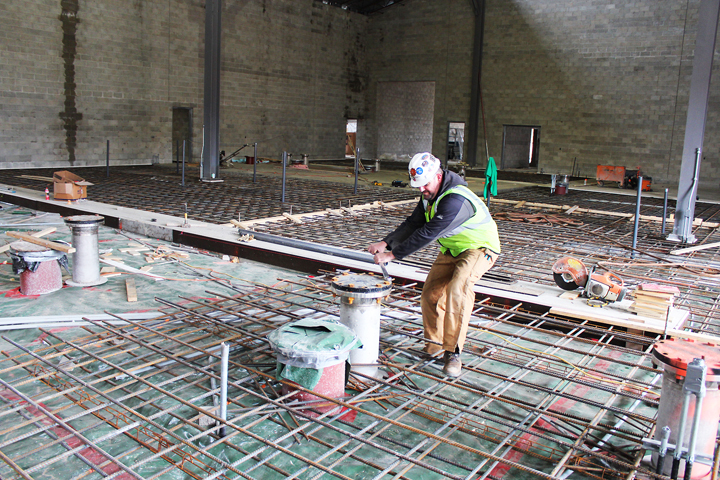 TIGHTENING A BOLT on a 14-inch flange in the membrane room of the new Bay Area Water Treatment Plant is Russ Dinsmore of Plumbers & Steamfitters 85. He's employed by John E. Green.
HEFTING CONDUIT INTO the new Bay Area Water Treatment Plant is Ted Wejrewski of IBEW Local 692 and Ted's Electric.