CHESTERFIELD TWP. - The table has been set. The memorial to the "Fallen 22" of the First Battalion, 24th Marines (1-24) Memorial is now complete.
A May 26 ceremony dedicating the memorial was held at the site on the grounds of the township hall. The memorial, completed more than a decade after it was conceived, honors 22 fallen members of the battalion, headquartered at nearby Selfridge Air National Guard Base in Harrison Twp. The Marines, part of a 900-member reserve infantry battalion, made the ultimate sacrifice during a 2006-2007 deployment to Al Anbar Province, which Time Magazine called the most dangerous place in Iraq at the time.
"I live fairly close to the memorial, and I go there often," said Angelo Lema, the driving force behind the memorial, a retired master sergeant from the U.S. Marine Corps Reserve and chairman of the First Battalion, 24th Marine Regiment Memorial Committee. "It makes me feel great to know how far we came and to see what we accomplished. I mean, it's beautiful."
The May 26 ceremony was appropriately scheduled for Memorial Day weekend, and the date was set earlier this year as a hard deadline to finally get the memorial completed and dedicated. Work on the memorial began several years ago after it was conceived as an all-donation, all-volunteer effort. Then reality hit: with a busy construction industry and volunteer labor hard to find, the completion date was pushed back several times. Planners had to amplify their efforts to raise funds to hire labor and buy materials.
The effort finally came together this year, and the Memorial Day deadline stuck. "I was very pleased with the crowd we had at the ceremony, probably 500 to 700 people were in attendance," Lema said. "For me, I just spent my time thanking people for their hard work; there were so many who gave their time to make this happen."
Lema singled out masons from Bricklayers and Allied Craftworkers Local 2 and volunteers from Operating Engineers Local 324, but along the way time and talent was contributed by workers affiliated with IBEW Local 58, Michigan Regional Carpenters Council, Iron Workers Local 25, and Laborers 1191.
The memorial is backed by an 85-foot-long, 11-foot-high limestone wall. A plaque on the wall has the names of the 22 deceased Marines, as well as their rank, date of birth and the day they were killed in action.
The centerpiece of the memorial is a granite "fallen comrade table," a Marine tradition that represents empty places in a mess hall with 22 bronze plates engraved with each fallen Marine's name. "Help us set the table" was a theme used in fundraising for the memorial, in an effort which eventually raised a total value of $650,000 in contributed donations, equipment, labor and material. The table was unveiled as part of the ceremony by Marines from the 24th regiment. The ceremony included a gun volley, the playing of Taps, and speakers honoring the deceased soldiers. The day-long rain stopped while Heather Golczynski, the widow of fallen Marine Staff Sgt. Marcus Golczynski, spoke.
"The ceremony was gut-wrenching," said Tom Ward, training director & apprentice coordinator for Bricklayers and Allied Craftworkers Local 2, who has been in on the planning and implementation of the memorial for the past four years. "It reminded us why we in the building trades did all this - it was to honor those 22 soldiers who gave their lives for their country."
Ward said this was the third year in a row that the planners eyed the dedication of the memorial, but everything finally fell into place the two weeks prior to Memorial Day, even though the wet weather was a major impediment to getting the project completed. Among the many last-minute burdens was the masons' discovery that two pieces of granite were missing, and matching replacements had to be found and fabricated by a local shop.
"It was an incredible experience to say in our own special way, 'thank you'," Ward said. Things got kind of nerve-wracking as we approached Memorial Day. But this is a beautiful, special place, and it an incredible honor to be involved with it."
Local 324 operators were indispensable in landscaping and moving materials around the site.
"Operating Engineers 324 is proud and humbled to have been able to assist in building the 1st Battalion, 24th Marines Memorial in Chesterfield Township, said Local 324 Communications Director Dan McKernan We were involved in this project from its inception, and over the time it took to build, had many members and contractor partners volunteer in the efforts. We even utilized the opportunity to use it as a teaching experience, with instructors and apprentices alike working on the project to enhance their skills while giving back to the community and helping to honor those fallen heroes represented with this memorial."
McKernan said contractors like Michigan CAT, McAllister Rentals and Stoneco, donated equipment and Iafrate and Dan's Excavating donated materials. "This is as rewarding an effort as we could have, and we look forward to its many future years in serving the community as a commemoration of those who gave all," he said.
Lema said the ceremony made all the hard work worth it as the memorial came to life, culminating the efforts of he and others on the1/24 Memorial Committee. "We have worked very hard, begging for help, and raising money with a lot of fundraisers, to get to this point," Lema said. "To me it's just a great feeling to have come so far to create this monument, and make sure that these Marines will be honored and remembered."
The fallen Marines memorialized at the site are Brock Babb, Joshua Hines, Richard Buerstetta, Tyler Overstreet, Thomas Gilbert, Jonathan Thornsberry, Tarryl Hill, Marcus Golczynski, Troy Nealey, Minhee "Andy" Kim, Bryan Burgess, Jeremy Shock, Brent Beeler, Nicholas Miller, Brett Witteveen, William Spencer, Christopher Esckelson, Jacob Neal, Luis Castillo, Mark Kidd, Matthew Pathenos, and Bufford "Kenny" Van Slyke.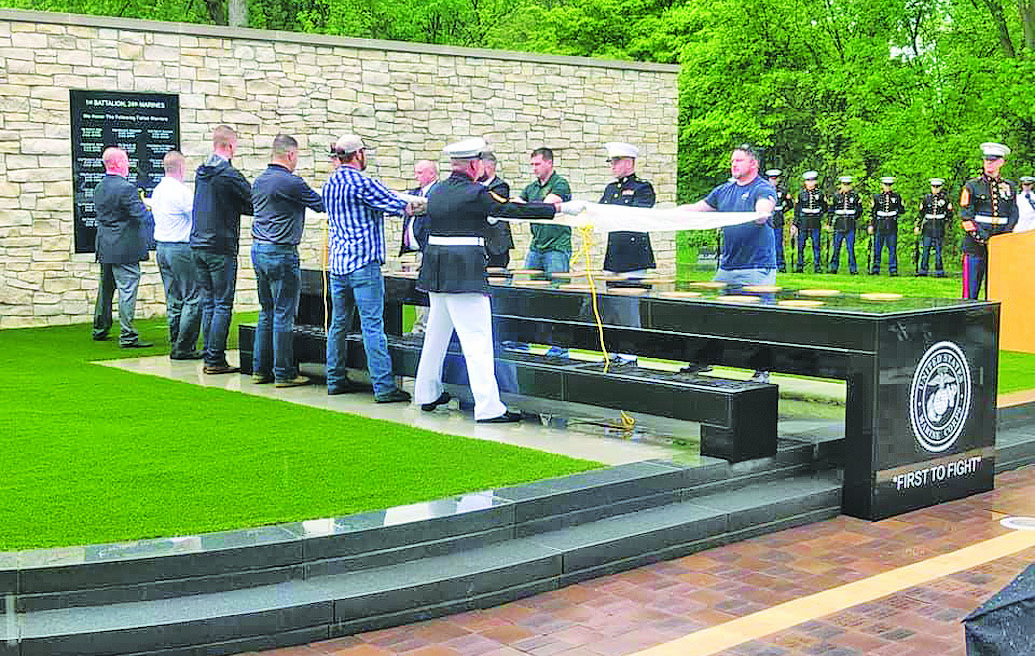 FIRST BATTALION, 24th Marines in and out of uniform unveil the granite mess table that's been permanently set as a memorial for 22 of their fellow soldiers who were killed in action in Iraq. The unveiling was held as part of a May 26 ceremony at the memorial site on the grounds of the Chesterfield Township hall. Photo by George Ferrell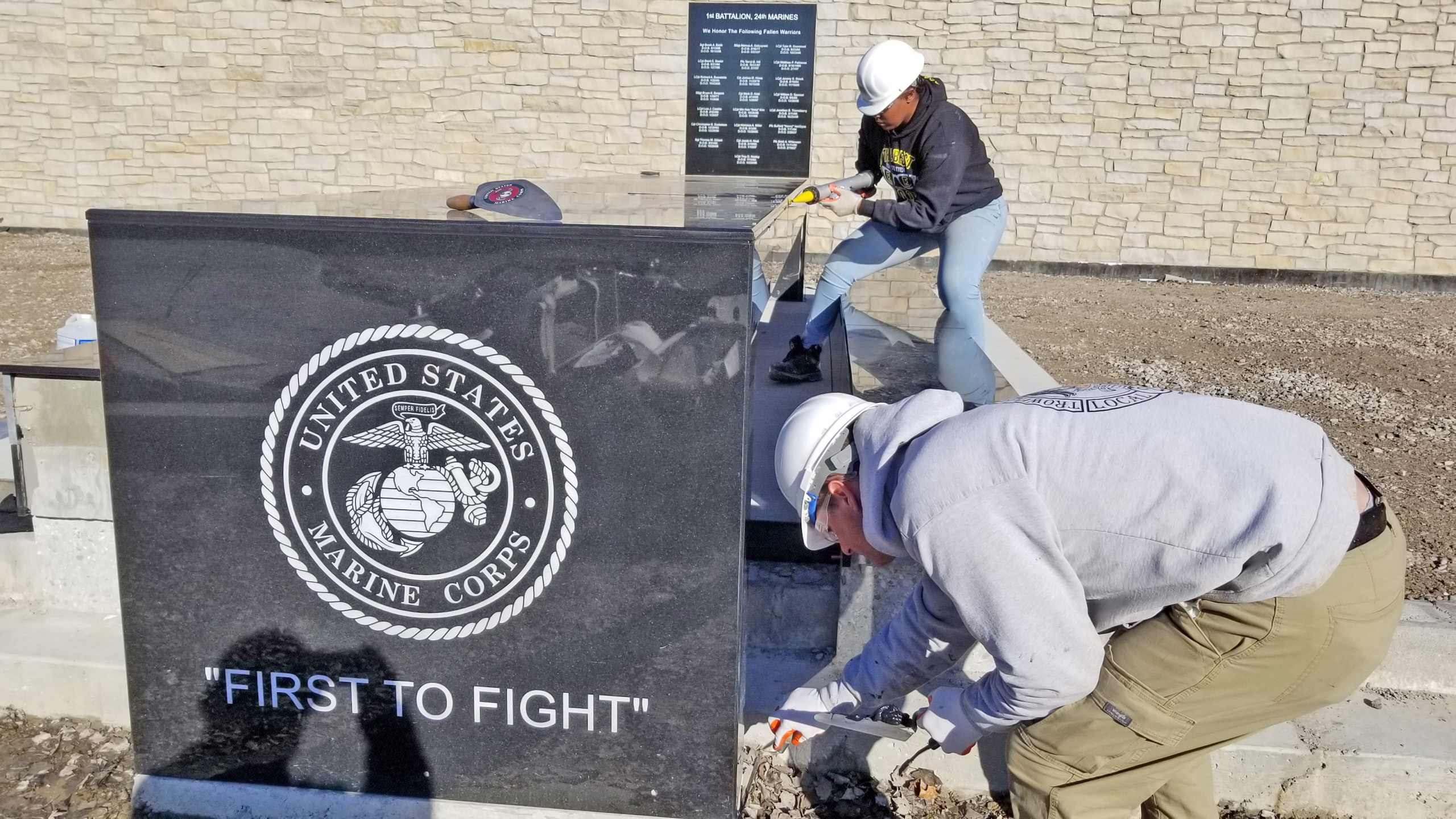 WORKING ON the granite table are BAC Local 2 Masonry Restoration Instructor Shawn Merrill, behind him is masonry restoration apprentice Charisma Carlisle. Photo by Tom Ward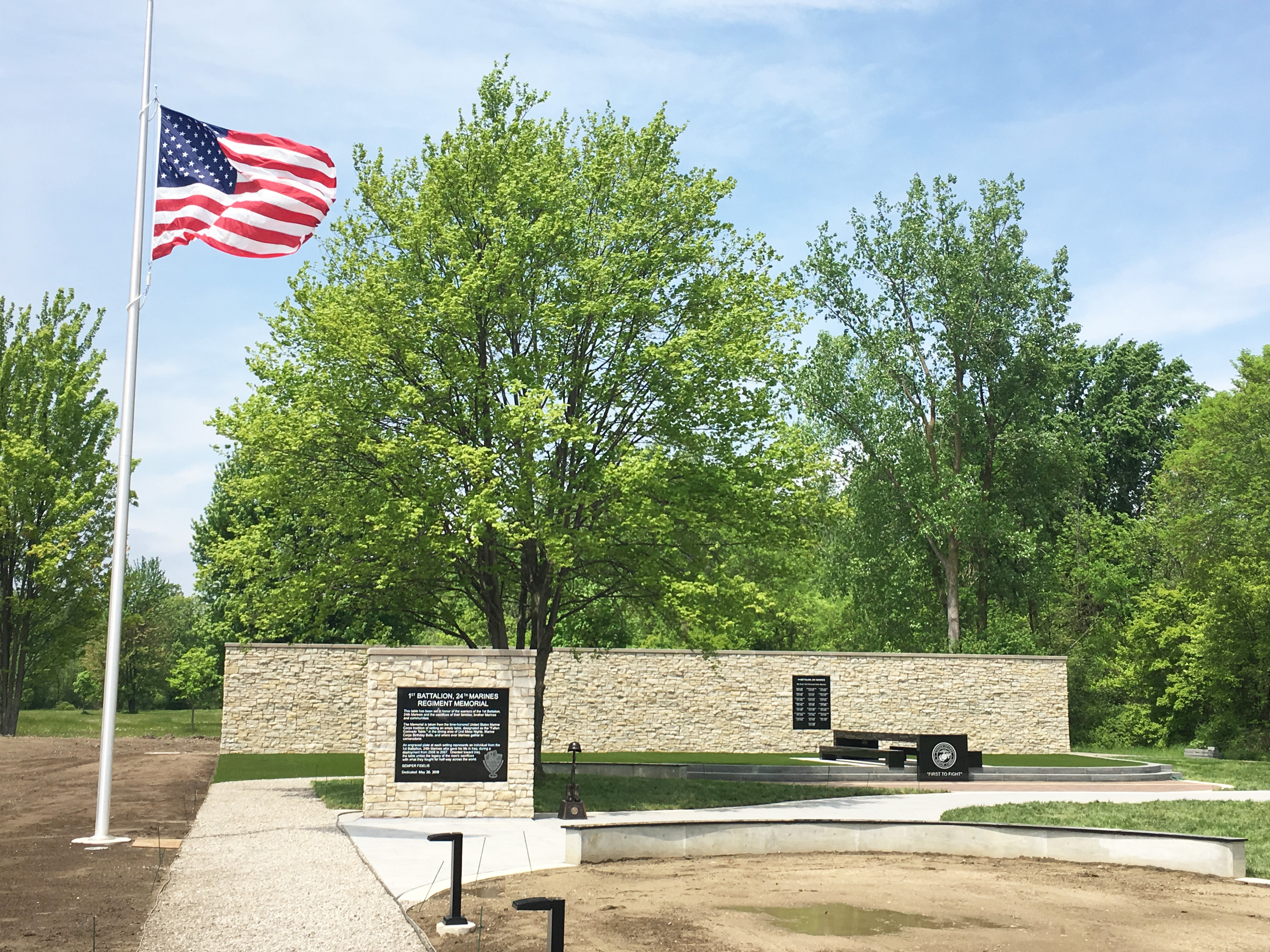 THE NOW COMPLETED First Battalion, 24th Marines Memorial is backed by an 85-foot-long, 11-foot-high limestone wall. A plaque and a granite table with place settings are engraved with the names of the 22 Marines who were killed in action and are remembered at the site. Photo by Tom Ward