LANSING – Are you among the Michigan voters who haven't yet tuned into this year's Michigan race for governor? Not familiar with the Democratic challenger to incumbent Gov. Rick Snyder?
Well, an introduction is in order.
On March 5, Kalamazoo Democrat Mark Schauer introduced himself to delegates to the 55th annual Legislative Convention of the Michigan Building and Construction Trades Council. A former congressman and Kalamazoo County Commissioner, Schauer is seeking to unseat Snyder, who, during the course of his only term in office, has managed to earn the vitriol of every union in the state for putting his signature on right-to-work legislation in December 2012.
"He (Snyder) has the Koch Brothers, the Devoses, the Trumps, the ABC and their rat contractors," said Schauer to a room full of Michigan Building and Construction Trades Council delegates. "But I've got you, and I'm going to need you to stand with me this fall." Regarding Snyder's supporters, Schauer was referring to big-money conservatives who have sought to influence elections and social causes by pumping money into campaigns
Schauer, 52, grew up in Howell and lives in Battle Creek. His dad was a teacher and his mother was a nurse. With his wife Christine he had three stepchildren and four grandchildren.
A graduate of Albion College, Schauer pursued a career in community service in Battle Creek. He ran the Community Action Agency of South Central Michigan, where he worked to deliver programs for seniors and children, like Meals on Wheels and Head Start.
He served on the Battle Creek City Commission from 1994-1996. He won his first race for the Michigan House of Representatives by defeating an incumbent in 1996, and was re-elected in 1998 and 2000. In 2002, he won a competitive open race for state Senate, and was re-elected in 2006.
In 2008, Schauer was elected to represent Michigan's 7th District in the U.S. House of Representatives, defeating incumbent Tim Walberg. He told building trades delegates that while in Congress, he was particularly proud of his being a sponsor of the union-friendly Employee Free Choice Act and his vote to rescue the auto industry.
"I voted to rescue the auto industry," he said. "GM, Chrysler and Ford and the supply chain would not be here, and all of the construction jobs would not be here if we hadn't been there to fight for the auto industry. Rick Snyder has the balls to take credit for the return of automotive jobs that he had nothing to do with." In 2010, Schauer was defeated by Walberg, who retook his congressional seat.
After Scahuer left Congress, he went to work for the Michigan Laborers-Employers Cooperation and Education Trust as a business development representative, and remains a card-carrying member of Laborers Local 355. "I am a card carrying union laborer and I am damn proud of it," he said.
During the Dec. 11, 2012 peaceful right-to-work protest rally at the state Capitol Building, Schauer made national news when he and others were pepper sprayed by state police. "We stuck together and were pepper sprayed to prove it," Schauer said. "I will always have your back and I know you will also have mine."
Schauer said Snyder's signature on a $1.8 billion tax increase on senior citizen pensions in exchange for an equivalent business tax cut, cuts in jobless benefit weeks from 26 to 20, refusal to back a minimum wage hike, refusal to come out in favor of the state's prevailing law, cuts in state education, and raises for highly paid appointees, "shows that he's one tough nerd – on exactly the wrong people."
He said Snyder's support of the state's right-to-work law as well as other anti-worker legislation "is wrong, and it hasn't created a single job. Those are his values. I believe we need a governor who will understand the value of union labor, who will stand up for prevailing wage, who will stand up against low-bidding, 1099-cheating rat contractors."
Schauer pointed out that he beat two Republicans in tough districts in previous elections, and recent polling against Snyder have been encouraging. He said over the last three months, Michigan has lost 12,000 jobs and our state has the fourth worst unemployment rate in the country.
"Your friends and neighbors have been hammered and squeezed by Snyder's policies," Schauer said. "The only way to get Michigan back is to do this together. Snyder has power friends, Devos, the Koch Brothers – they're standing with him. Will you stand with me? We will never be able to match their money or TV ads – but you know what, there are more of us than there are of them."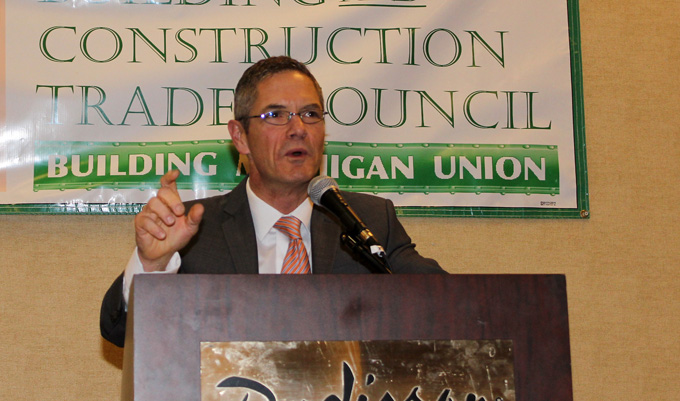 DEMOCRATIC GUBERNATORIAL candidate Mark Schauer speaks to delegates on March 5 at Michigan Building and Construction Trades Council Legislative Conference in Lansing.