LANSING - Michigan's top justices will finally have a hall to call their own.
The building trades and general contractor The Christman Co., are in the process of erecting a building to house the Michigan Supreme Court, the state Court of Appeals (Lansing office) and the State Court Administrative Office in our state's capital, These entities now occupy leased space in several downtown Lansing locations.
The six-story building will include, in approximately 280,000 square feet, two courtrooms, centralized administrative offices and a first-floor public education center. The project will also include a 460-space parking structure.
Ground was broken on the $87 million project at Ottawa and Butler, west of the Capitol Building, in October 1999. The state Supreme Court has never had its own building; it relinquished its space in the Capitol Building in 1970 for space in what is now the G. Mennen Williams Building.
Completion of the new Hall of Justice is anticipated in the fall of 2002.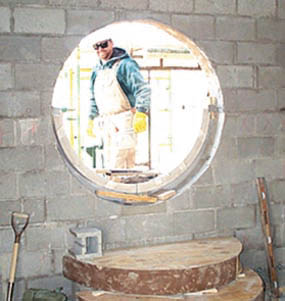 LIMESTONE around a window of the second floor of the Hall of Justice gets a look from a tradesman.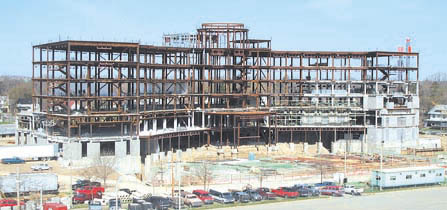 THE MICHIGAN SUPREME Court and other offices will be consolidated into the new Hall of Justice building under construction in Lansing.