MARQUETTE – Northern Michigan University is highly confident that its new Jamrich Hall is going provide space that's much more inviting and efficient than the Jamrich Hall that it will be replacing.
Under construction on the central campus, the new Jamrich Hall will offer 133,000 square feet of new space on three levels for classrooms, lecture halls and faculty offices. Miron Construction is managing the project, and is employing about 75 Hardhats, a number that's expected to increase to near 120 in the next several weeks.
The new $33.4 million hall will replace the existing John X. Jamrich Hall nearby, which was built in 1969, as well as Gries Hall, another aging building. Plans call for both of those facilities to be demolished when the new building opens. It will consolidate operations from those halls and house four academic department offices: math, sociology, criminal justice and English.
"Construction wise, the new Jamrich Hall is a basic building, but will be a very attractive addition to the campus," said Jim Thams, NMU associate director of engineering. "The building will offer a lot of informal areas outside of the classroom for students to interact. We look at is as platform for collaborative learning – something we didn't have in the past. The layout of the spaces inside and outside the classrooms and lecture halls encourage interaction and active learning, and will hopefully encourage students to stay on campus." One example is the use of "bar height" work stations, where students can mingle with passersby at eye level.
In the past several weeks, the trades have been focused on steel erection, block laying, and electrical and plumbing rough-ins and steel stud work. The building will have brick veneer with metal accents.
"We're on schedule, and a lot of that has to do with how hard the tradespeople have been working," Thams said. "We need to be enclosed by mid-November and that's been what they've been working toward. They've been working really well."
Renovation of the existing spaces was looked at as an option, but was ultimately rejected. The replacement building for Jamrich and Gries halls will result in about 30,000 square-feet less space for the university, but it is space that the NMU doesn't really need, and won't have to clean and maintain. About $180,000 in operating costs will be saved with the replacement. Installation of modern mechanical systems, glass and insulation mean it will be less costly to heat and cool the new structure, and campus steam will be tapped to drive the systems in both the winter and summer as it is on other campus buildings. Plus, the new space can be laid out much more efficiently, with sufficient electrical plugs and modern technology.
And with Jamrich and Gries halls containing a major chunk of NMU's classes, a renovation project would resulted in disruptions and displacement of students and staff.
According to Miron Construction, this is the first MIOSHA construction partnership project in the Upper Peninsula. The project will have enhanced safety standards, including 100 percent fall protection over 6 feet, use of 100 percent personal protective equipment, and project-specific safety orientation.
Work began on the new hall in April and the building is expected to be complete in time for the arrival of students and faculty in August 2014 for the fall semester.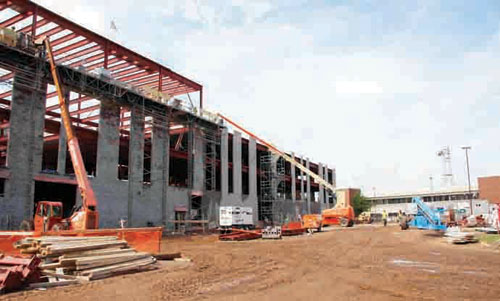 THE NEW JAMRICH HALL on the Northern Michigan University campus will consolidate classrooms, offices and lecture halls from two other buildings. Photos by Jack Deo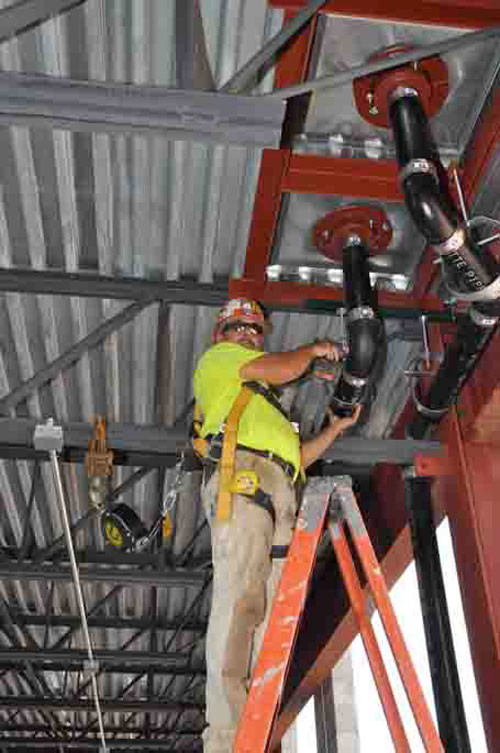 SETTING DRAINS at the new Jamrich Hall at NMU is Dan Crisman of Plumbers & Pipe Fitters 111. He's employed by Dressler Mechanical.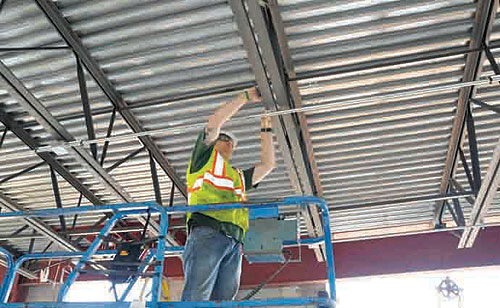 SETTING UP A BOX in a ceiling of the new Jamrich Hall is Brad Olsen of IBEW Local 1070. He's employed by S & T Electric.