COOPERSVILLE – A bigger and better training facility was unveiled May 18 during an open house at Plumbers, Fitters, and Service Trades Local 174.
Located along I-96 between Grand Rapids and Muskegon, the union hall and adjacent training center were opened in 1999, but the 12,000 square-foot training area had grown a bit cramped in recent years. Last month, the ribbon was cut on 4,000 square-feet of new space added on to the west side of the training center, providing the union's instructional staff, apprentices and journeymen with more room to teach and learn.
"The additional space is a huge asset to our program, and a big benefit to our membership" said Jeff Rumsey, Local 174's training coordinator. "The added space is going to give us the room we need to allow for more hands-on functions and improve our training. And our training is what sets the United Association apart."
Local 174 building trades instructor Bob Derby said the existing space "was starting to get cluttered," with instructional material and machinery being moved around inefficiently when course curriculums changed or when training moved onto other subject areas.
"We managed, but I think it took a while to realize how compressed we were," Derby said. The new space allows for a new tool room, new MIG welding booths, plus space for easily accessible training in areas like medical gas, pumps and hydronics. A second level allows space for material and storage lockers.
The additional space was occupied in December, and the painting was completed just in time for the open house. Two new boilers that were added to help heat the additional space will serve as double-duty to help instruct Local 174's apprentices, which currently number about 100.
"We're constantly adapting our training to what the market requires, and at this point in time, that requires us to provide more room, especially for our HVAC training and welding," said Local 174 Business Manager Mark Mangione. "This space is a very good thing for our local union, it will help keep our members the best trained workers that are out there."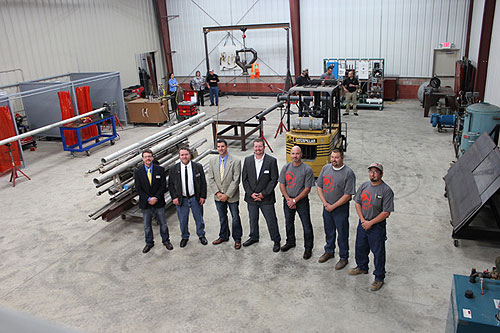 In Local 174's new training center addition are (l-r) Local 174 Business Manager Mark Mangione, Assistant Business Manager Jeff Wilkerson, Business Agent Ryan Bennett, Organizer Nathan Phillips, Training Coordinator Jeff Rumsey, Building Trades Instructor Bob Derby and apprentice Chris Pelton.