EAST LANSING - The whirr of sawblades and drills, the pounding of hammers and the back-up beeps of heavy equipment on West Circle Drive sound pretty good right now to a Michigan State University Music Department that has waited years for an improved and expanded facility.
Construction manager Christman, its subcontractors, and building trades union workers are in the process of making that happen, with the completion of a $35 million project to expand and renovate the Music Building expected early next year.
"University investment in recruitment of nationally and internationally prominent faculty artist/scholars has moved this college forward in dramatic ways," College of Music Dean James Forger said. "New and renovated spaces facilitate student learning in leading-edge programs, attract and retain talent, and further strengthen the college's position on national and world stages."
The Music Building has been home of the MSU College of Music since it opened in 1940. The last major addition was built in 1956. Student-musicians have been making music in cramped, non-soundproof quarters for years, and the new space is widely anticipated.
The ongoing construction process began with the demolition of Hart Recital Hall on the west end of the current Music Building to make way for large ensemble rehearsal rooms. MSU said the new facility extends west and south toward West Circle Drive and attaches to the façade of the current Music Building.
Christman Senior Project Supt. Leigh Woodbury Jr. said about 85 tradespeople have been working at the site this fall. "There is a lot of detail on this job, and it's all about the acoustics," Woodbury said. "We have to make sure that everything is in place before we take the next step in the construction process, and a lot of our tradespeople aren't used to this level of detail, but we're all getting there."
The trades are getting used to the term "sound isolation," with the careful use of caulk, isolation of joints, isolation of the interior spaces from the actual structure of the building, the overlapping of drywall, and the installation of the floors and insulation, just for starters. "The goal is to limit the transfer of noise from one space to another," Woodbury said. "I can't think of one trade out here that isn't affected by all the attention we're paying to acoustics. Maybe the painters?"
The building has 12-inch-thick cast-in-place concrete walls, and as well foot-wide solid, grouted masonry walls between basement practice rooms. Spring isolators separate entire rooms from the rest of the structure. Three layers of drywall are used throughout.
"This state-of-the-art facility will incorporate highly specialized and advanced acoustical engineering," said University Distinguished Professor of Jazz Bass Rodney Whitaker, director of MSU's Jazz Studies program. "It will provide excellent sound isolation, creating an environment in which our students and faculty rehearse and perform while protecting their hearing."
The project includes 8,500 square feet of renovated space, and will increase the total facility space by more than 40 percent.
MSU said a thorough study conducted with faculty, students, architects and planners helped identify key spaces that will provide critically needed improvements and strategic opportunities for innovation at the College. The situation at the School of Music that helped spur the renovation and expansion project was cramped quarters for students and staff, lack of rehearsal space, and lack of sound isolation.
"Improved music facilities have long been on the university's list of needs," Forger said. "With 550 students working toward music degrees and more than 2,000 additional students participating in ensembles and classes, the college has outgrown current spaces."
The renovation and expansion plan includes acoustically advanced rehearsal spaces, additional practice rooms, a modern and high-tech lecture center, faculty studios and offices, a recording and multimedia room and a public gathering space with a café. Larger, flexible rehearsal and performance spaces will accommodate various ensembles including bands, choirs, jazz bands and combos, new music, opera, orchestras and percussion. Significantly expanded spaces will be developed for individual practice locations as well as chamber music rehearsal space.
"We're going to leave Michigan State's College of Music with a nice building that will be useful for years to come," Woodbury said.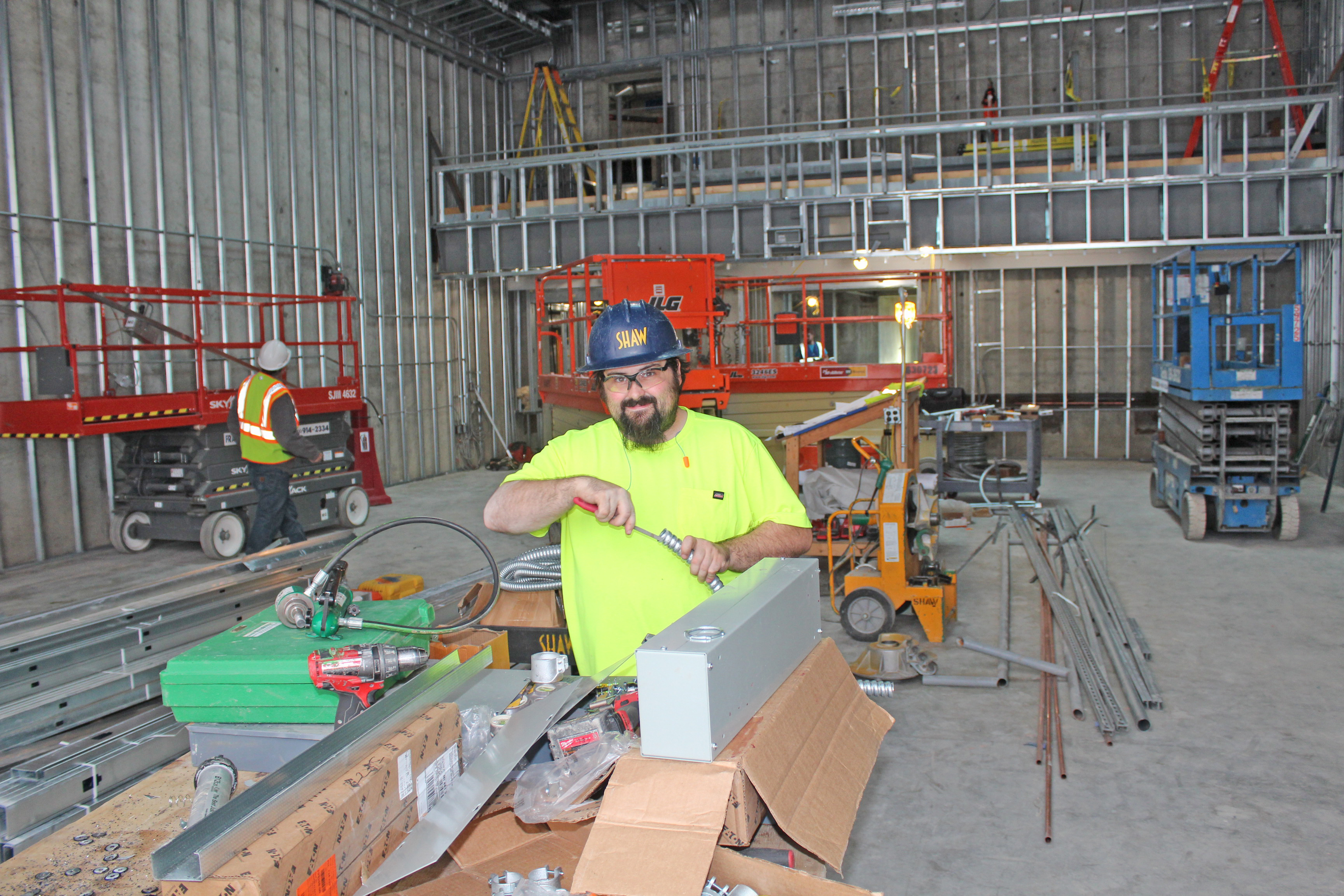 FILING FLEX CONDUIT while working in what will be the "Jazz Room" at the Michigan State University Music Building Expansion and Renovation project in East Lansing is Chris Laverdiere of IBEW Local 665. He's employed by Shaw Electric.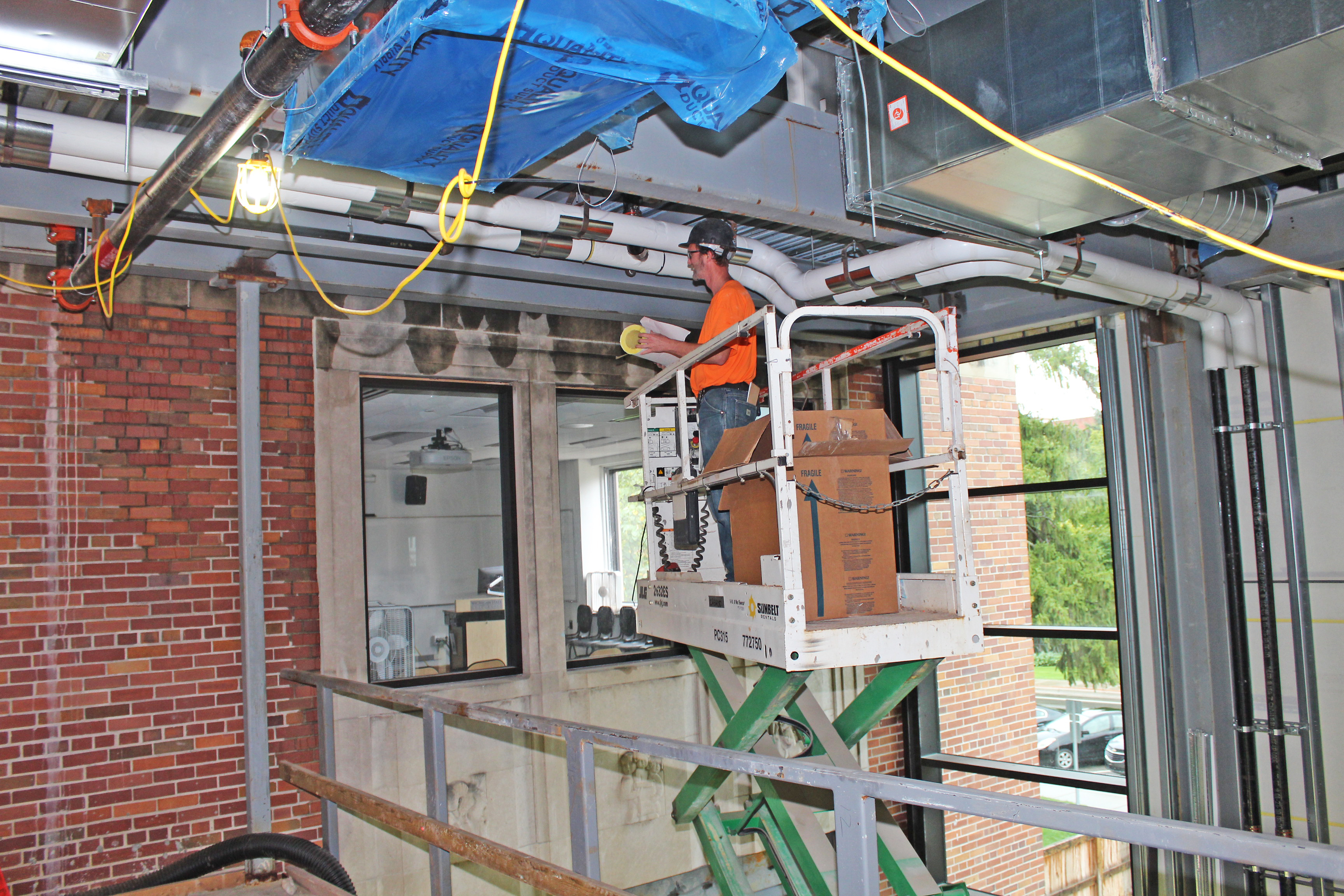 INSULATING STORM DRAIN PIPE while working at the Michigan State University Music Building Addition and Renovation project is Derek Heerlyn of Heat and Frost Insulators Local 47. He's employed by 3MI. Behind him is a former exterior wall, which has become part of the new interior space.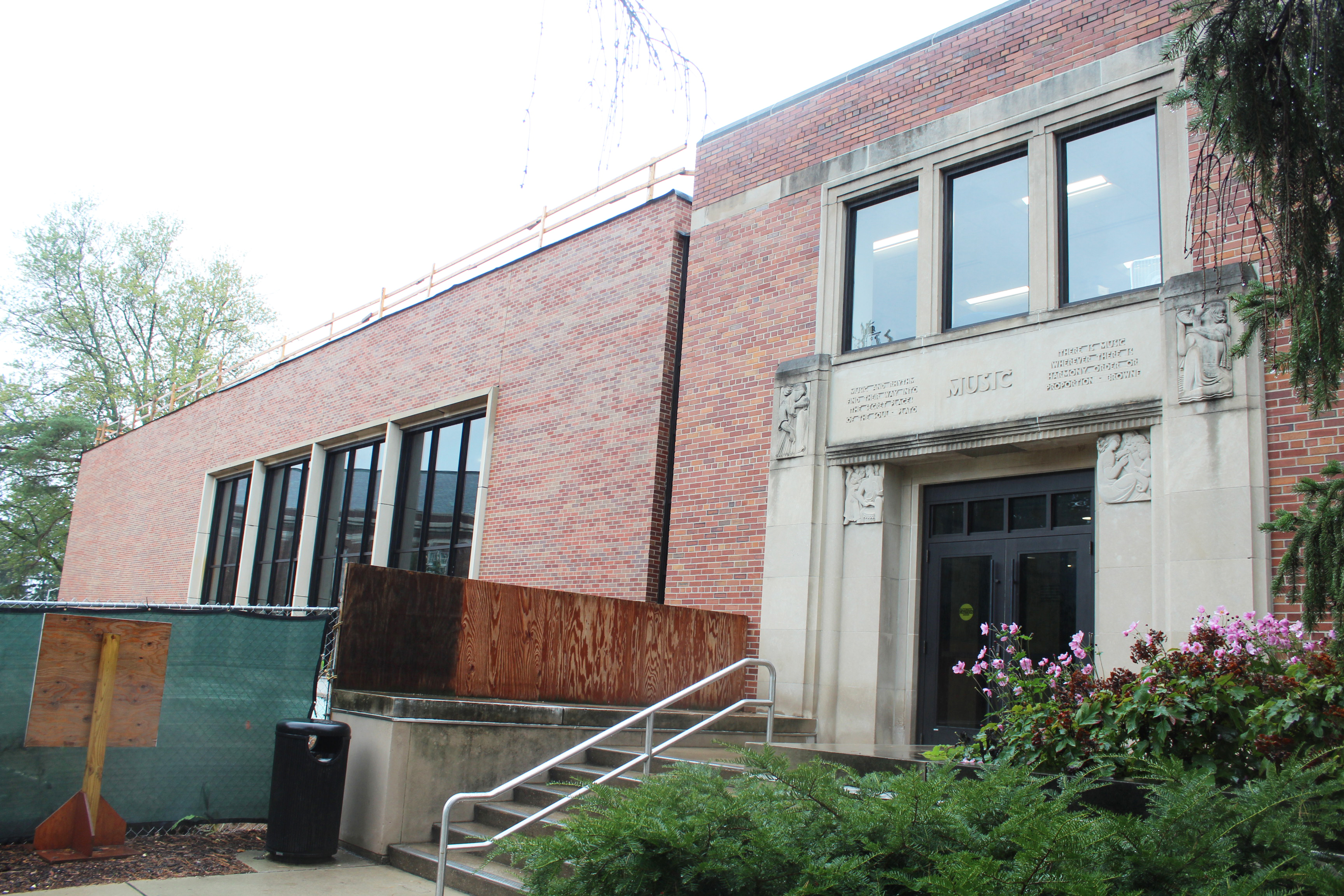 THE EXISTING MSU Music Building, at right, is joined by the addition, at left.