WARREN – Retired Sheet Metal Workers Local 80 Training Director Steve Murzen certainly left his mark on the union's Training Center. And now there's a sign to affirm it.
Murzen, who acted as the training director at the school from 1985 to his retirement in 2012, was honored Oct. 30 by the union for his years of service, in the form of the placement of a new sign. Visitors who park in the facility can't miss the new aluminum sign on the side of the building, designating the "Stephen S. Murzen HVAC Service Lab."
"I never took the job for accolades, and I always did the best job that I could," Murzen told the assembled well-wishers on Oct. 30 when the sign was unveiled.
Murzen said it has been gratifying to hear from so many of the apprentices and journeymen who have walked through the doors of the training center, through phone calls, e-mails, Facebook messages, and invitations to lunch. "People would say thanks for making me a better union member, apprentice, or journeyperson, or making them a better man," he said. "I never realized the impact I had on peoples' lives."
Murzen told the well-wishers that he was stricken with cancer after his retirement, but is now cancer-free after receiving treatment.
He expressed his thanks to his family, including his wife Sandy, for allowing him to work a job that "wasn't always nine to five." He also thanked his union family for the honor, recognizing Business Manager Mark Saba, current Training Director Richard Flood, Training Center Secretary Vicki Thomas, and the Local 80 Joint Apprenticeship Committee. "Looks beautiful, doesn't it?" Murzen said of the sign on the building's wall facing the parking lot, made by Local 80 apprentices. "It shows the talent we possess."
Murzen started his career at Local 80 in 1974 following a six-year stint in the Navy. He worked in the field as a sheet metal worker for 10 years. He also pursued a teaching degree, and received a Bachelor of Science degree in vocational education from the University of Michigan-Flint. Murzen became an instructor at Local 80's school in April 1984, and then became director of the facility 11 months later with the retirement of then-director, Al Thiel.
A 1995 addition to the Local 80 Training Center, with the vast majority of it devoted to HVAC training, was erected during Murzen's term.
Saba said recognizing Murzen was important because of the years he spent imparting his knowledge on others "and the dedication to his craft. Steve was around for the high times and the low times of the school, and he had a lot of positive influence on my life and others. For that I thank you."
Flood, who joked that he might just get a welding booth named after him upon his retirement, said "We are all grateful to have Steve in our lives. As a boss, a sheet metal worker and a man, he is someone who always leaves things better than he found them. The HVAC lab is a public acknowledgment of his continued influence."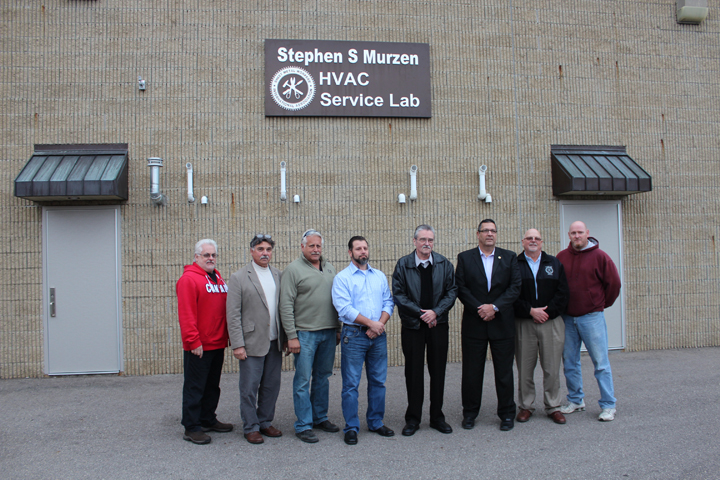 CELEBRATING STEVE MURZEN'S name on the Local 80 Training Center are (l-r) instructor Dennis Marentette, JAC Union Trustee Charles Taormina, JAC Management Trustee Glenn Parvin, JAC Union Trustee Alex Brzuszek, Steve Murzen, JAC Union Trustee/Business Manager Mark Saba, Training Director Richard Flood, and JAC Union Trustee Tim Weir.