TRAVERSE CITY – A new 150-foot-tall control tower under construction at Cherry Capital Airport will help improve the view of air traffic controllers, while replacing a shorter, aging and outdated tower.
The new 142-foot tower will double the height of the existing tower, which was built in 1975 and has a bit of blind spot where a hangar was built years ago. Work started in September 2010 and is expected to wrap up next month. Construction on the $8.5 million project was delayed last summer due to Congressional wrangling over the Federal Aviation Administration.
Christman Construction is acting as general contractor on the project. "Things are going well, we're making a push to the finish," said Senior Project Supt. Austin Holcomb. He said the new tower is about 500 feet from the existing one. Also part of the project is construction of a new 8,000 square-foot service center that will house airport staff and equipment. The existing building is inconveniently located several blocks away.
"The current tower was built in 1975, with a 20-year expected lifespan," said Ron Hubbard, FAA Traffic Manager at the airport, to the Traverse City Record Eagle. "So it's up and operational but it's outlived its usefulness. We've been pursuing (a new tower) for more than 10 years now and to see that finally becoming a reality is very exciting."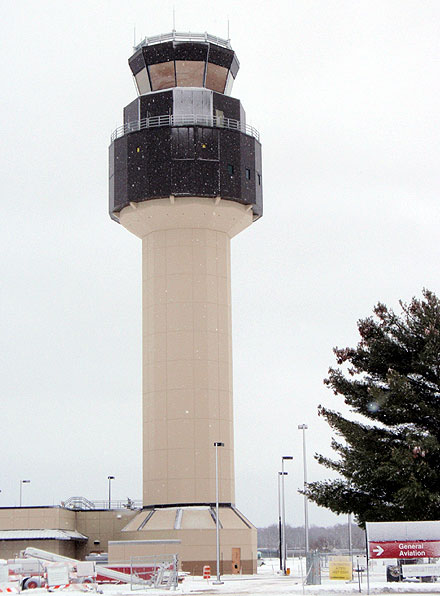 THE NEW 142-foot control tower in Traverse City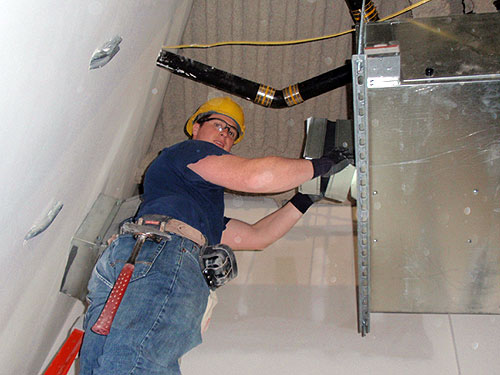 TOILING IN THE TOWER'S cramped confines is Travis Eastman of Sheet Metal Workers Local 7, working for Cooke Sheet Metal.