ROCHESTER – Currently under construction at Oakland University, a new Engineering Center will create a modern educational environment for students and staff, while the placement of the building itself is part of a plan to help create a denser central campus.
Walbridge is acting as construction manager on the 130,000 square-foot, L-shaped building, which has a five-story (plus mechanical penthouse) wing and a two-story wing. The building, centrally located on campus, will allow Oakland University to consolidate the School of Engineering, which is currently
spread across three buildings: Dodge Hall, the Science and Engineering Building and Hannah Hall.
"Our students are very excited about the building," said Susan Riley, senior project manager for Oakland University. "They were called in, along with our faculty, to help with the design of the building, and they came up with lots of interesting spaces to allow for student collaboration. It really is a sophisticated building; it's not typical construction at all."
The $75 million Engineering Center is being erected on a site that was partially a former parking lot and a field. Designed by SmithGroup, it will include a two-story lab with a crane to move heavy equipment. The building will also contain a 200-seat auditorium, classrooms, offices, a clean room, no less than 37 flexible modular labs that will create spaces large and small to allow for greater collaboration, hands-on learning labs, and spaces to showcase student experiments with robots and vehicles.
"It's a beefed up building, and has quite a substantial design," said Walbridge Senior Project Manager John Begley. "The structure and the foundations were built to accommodate labs and limit sound and vibration." He said the exterior is made up of a variety of finishes, including curtain wall, brick, metal.
The building's designers are aiming for a Gold LEED (Leadership in Energy & Environmental Design) standard, incorporating increased amounts of glass for light and solar gain, a small green roof and photovoltaic system, reflective roof elements, heat pumps, and a building dashboard system to measure the building's mechanical systems. A pair of 200-kilowatt turbines fired by natural gas will create power for the building, and act as an emergency backup. Excess electricity will be sent back to the OU grid.
Construction began in January, and substantial completion is expected by August 2014. Begley said between 70-80 Hardhats are currently working on the project, a number that will go up to 140 or so at peak employment early next year. "The trades have been excellent," he said. "Their knowledge and cooperation have helped us to solve some problems as they've arisen. They're a good crew."
A smaller portion of the project will include renovations of about 15,000 square-feet of space in existing buildings used by the School of Engineering, to be repurposed into general classroom space.
Riley pointed out how the new Engineering Center is being placed amid several other buildings in order to increase density and create a central "campus quad" effect.
"Site logistics are a real factor," she said. "Classes haven't started, but when they do, we're going to have 20,000 students on campus. We're in the middle of a busy area, so we're paying close attention to phasing of construction, and moving fences and placing temporary sidewalks so we keep disruptions for our students to a minimum."
The new Engineering Center is part of a recent boomlet of construction on the Oakland University campus. Coming out of the ground is a 500-bed student housing project, construction on a bell tower is starting, and a new parking deck is being constructed. Last summer the trades completed a new $62 million Human Health Building on campus.
Louay Chamra, dean of the School of Engineering, told the Oakland Post that the new building will reflect his priority of making the campus more student-friendly. "Hopefully this (engineering) building and other initiatives on campus will make it such a way that the students feel like they belong to the campus," Chamra said.
SETTING 16-INCH heating lines that will serve the Oakland University Engineering Center are Paul Jankowski and Kurt Winger of Pipe Fitters Local 636. They're employed by Limbach.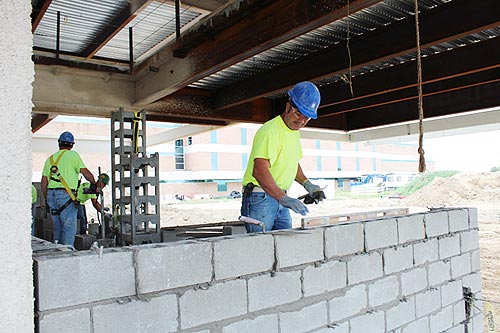 LAYING A BLOCK wall at the new Oakland University Engineering Center is Vince Lopiccolo of Bricklayers and Allied Craftworkers Local 1. He's employed by Leidal and Hart.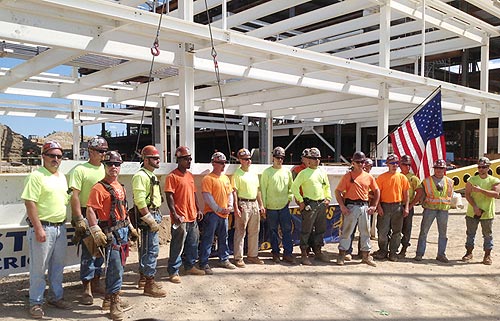 IRON WORKERS Local 25 members employed by Bristol Steel on July 25 top out the last structural beam to be placed at the Oakland University's new Engineering Center.