EAST LANSING – A milestone for the ongoing renovations at Spartan Stadium was reached on July 30, with the topping out of the structural iron that will support new seating, luxury seats and a replacement press box.
Firms that are involved in the overall project and the topping out include the project management team of Barton-Malow and Clark Construction, as well as W & W Steel Co. and Assemblers, Inc.
Building trades workers are in the process of erecting 24 luxury suites and more than 800 club seats as part of an effort by Michigan State University to enhance revenues. The $61 million project covers 200,000 square feet and will include expanded concourse space, upgraded restrooms and new offices.
The framework has its own foundations but will tie into the existing 81-year-old stadium.
Eventually, the Lansing State Journal said, MSU athletics hopes the boxes and new seating will bring an annual profit of about $1 million.
"We have to have a good team and the economy has to hang in there," said MSU Athletic Director Ron Mason. "Is it a risk? Yeah. But we did enough research to make us think this would work. There might be a time where we wish we'd built twice as many boxes."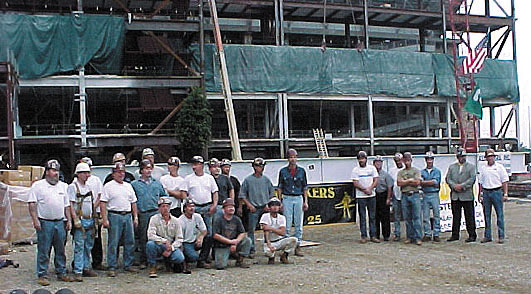 IRON WORKERS above, mark the topping out of the framework for the new luxury suites at MSU's Spartan Stadium, below. (MSU Sports Information photo)