STERLING HEIGHTS – In mid-2009, the Chrysler Sterling Heights Assembly Plant (SHAP) was given a death sentence by its parent company – which itself was alive only through financial help from the federal government.
"Last year, Chrysler made the decision to continue operating the Sterling Heights Assembly Plant indefinitely, maintaining good manufacturing jobs in Michigan and securing the future for more than 1,200 employees," said General Holiefield, Vice President, UAW/Chrysler Department. "Today, the plant is thriving with 900 new employees and additional investment that recognizes the commitment and dedication of this highly skilled workforce toward building a successful Chrysler Group."
SHAP, where Chrysler assembles the Avenger and 200 models, was on its death bed, but it has since made a remarkable recovery. As evidence, there is plenty of life on the plant's grounds north of the existing building, where Walbridge, their subcontractors and the building trades are erecting a new $850 million paint shop that will operate on three levels and sit on a 500,000-square-foot footprint.
Work actually started on the new paint shop back in 2007, but it was halted due to the down-turning economy. Construction was then re-started on the new paint shop in June. On Oct. 18 came more good news from Chrysler, which announced that another $165 million would be spent on a new 920,000-square-foot body shop at the site. Work is expected to start on that project in the spring.
"Now, this plant will not only remain open beyond 2012 and retain jobs, but with the help of the State of Michigan and the City of Sterling Heights, we will make a significant investment in this facility to make it competitive with the best in the industry," said Chrysler CEO and Chairman Sergio Marchionne. Chrysler Group's total investment in its U.S. facilities amounts to nearly $3.5 billion since June 2009.
The paint plant's frame was topped out last month by Local 25 iron workers toiling for Midwest Steel. Walbridge Supt. John Ursu said while the fast-paced iron work is winding down significantly, other trades are ramping up. About 200 Hardhats are currently employed at the site, and the job will peak out at 320-350 workers.
"The tradespeople have been very good," Ursu said. "They're doing some good, quality work. We're quite satisfied with the workforce."
Earlier this month the trades were putting in stairwells, installing underground plumbing, pouring concrete, setting up lighting, and perhaps most importantly, placing the aluminum skin on the building to get it covered in time for winter.
The building will basically be a big, industrial-strength shell to house painting operations. It will sit on an eight-inch-thick concrete floor, supported by caissons sunk 24-feet deep. "No problems there, the soil was pretty tight," Ursu said.
But the wet weather – including the third-wettest November on record in Southeast Michigan – "is killing us," Ursu said, causing lost time and a mucky site.
The new paint plant itself – the "base building" – is expected to be handed over to Chrysler on March 31. Then comes the "process" portion of job: installation of the paint booths and conveyors. The plant is expected to start operating in late 2012.
The Sterling Heights Assembly Plant was built in 1953 as a jet engine production facility and in its early days was operated by Chrysler for the federal government as a missile ordnance plant. It was converted to an automobile plant in 1980 by Volkswagen, which sold it to Chrysler Corp. in 1983.
"Today marks another milestone in the rags to riches story of the Sterling Heights Assembly Plant," said Scott Garberding, senior vice president and head of manufacturing, Chrysler Group LLC, when the body shop work was announced on Oct. 18. "A plant that was slated to close nearly two years ago will now be a state-of-the-art facility that will play an integral role in the success of this company by building the next generation of all-new vehicles."


CONSTRUCTION OF A NEW PAINT SHOP at the Chrysler Sterling Heights Assembly Plant along Van Dyke Avenue in Warren will peak out with as many as 350 Hardhats this winter.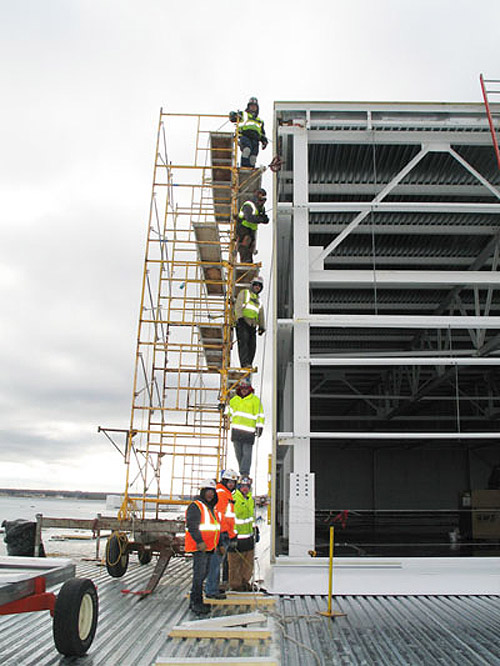 WITH WINTER quickly approaching, a closed-in Chrysler Sterling Paint Shop will make for warmer building trades workers. A mobile, quadruple-deck of scaffolded sheet metal workers is putting the skin on the building. The Local 80 crew from Universal Wall includes (top down) Chris Duty, John DeGeorge, Sam Consiglio Jr., Eddie Perez, and (below l-r) Kevin Oolock, Nick Hill and Craig Carr.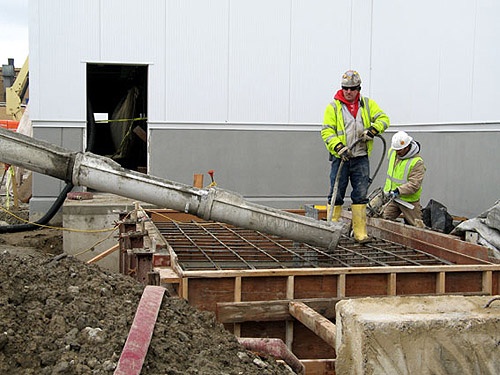 READYING FOR A CEMENT pour at the Chrysler Sterling plant are (l-r) Jeremy Lucy of Laborers 1191 and Eloy Rodriguez of Cement Masons 514.