Now adorning the top of Little Caesars Arena for the benefit of blimp cameras, downtown Detroit high-rise dwellers and passing plane passengers is a new 243-foot-tall Little Caesar logo painted on the PVC roof surface by Eugenio Painting hired by roofing contractor Christen-Detroit.
According to The District Detroit, the logo was transformed from a computer image into a giant stencil and turned into a set of survey points across the roof. An average of five workers have been painting the logo for about a month, and work should be completed by the end of July. Combined with the type, the logo will measure nearly 65,000 square feet.
There's plenty of work going on underneath the roof, too, under the project management of Barton Malow/White/Hunt. In recent weeks hundreds of Hardhats have been involved in seat installation, outdoor plaza work, and the myriad mechanical, masonry, cement, carpentry and painting that are ongoing in order to get the arena ready for its first event, a Sept. 12 concert by Kid Rock.
One of the most prominent features inside the arena will be the world's largest "seamless centerhung system" for stadium video, which is now centered in place above the playing surface. Each of the display's four sides will measure 28 feet high by 43.5 feet wide, and it will allow for a continuous, seamless display of video, or sectioned-off static or video displays. Under-mount displays will also be in place for fans sitting in the lower bowl.
The arena will be the future home of the Detroit Red Wings, who open the season at home vs. the Minnesota Wild on Oct. 5 and the Detroit Pistons, whose schedule has not been released. The venue will seat 20,000 for hockey, and about 1,000 more for basketball.
The price tag for Little Caesar's Arena has risen a bit, and now stands at $862.9 million. More photos are inside.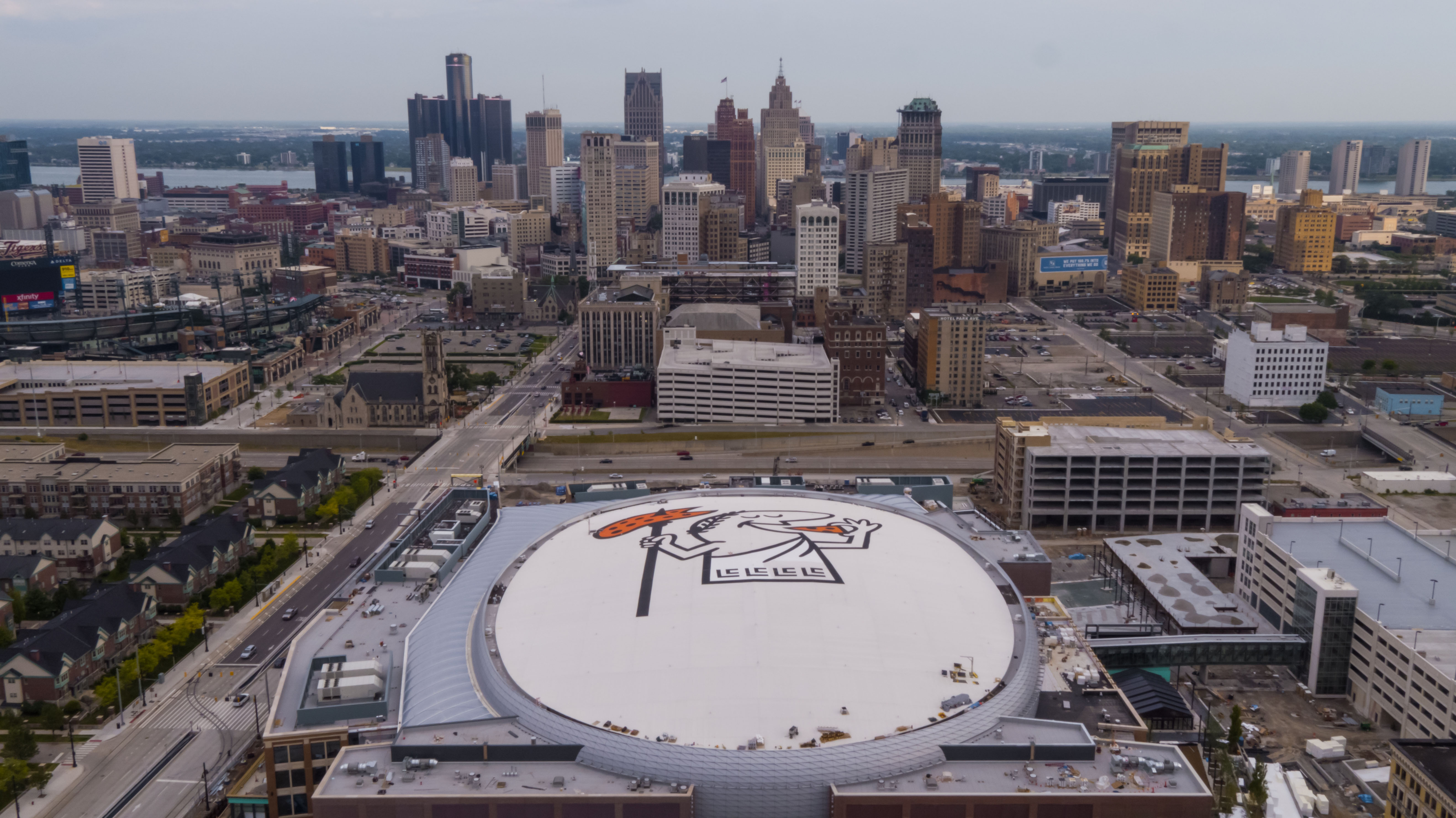 LOCATED WEST OF WOODWARD Avenue, at left, and north of I-75 and the rest of downtown Detroit, Little Caesars Arena is rapidly progressing toward an opening in less than two months. Photo credit: Rob Kohn/The District Detroit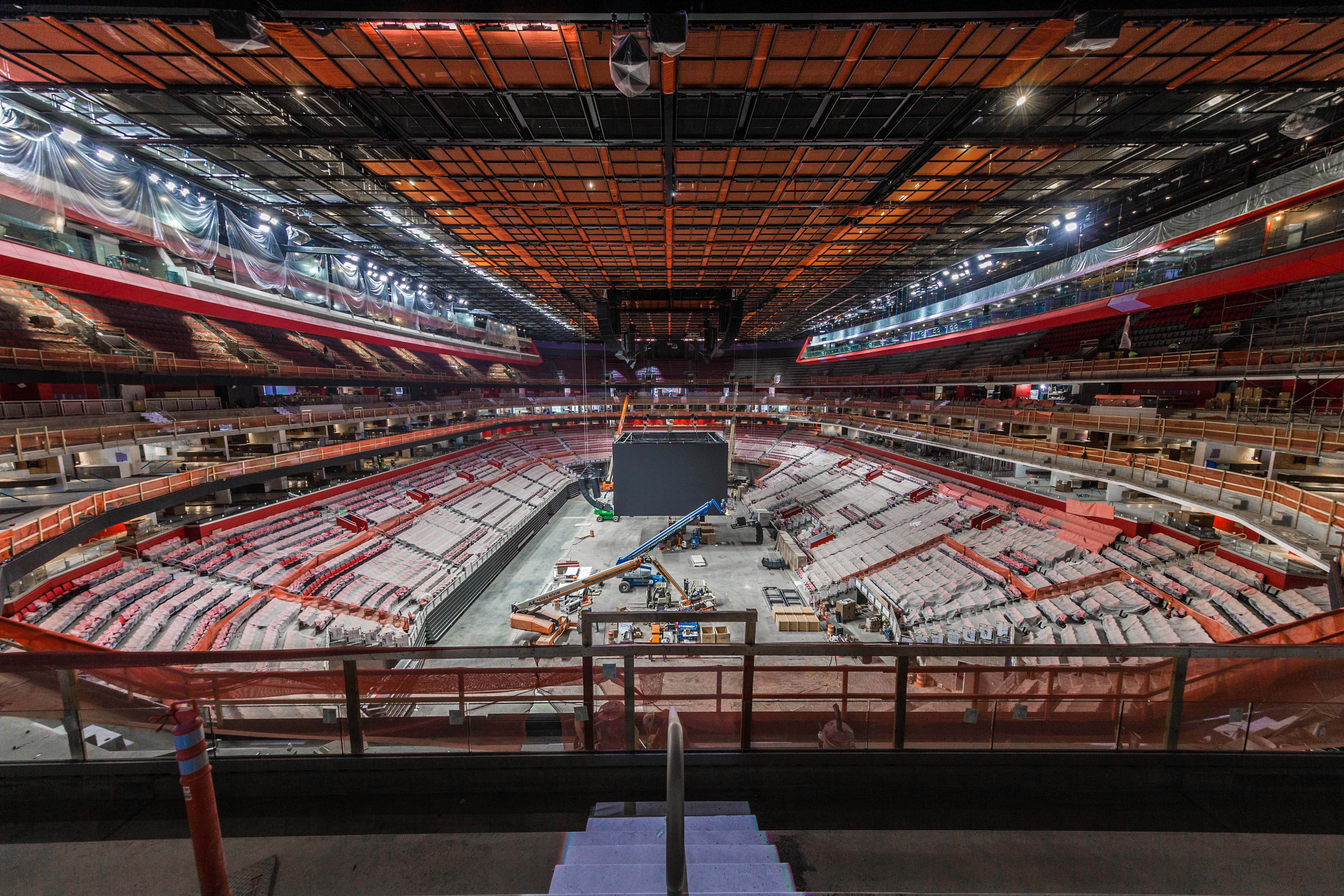 DESIGNED AFTER the The Bell Centre, home of the Montreal Canadiens, the design of the lower bowl seats at Little Caesars Arena is intended to put fans as close to the rink as possible, to improve the home ice advantage for the Detroit Red Wings. The Detroit Pistons will play here, too. Photo credit: Rob Kohn/The District Detroit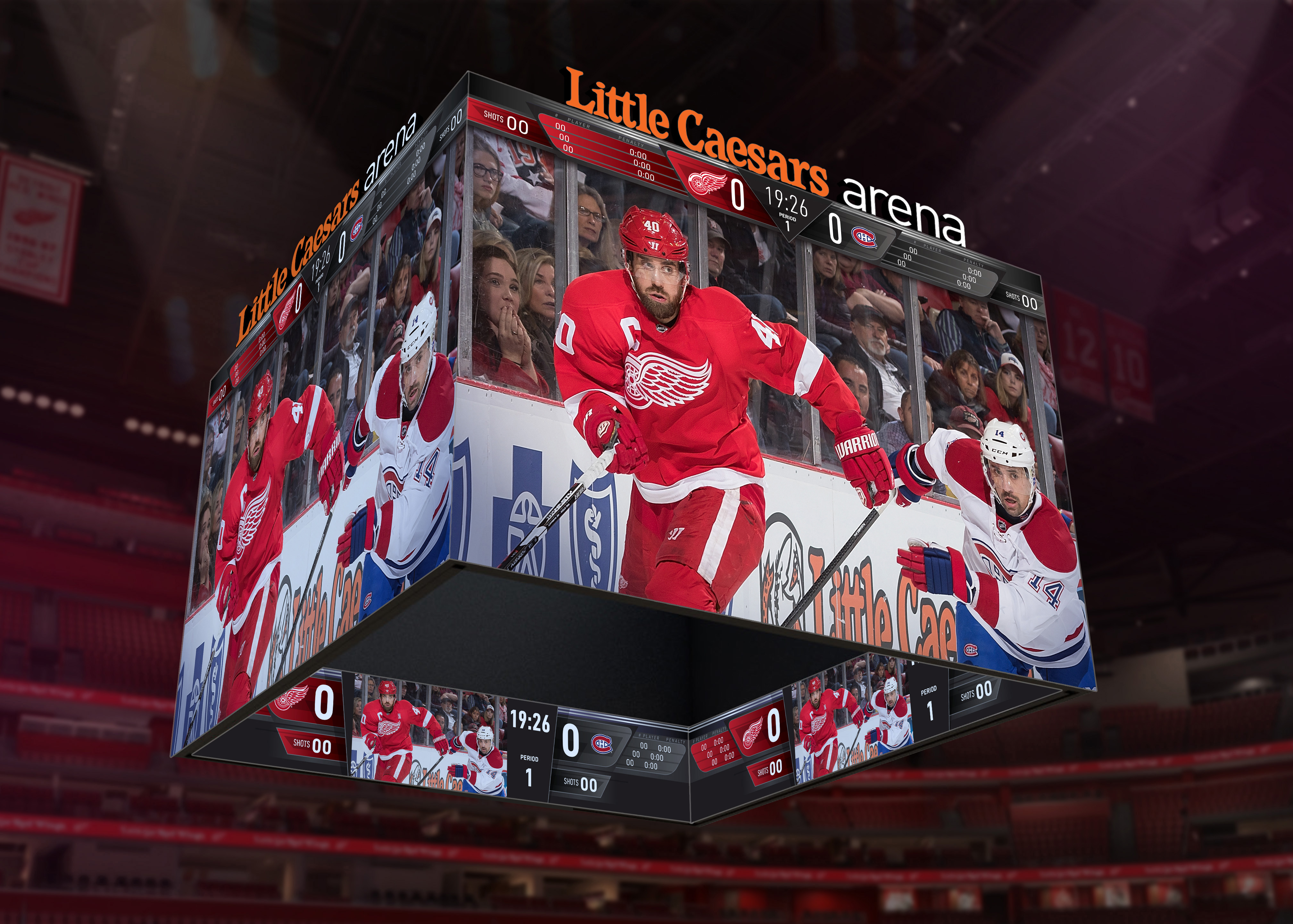 THE WORLD'S LARGEST "seamess centerhung system" for stadium video is now centered in place above the playing surface at Little Caesars Arena in Detroit. Each of the display's four sides will measure 28 feet high by 43.5 feet wide, and it will allow for a continuous, seamless display of video, or sectioned-off static or video displays. Under-mount displays will also be in place for fans sitting in the lower bowl. Photo credit: Rob Kohn/The District Detroit