FREELAND – Already a convenience to the residents of the Tri-Cities, MBS Airport is in the process of building a new, modern terminal to improve the traveling experience for air passengers.
The new $48 million facility has been under construction for the past year on airport land north of the existing terminal. Spence Brothers is managing construction of the 75,000-square-foot terminal, which is expected to open in 2013.
"This project provides both an immediate and long-term economic boost to the region,"
said MBS International Airport Commission Chairman Dr. Ken Distler. "In addition to creating much-needed jobs during its construction, the state-of-the-art airport terminal will be vital to the business growth and quality of life of the Great Lakes Bay Region."
MBS Airport – serving Midland, Bay City and Saginaw – conducted an assessment of the "long-term viability" of the existing terminal, which opened in 1965, to determine whether to renovate or replace it.
Distler said the airport commission "looked at the costs and benefits of our options, and the preferred alternative was a new terminal. With the cost of a new terminal estimated at $48 million, and a renovation at $43 million, the long-term advantages of investing in a new facility were clear." It has not been determined what will happen to the old terminal.
A design was approved in 2008 for MBS that is very similar to the Flint's Bishop International Airport, which opened in 1993. Aviation design and architectural firm Reynolds, Smith and Hills Inc. (RS&H) drew up the plans for MBS Airport's terminal. One simple, major feature not found on the existing terminal is the inclusion of a canopy to protect travelers from the elements when they're being dropped off.
Other features of the new terminal, according to RS&H and airporttechnology.com:
The flowing roof and open design convey a "spirit of innovation" that has been instrumental to the past and present success of the region.
The interior spaces will be flooded with daylight to create a "bright, optimistic, uplifting design."
Passengers will be able to have meals and drinks on both sides of the security checkpoints, and there will be a number of new food concessions and gift kiosks.
There will be a larger, more efficient baggage claim area than the old facility and a larger passenger security screening area to avoid delays.
The new terminal is intended to be a "showcase for sustainability through energy-saving design elements and a commitment to using local materials and suppliers wherever possible."
Convenience and easy access to the terminal building are top priorities in the overall layout of parking lots, rental car lots and other features.
The terminal is designed to meet the needs of passengers, carriers and other tenants for the long term, with an overall structure that is easy to maintain, efficient to operate and easily adaptable to future needs.
"What we are certain of is that when your new terminal is complete, it will be an efficient, sustainable facility that truly captures the spirit" of the region, said Martin Wander of RS&H.
MBS International covers 3,200 acres, has two runways, and is now the fourth-busiest commercial airport in Michigan, and handling more than 300,000 passengers per year. The airport is served by Delta and United Airlines.
"We're doing great out here, it's easier when you have good help," said Supt. Butch Stearns of piping contractor Johnson and Wood.
His cohort, foreman Alan Stroebel, said the crew of nine plumbers and pipefitters can't help but be more comfortable on the job these days, which started for them last Nov. 1. "The winter was rough, during the rough-in everything was completely open and the wind just howled through here," he sad. "But it's been a good job, they've treated us very fair out here."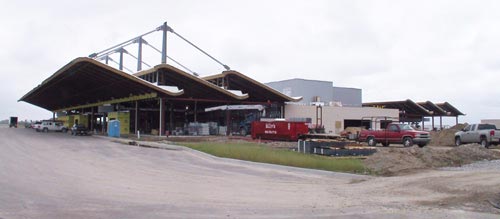 THE NEW MBS Airport terminal building under construction. Vehicles will drop off passengers at left, planes will take them away at right.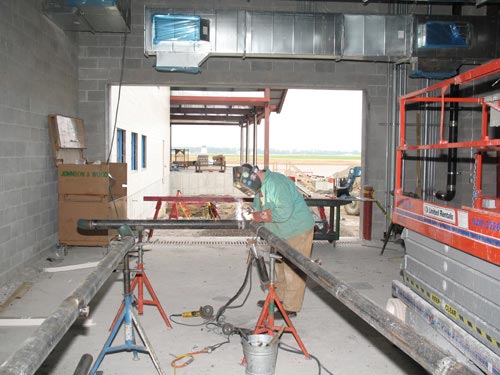 WELDING A PIPE at the MBS Terminal project is Chris Lyle of Plumbers and Steamfitters Local 85.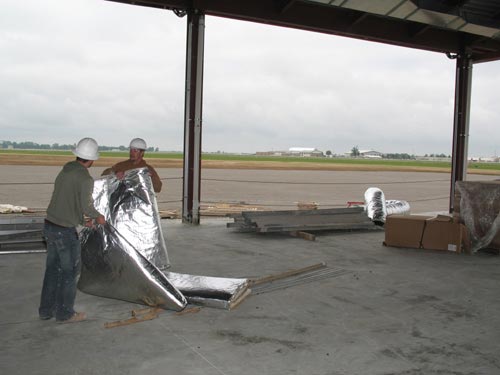 UNWRAPPING SOME DUCT wrapping insulation at the new MBS Airport Terminal project are Adam Fisher and Dennis Heller of Heat and Frost Insulators Local 47, working for Ticon.