DETROIT – A leaky roof, an empty pool and a host of other building problems led the Detroit Public School system to seek a replacement for Martin Luther King High School.
And a modern replacement is what they're getting: a new $46.4 million building is currently being erected on a parking lot just south of the existing school. Construction of the new building began last summer and the fast-paced project – what isn't these days? – will lead to the building being ready for students in September of this year.
The new MLK High School is the largest of 18 new construction/renovation projects that will be performed under a $500.5 million bond issue let by the Detroit Public School District in 2009. Walbridge is managing the implementation of the entire district-wide capital improvement bond issue work, while Jenkins-Granger LLC is the design-builder for the MLK work.
"It's obviously a very aggressive schedule," said Darrell Green, senior project manager for Jenkins Construction Inc. "But the people out here are doing what they have to do to get this done, and they're going a good job. We're particularly proud that we have about 50 percent Detroit residents working on the project." About 135 Hardhats were on site last month.
Martin Luther King High School opened in 1968 at Lafayette and McDougall as Eastern High School, the same year Dr. King was assassinated. It was renamed in his honor in 1969. The old building will be demolished when the new one is put into use.
The new bi-level, 193,000-square-foot school building will include a dual-eight-lane pool, a new gymnasium, a cyber café, and a media center that will connect to the current auditorium and performing arts building, which will be remodeled. It will be built to a Gold-certified LEED standard, with a huge glass façade on the southwest side of the building to capture the greatest amount of natural light.
Jenkins Project Supt. David Balcirak said the building's design was chosen in good part "for the ease of construction." Moreover, he said modifications were made during construction that helped "push up the schedule," such as the use of masonry pre-cast concrete instead of waiting for steel to be fabricated. He said the pace of the project was expected to pick up this month, with construction crews expected to go to two shifts earlier this month.
"It's fitting that the first DPS school to be rebuilt is Martin Luther King Jr. Senior High School, a school named for a civil rights activist who devoted his life to fighting for equality," Robert Bobb, DPS Emergency Financial Manager, said in a statement.

MOPPING A PLY OF ASPHALT atop the new Martin Luther King High School in Detroit is Ignacio Cruz of Roofers Local 149, working for Royal Roofing.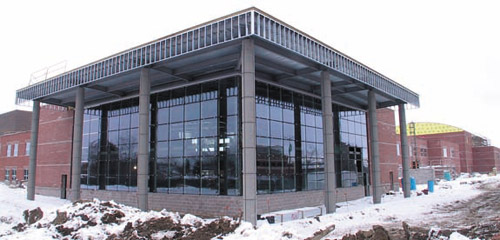 THE NEW Martin Luther King High School in Detroit.