DETROIT – Just in time for the start of the 2014 baseball season, the building trades this week were wrapping up a $4 million makeover of Comerica Park's Pepsi Porch in right field.
The work will yield 426 additional seats, bringing Comerica Park's capacity to 41,681. Added will be a new gathering area called the 416 New Amsterdam 416 Bar (416 feet from home plate), new plush seating and a 50-foot-long bank of natural gas flames.
"We're excited about this new point of destination we believe fans will enjoy," said Duane McLean, the Tigers' executive vice president for business operations. "The new-look right field deck area is open to all fans and will offer an enhanced entertainment value with spectacular field views and increased amenities. The New Amsterdam 416 Bar on the Pepsi porch is a unique social setting with a relaxed outdoor environment, whereas you can sit comfortably in high-end outdoor furniture, with a nearby fire feature, big flat screen TV's, and enjoy a ballgame."
The new seating arrangement will include 180 new premium seats, former lower bleachers converted to 694 stadium style seats, 325 additional places added to bleacher stands, and 2,000 square-feet for restroom expansion. Any ticket-holder will ba able to enter the 10,000 square-foot area.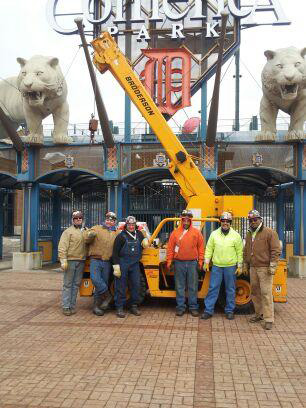 PART OF THE TRADES CREW at the Comerica Park Pepsi Porch revamp project includes (l-r) Iron Workers Local 25 members Eric Faust, Ray Brandly, Jeff Hamric, Bill Kostich, Jim Burton (Operating Engineers 324) and foreman Romeo Rowe. They're employed by Ideal Contracting.