KALAMAZOO - Bending and shaping sheet metal is a whole lot easier and more efficient these days at Mall City Mechanical.
The company's fabrication shop, which employs Local 7 sheet metal workers and Local 357 pipe trades workers, installed a new "coil line" in August that has streamlined the way the company makes duct - and does business.


"For us the biggest thing is the greater efficiency in which we can build duct," said MCM Fabrication Director Mike Simonds. "In the past we were able to make one joint of duct in about 15 minutes. Now we're able to do it in 15 seconds. From bid, to design, to fabrication, to install, everything goes faster."


The new efficiencies are made possible by MCM's decision to purchase the coil line for about $1.5 million from Vicon Machinery - "a huge investment for us," Simonds said. The coil line basically draws 60-inch-wide sheetmetal, up to 16 gauge, from 10,000-lb. coils. The process then flattens, cuts and bends the sheetmetal to whatever shapes and sizes that are set up in the shop's computer-aided design program.


"It's very impressive when it's running full bore," said Chuck Jarman, MCM's custom fabrication sales engineer. "Before we got the coil line we'd produce jobs with sheet after sheet - we'd work from 5,000-lb. skids of sheetmetal. What this does is eliminates any hand layout of straight ductwork. The machine really shines at straight duct by the mile."


Last March, the MCM shop moved out of their smaller shop attached to their Douglas Street offices about two miles away, to their 30,000-square-foot facility on Burdick Street that gives them about three times more space. Formerly a manufacturing shop for making barbeque grills, the bigger building gave MCM room for their new coil line.


The presence of the coil line also allows MCM to streamline its entire business model. MCM's project bid estimates will be more accurate because they're based on computer-aided engineering drawings. And the shop will be more efficient in importing those electronic blueprints and from them, setting up the coil line to make perfectly measured, bent and aligned duct.


Before the coil line was installed, duct manufacturing at MCM had essentially not changed much over the decades since forced air systems were invented. Jarman said the new coil line process is much improved from the past and gives MCM management easier-to-access "measurable criteria" to show efficiencies in production. "Hands-down, there's no comparison," said Jarman, a Sheet Metal Workers Local 7 member who has worked at MCM for the past four years. "What we have here just blows the old way out of the water."


He added that working with the coil line "is still a learning process for us. Every day we learn something new, but we have a smart young core crew here that's willing to learn."


The company also installed a new shear machine and an upgraded laser table for making accurate, more efficient cuts of various shapes and fittings. Their laser table in their custom fabrication ship opens up a whole new potential market, allowing it to make items like specialty license plates and key chains with company logos. They can build just about anything from any kind of metal.


To date, some of the larger jobs in which MCM has used the coil line is to create ducts from area hospital expansion projects. Simonds said the new process, and his union workforce give his company a leg up on the competition. "I don't think that any of our nonunion competitors have this right now," Simonds said of the coil line. "Overall this process allows us to increase by ten-fold the amount of work we can do in a day."


A crew of up to eight Sheet Metal Workers Local 7 members operate at the site, and work on other tasks such as making specialized, one-of-a-kind parts or fittings, as well as the aforementioned laser-cut specialty items. Others work for MCM installing their handiwork on jobsites.


"I love our union workforce," Simonds said. "We get guys who are trained, and their work ethic is impeccable, we never have a problem with absenteeism. Our workforce is a huge bonus to our business."

Pipe work puts Mall Citypeople to work, too


Bending and cutting sheet metal isn't the only thing going on at the Mall City Mechanical's Kalamazoo fabrication shop.


That was the case a year ago - but since then, MCM has made significant investments in pipe fabrication and new pipe welding technology in order to become more competitive in that portion of the industry.


With its investment in mig welding and other equipment, the company is pursuing certifications from the American Society of Manufacturing Engineering and the National Board Inspection Code. Among their goals, said Mall City Fabrication Shop Foreman Pete Wielinga, is to grow the company's business opportunities not only in traditional commercial, industrial and health care applications, but by getting additional opportunities in performing more repairs and alterations.


The pipe fab shop has the capacity for four to six welders. "We have already grown by leaps and bounds," said Wielinga, a member of Plumbers and Pipe Fitters Local 357. "Mall City Mechanical currently employs 20-28 plumbers/pipefitters in various locations with roughly half servicing medical facilities. We have traditionally had a heavy footprint in health care."


A 17-year veteran in the trade, Wielinga has been with Mall City for the past two and a half years. "I really like the variety of pipe we work with here," he said "Stainless, carbon, nickel alloy - just about everything," he said. "We do one-off jobs for customers, some just want an extension for a valve. Whatever a customer wants, we make it happen."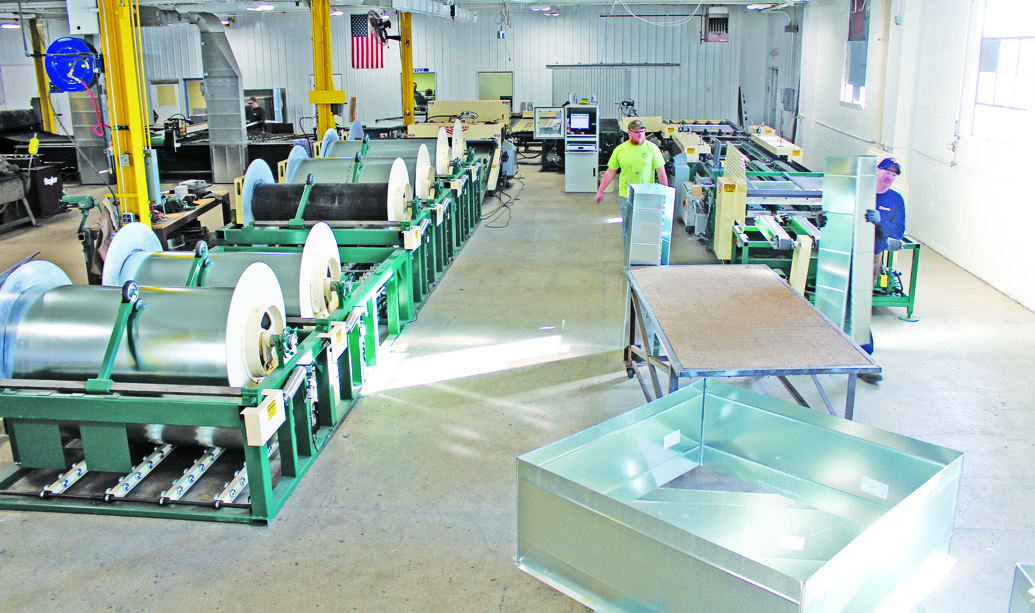 A NEW SHEET METAL coil line at Mall City Mechanical in Kalamazoo starts with the coil, at left, and ends with made-to-order ductwork, at right, ready for seaming and then delivery. The line offers Mall City a factor of ten times the efficiency of the traditional method of starting with individual sheets. At work are Sheet Metal Workers Local 7 apprentice E.J. Overacker, left and journeyman Brian Quinn.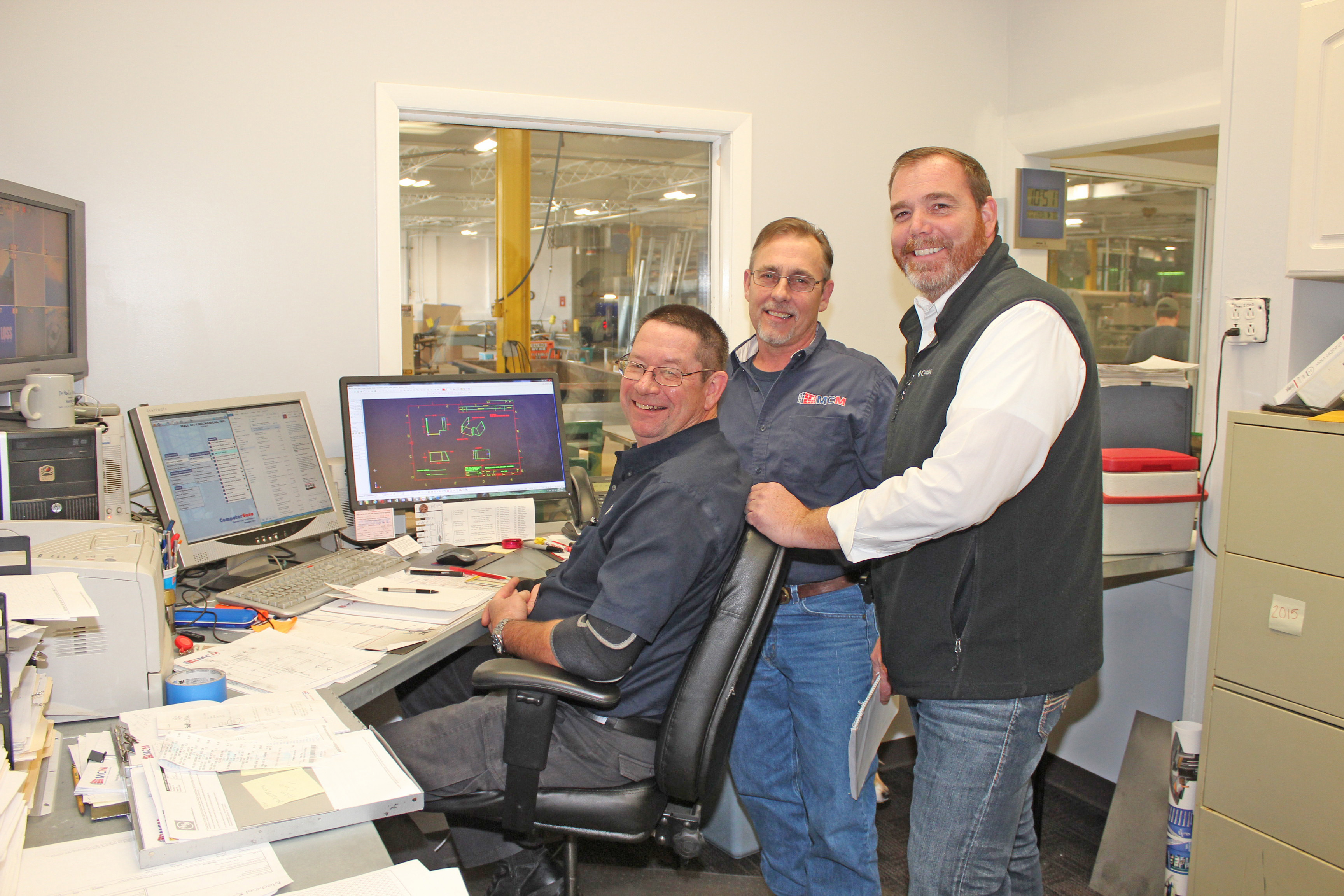 THE SHEETMETAL hardware products created by Mall City Mechanical's new coil line are controlled by their new software, which employs the use of Building Information Modeling. At work are (l-r) Mall City's Custom Fabrication Sales Engineer Chuck Jarmin and shop Foreman Todd Albar (both Local 7), and Fabrication Director Mike Simonds.