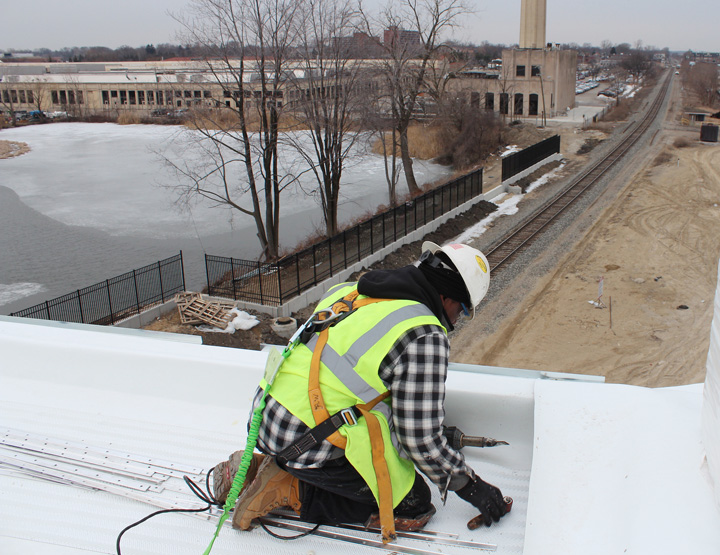 DEARBORN – In a bygone era, a train station was often a pillar of a community, impressively built to provide a source of local pride and to act as a good first impression for visitors.The city's existing utilitarian Amtrak train station, built in 1982, does none of those things. But its new replacement station is currently under construction about a mile away, and will surely be a hit with railriders and those who appreciate nice architecture.
Dearborn's $28.2 million Intermodal Passenger Rail Station is expected to start moving passengers in August. The 16,000 square-foot brick and glass station and seven-acre campus will include a display areas, small retail, Wi-Fi, and appealing landscaping. Tooles-Clark is acting as construction manager on the project.
The station is being built south of Michigan Avenue between Brady and Evergreen Rd. – near the edge of the city's west shopping district. The location "should prove popular to pedestrians and bicyclists and provide easy access to the campuses of the University of Michigan-Dearborn and Henry Ford Community College," the City of Dearborn said in a news release.
What's more, a bridge over the railroad tracks from the second level of the new station will provide easy access into one of the state's top tourist attractions, The Henry Ford, which welcomes about 1.5 million visitors every year.
Mike Kirk, the project's lead architect for Neumann Smith Architectures, said the station was designed in two phases. "On one side we were charged to make it work and blend in with the historical aspect of Greenfield Village," he said. "And on the side facing Michigan Avenue, there's more of a contemporary design with traditional elements."
The building is primarily brick with a limestone base and limestone features elsewhere. It also has traditional elements like Romanesque arches found at the Henry Ford Museum and at Dearborn's City Hall. "We hope the building represents the different features of the Dearborn community," Kirk said, including the "cultural array" of its residents, who hail from a variety of European and Middle Eastern countries.
As for the station's "intermodal" designation: The Dearborn facility will allow passengers to make connections to Amtrak's Wolverine service that extends from Pontiac to Chicago; as well as to SMART, DDOT and charter buses; corporate and hotel shuttles; taxis and personal vehicles.
The current Amtrak station serves about 81,000 passengers per year. The new Dearborn station, which will be the largest in Southeast Michigan, is positioned to support the eventual operation of the Detroit to Chicago High Speed Rail Corridor, which already has seen progress in western Michigan. It could also serve the proposed Ann Arbor to Detroit commuter rail line. Eventually, the commuter rail line will allow easy bus connection to the Detroit Metropolitan Airport.
"This project is part of a larger strategy to increase the number of potential customers coming to Dearborn every day. Increasing the customer base sustains existing businesses and attracts new activity and investment," said Dearborn Mayor John O'Reilly.

The new station, part of President Obama's high speed rail initiative, is fully funded through the federal American Recovery and Reinvestment Act of 2009, which allocated the money to the Federal Railroad Administration (FRA) High-Speed Intercity Passenger Rail Program. The FRA directed the money to the Michigan Department of Transportation for the building of the City of Dearborn's station.
Tooles-Clark Site Construction Supt. Mike Hohnstein, who has worked for Tooles on several rail station projects around the country, said building the platform approaching the tracks is the largest structural task ahead on the Dearborn project. He said the railroad tracks would be lifted eight inches after settling over time, and the new platform would offer level boarding to be compliant with the Americans With Disabilities Act.
Late last month Hardhats were working on the roof, and inside were installing duct work, electrical, exterior windows and plumbing. The building and site will have a number of green aspects and Leadership in Environmental and Energy Design (LEED) sustainable features, including bicycle racks; energy efficient lighting, geo-thermal heating and cooling, and storm water management features.

"These guys have done a terrific job," Hohnstein said of the 40 or so Hardhats on the project. "They're doing very well for us; we're very pleased."

DEARBORN'S NEW train station, at left, features a pedestrian bridge over the tracks leading to what will become a back entrance into Greenfield Village, at right.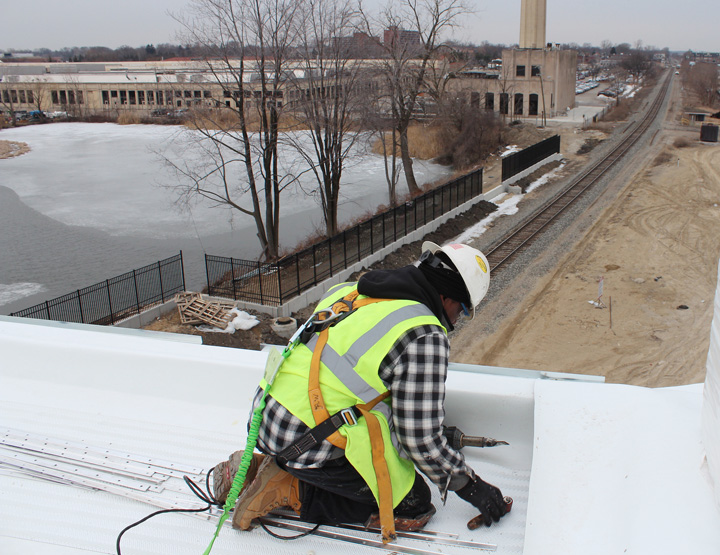 APPLYING A HEAT WELDED white single-ply roof over the Dearborn train station's bridge is Randy Willis of Roofers Local 149, working for CEI.
CUTTING A DUCT MATE frame in what will be the Dearborn Train Station's waiting area is Rich Honcheo. right, of Sheet Metal Workers Local 80. He's employed by Great Lakes Mechanical. With him are Tom Kennard and Paul Machola of Carpenters Local 1067.